The fall months of September, October and November are historically some of the busiest months of the year that Americans hit the road, as measured in the number of miles traveled. Given this increase in cars on the road and distances traveled along with the upcoming Thanksgiving holiday, it's a good time to review our top 5 road safety tips to help you limit your risk and avoid an accident.

1.Slow Down
Speeding, weaving in and out lanes and other reckless driving behaviors are a sure fire way to end up in an accident or pulled over by law enforcement. Speeding can prevent you from having enough space to slow down if needed in between your vehicle and the vehicle in front of you. New Jersey's aggressive driving law known as Jessica's Law imposes severe penalties for drivers convicted of aggressive driving.

2. Put Down Your Phone
The National Highway Safety Administration (NHTSA) reports that cell phone use was a factor in more than 400 of the 3100+ distracted-related fatal crashes in 2019. Despite these abysmal statistics, many drivers continue to use their phone while driving to text, play music and even more complicated tasks. Using your phone and driving is highly risky to you, other drivers, passengers and pedestrians.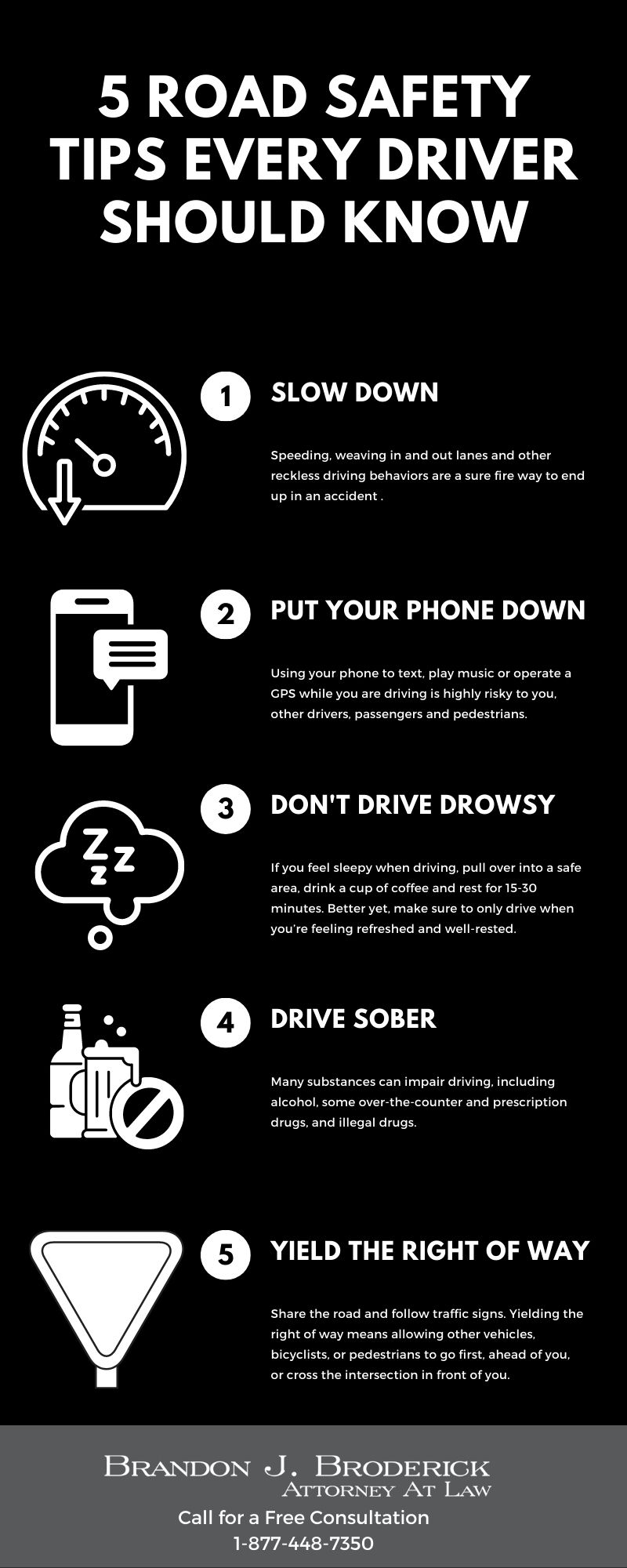 3. Don't Drive Drowsy
Driver fatigue accounts for more than 15% of fatal crashes and is the leading cause of accidents involving large trucks. Driving drowsy is especially common with people who work overnight hours or need to drive long distances. If you feel sleepy when driving, pull over into a safe area, drink a cup of coffee and rest for 15-30 minutes. Or, better yet, make sure to only drive when you're feeling refreshed and avoid any alcoholic beverages when you know you'll be driving late at night.

4. Drive Sober and Avoid Certain Medications
Many substances can impair driving, including alcohol, some over-the-counter and prescription drugs, and illegal drugs. Drivers impaired from alcohol or drugs can cause serious accidents on the road. Keep in mind that a driver can be found negligent in a civil lawsuit even if the driver's level of impairment was under the legal limit or if the drugs were legally prescribed but contained a warning about driving.

5. Yield the Right of Way
Yielding the right of way means allowing other vehicles, bicyclists, or pedestrians to go first, ahead of you, or cross the intersection in front of you. Crashes at intersections account for roughly 40% of all accidents. One of the most common causes of those crashes is failing to yield the right of way.

Contact Us for Help after a Car Accident
When you or a loved one has been injured in a car accident, your entire focus revolves around recovery and getting back on your feet. Worrying about your finances and how you will pay for your medical bills, lost wages and other damages can be especially complex in car accidents. Our experienced New Jersey car accident lawyers can help you recover fair compensation for your injuries.

At Brandon J. Broderick, Attorney at Law, we believe in compassionate client care and an honest, straight-forward approach. We will conduct a detailed investigation, negotiate with insurers and prepare a strong case on your behalf. Put our decades of experience to work so you can focus on your recovery and what really matters.

There's no risk in giving us a call to find out how we can help. We've helped people just like you move forward after sustaining an injury. Contact us now for a free legal consultation.