An unexpected accident or injury can change your life. You could suffer from a painful bodily injury. On top of that, you may struggle with emotional stress and financial burdens. For these reasons, you'll need a personal injury attorney Paterson, NJ can depend on.
Our injury lawyers will work with medical professionals to ensure that your injury is treated. They will also work with accident investigators so they can determine who was at fault for the injury. If it's found that another party caused the injury through negligence, their insurance company may be held accountable for damages and related costs.
A personal injury attorney can assist you with documenting losses and getting compensated for pain and suffering, medical expenses, lost wages or future earnings, and other types of financial support. Our experience in both legal matters and accident cases will help them build a strong case for your side.
If you've been injured in an accident such as a car crash, slip and fall injury, motorcycle injury, bicycle injury, dog bite injury, or any other type of accident that was not your fault, you can rest assured knowing we have the best injury attorneys that will fight hard for you to get the maximum result.
Car Accident Lawyer
The leading cause of auto accidents in New Jersey is driver error. Negligent drivers fail to pay attention, utilize proper safety precautions and adhere to traffic laws. They can cause injury accidents by:
Texting or talking on their phones while driving
Driving too fast
Changing lanes improperly
Impaired or drunk driving
Rear-end collisions
Running through red lights and stop signs
When you've been injured in a Paterson accident that was caused by another driver's negligence, having a personal injury attorney Paterson, NJ residents trust is crucial for protecting your rights and getting the maximum compensation possible under the law. A car accident lawyer will work with investigators and accident reconstruction specialists who will determine how the injury happened and who is liable for damages.
Commercial Vehicle & Truck Accidents Attorney
There are over eleven million trucks operating every day across the United States, many with overworked drivers carrying hazardous materials? In 2016, there were over 470,000 large truck and semi accidents with human error accounting for 90% percent of them. Truck accidents can cause injury in many ways. A truck that's carrying hazardous materials could explode or spill its contents, causing injury to surrounding drivers and property. Trucks can also jackknife or lose control of their steering wheel, causing injury to the driver.
Due to the sheer size of semi-trucks and other large commercial vehicles, injury accidents involving them often involve catastrophic injuries. If you've suffered an injury due to a negligent trucker driver who was speeding, distracted, impaired, or poorly maintained his equipment, having a truck accident law firm on your side will be critical for protecting your rights against insurers and ensuring you get the compensation you deserve.
Premises Liability & Slip and Fall Accidents
As a guest on someone else's property, you have the right to be safe. When a business owner fails to maintain a safe environment, injuries can happen. This is especially common in slip and fall injury accidents. We have had success in Paterson with premises liability cases that include:
Slip and Fall Injury on Retail Premise
Inadequate security or crime incidents involving injury
If you've been injured because of another's negligence while visiting their property, having a slip and fall lawyer on your side can ensure you get the representation you need from professionals who know how to navigate the complex legal process involved with pursuing compensation from negligent parties.
Bicycle Accident Injury Lawyers
If you suffered an injury in a bicycle accident, you know first hand the uphill battle you may now face. Bicycle injuries are some of the most severe a person may suffer because the bike itself offers almost no protection.
Depending on the injury involved, our bicycle injury lawyers can help a person claim the maximum compensation possible from an insurance company or negligent party. Bicycle injury lawyers have extensive experience with cases involving:
Head injuries
Spinal cord injuries
Facial injuries
Broken bones and fractures
Back and neck injury
Every New Jersey injury case is different. It's important to contact an attorney who will understand your specific personal injury case and handle it as delicately as they would their own injury. Schedule a free initial consultation by calling us at 877-448-7350 today. We'll go over your accident details and advise you on all of your options for moving forward with a new future.
Motorcycle Accidents
As a motorcycle rider, you are over 25x more likely in Paterson to die in an accident than other drivers. With the increase in motorcycle accidents, we are here to help. Our experienced injury attorneys have represented clients who were injured in motorcycle accidents involving:
Serious injury due to severe road defects including potholes and unsafe intersections
Injury due to a negligent driver including distracted, reckless, and blind-spot accidents
If you have been involved in a motorcycle accident due to the negligence of another party, we will fight for your rights. Contact us today for a free initial consultation with motorcycle injury attorneys who understand New Jersey injury law and how it pertains to your injury case.
Paterson Dog Bite Attorney
No matter how a dog is trained, it may still bite you under the right circumstances. If you've been hurt by someone else's dog, you may be able to recover compensation for your injuries with the help of a Paterson, NJ dog bite lawyer. At The Law Offices of Brandon J. Broderick, our injury lawyers have over 40 years of experience winning personal injury cases for victims of dog bites. If you've been bitten by another person's animal, contact us today for a free consultation with injury attorneys in Paterson who can help you file your injury claim.
Construction Accident Injury Law Firm
One of the most dangerous jobs a person can have is construction. With constant exposure to heavy equipment, dangerous work environments, and harmful toxic chemicals, these workers encounter serious hazards every day. The federal and state governments regulate these jobs to protect workers, but some employers choose to ignore these rules to cut costs and save time. Those choices often lead to deadly results. If you've suffered an injury on a construction site, our construction injury lawyers may be able to help you file an injury claim to recover the money you deserve for your accident. Contact us today for a free initial consultation with injury attorneys in New Jersey who can help you get the financial restitution you need.
Workers' Compensation Lawyers
A work-related accident can not only be painful, confusing, and emotional but also financially devastating. If you or a loved one has been injured on the job, it is important to do what is necessary to protect yourself and speak with a qualified Paterson workers' compensation attorney. The Law Offices of Brandon J. Broderick have been helping injured workers get the full compensation they need to pay for medical bills and take care of their families while they recover from injury. If you've suffered an injury on the job that resulted in lost wages or ongoing pain and suffering, contact us today for a free initial consultation with injury attorneys in New Jersey who will fight for your rights and invest themselves into your case until you receive maximum financial restitution.
Employment Law
Wronged by an employer? Contact our Top-Rated Paterson employment attorneys at The Law Offices of Brandon J. Broderick. Call 877-448-7350 for Free Consultation. Our experienced New Jersey employment attorneys dedicate our practice to representing employees in labor and employment law disputes. We have over 30 years of experience winning lawsuits for employees who have been wrongfully terminated, harassed at work or on the job, forced into unpaid overtime, discriminated against based on age, sex, race, sexual orientation, or disability status. If you have been wrongfully terminated from your job, contact us today for a free consultation with injury attorneys in New Jersey who can help you get the money you deserve.
At Brandon J. Broderick, Attorney at Law, we are devoted to helping injured individuals and their family members move forward after sustaining an injury that was caused by another's negligence. With our 12-hour callback guarantee, dedication to exceptional client care, and track record of success, our team of experienced personal injury lawyers will work with you to achieve the compensation that you deserve.
Brandon J. Broderick, Attorney at Law Is Here for You 24/7
Pursuing a legal claim after an accident or injury is never something you expect. But why risk being unfairly compensated for an accident or injury that wasn't your fault? Contact us today for a free consultation. Many of our clients feel a sense of relief once they make that first phone call.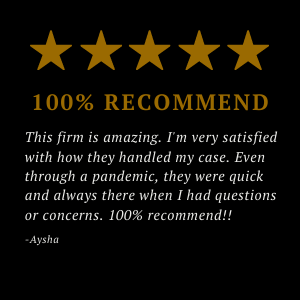 Directions to our Paterson, NJ Law Office
Our law office in Paterson, New Jersey serves clients in Paterson, Clifton and surrounding Passaic County. But don't worry, we've got you covered. We have locations across NJ and can come to you anywhere in New Jersey or the New York City area.
Our Paterson office is located at the intersection of Main Street and Madison Avenue, just seconds off of I-80's Madison Avenue exit. If you're coming from the south, take the Garden State Parkway to NJ-19 and get off on Broad Street. If you're coming by public transportation, we are on NJ Transit bus line 74 and 190.
Brandon J Broderick Paterson, NJ Office
847 Main St
Paterson, New Jersey 07503
About Paterson, New Jersey
Paterson is the largest city in and the county seat of Passaic County, New Jersey, United States. As of the 2010 United States Census, its population was 146,199, rendering it New Jersey's third-most-populous ...
Elevation: 112′
Area: 8.704 mi²
Population: 145,710 (2019)
Top sights in Paterson
Paterson Great Falls National Historical Park, Lambert Castle Museum, and Paterson Museum
Is Paterson NJ a bad area?
One of New Jersey's biggest cities is one of the worst places to live in America, according to a 24/7 Wall St ranking. The website ranked Paterson, New Jersey, as the third-worst place to live in America behind only Miami and Detroit
Why is Paterson NJ dangerous?
Paterson has parts that are bad, just like New York City and Montclair. Crime is everywhere, it just seems to be heavily associated with Paterson. Paterson used to be a big industrial town, but all the fabric mills closed, and it suffered. It's as dangerous as the crime-heavy spots in other cities, honestly.
What is Paterson known for?
Paterson was founded in 1792 by Alexander Hamilton and the Society for Establishing Useful Manufactures. The city is the first planned industrial center in the United States, and the factories and mills were powered by the Great Falls of the Passaic River. ... The city became an industrial powerhouse.
Is Paterson safe?
The chance of becoming a victim of either violent or property crime in Paterson is 1 in 33. Based on FBI crime data, Paterson is not one of the safest communities in America. Relative to New Jersey, Paterson has a crime rate that is higher than 92% of the state's cities and towns of all sizes.
Driving directions from Paterson, NJ
Take Market St to Railroad Ave
Continue straight onto Railroad Ave
Take Getty Ave to Main St