Bicycle accidents can have devastating consequences for victims. The sheer size and weight of a vehicle coupled with the unprotected nature of being out on the road on a bike can make for serious and even catastrophic injury. Figuring out how you will be compensated for your medical bills, lost wages and other damages can be especially complex in bicycle accidents. An experienced New Jersey bicycle accident lawyer can help you recover fair compensation for your injuries.
At Brandon J. Broderick, Attorney at Law, we believe in compassionate client care and an honest, straight-forward approach. We will conduct a detailed investigation, negotiate with insurers and prepare a strong case on your behalf. Put our decades of experience to work so you can focus on your recovery and what really matters.
When you hire a New Jersey bicycle accident attorney from our team at Brandon J. Broderick, you can be assured that we will work tirelessly for your best outcome. Without a legal claim, the insurance company can offer you a lowball offer that barely covers any of your needs for your bike crash and may even refuse to cover some of the damages. You may be left having to pay for the costs of your injuries on your own. Contact us today and let us turn your setback into a comeback.
There's no risk in giving us a call to find out how we can help. Contact us now at (877) 448-7350 for a free legal consultation.
Throughout this article, we will go through an overview of bicycle accident law and information on filing an injury claim in New Jersey.

Are Bicycle Accident Attorneys Worth It?

Compensation for a Bicycle Accident

Deadline for Filing a Bicycle Injury Claim

Tips for What to Do After a Bike Accident

New Jersey Fatal Bicycle Accident Statistics

Places to Ride a Bike in New Jersey

Brandon J. Broderick, Bicycle Accident Lawyers in New Jersey: Here for You, 24/7

---
Are Bicycle Accident Attorneys Worth It?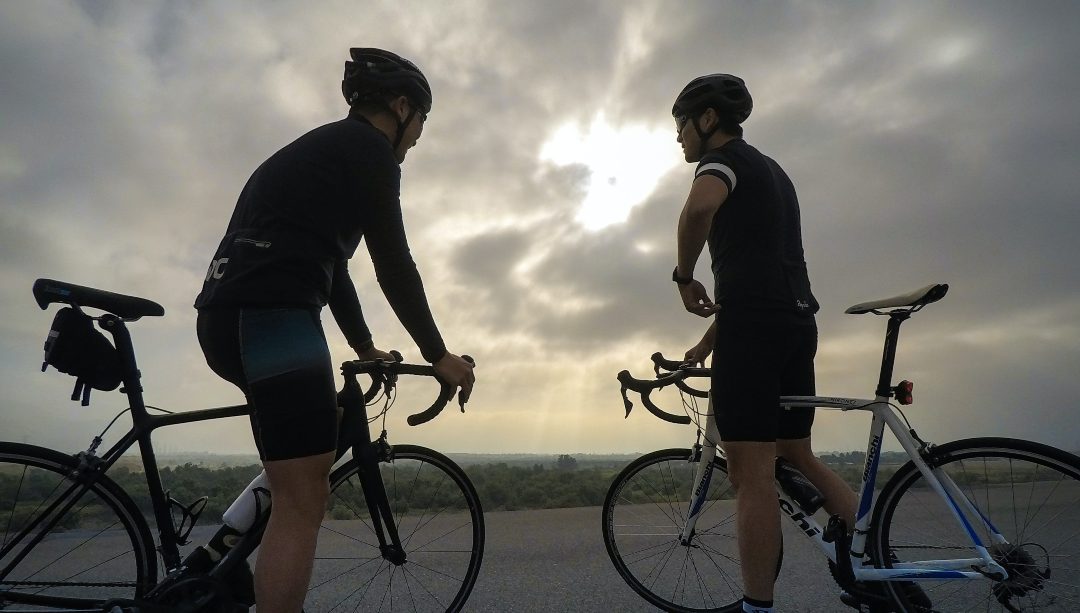 If you've been injured in a bike crash that you believe was caused by someone else's negligence, you should consult with a bicycle accident attorney to understand your options. Serious injuries present victims with a host of challenges beyond just physical recovery -- the mounting medical bills, lost income and emotional trauma, just to name a few. An experienced personal injury lawyer will build a clear and convincing case so that you can be compensated for your losses.
At Brandon J. Broderick, Attorney at Law, we build your case by gathering evidence, interviewing witnesses, consulting with experts and negotiating with insurance companies so you can focus on healing. Our team of experienced NJ bicycle accident attorneys will work with you to achieve the settlement that you deserve. We will do everything possible to defend your rights and be by your side throughout the process. And, if an agreeable negotiation can't be had, we won't hesitate to take the case to trial -- and win.
In the initial aftermath of the accident, insurance companies may be pressuring you to quickly settle. But by agreeing to this initial offer, you can lose your rights to obtain further damages and could be left responsible for ongoing medical needs and other expenses you may not be considering.
We work on contingency, which means that you don't pay for our legal services unless a settlement is reached. In other words, if you don't win, you don't pay. With a free legal consultation, there's no risk in contacting us to understand your case and your rights.
---

Bicycle Accident Injuries
Bicycling offers a sense of freedom when you're riding but that same exposure to the outdoors puts cyclists at a distinct disadvantage in an accident. While some injuries can be relatively minor, like scrapes and bruises, there is a risk of serious injury and even death. More serious injuries include head injuries, broken bones and fractures, spinal cord injuries, and soft tissue injuries.
Head Injuries
Head and neck injuries are some of the most severe injuries that can occur because of a bicycle accident. Head and neck injuries include traumatic brain injury which can cause lifelong debilitating injuries and concussions. Concussions can be tricky as they are sometimes hard to spot, and those who are suffering from a concussion may not even notice. Wearing a helmet is one of the most important things you can do to prevent trauma to this area of the body.
Lower Body Injuries
In a bike crash, injuries to the lower body (involving the legs, feet, thighs, ankles, etc.) are also typical. Bone fractures and crushing injuries to limbs as well as soft tissue injuries like torn tendons and ligaments are examples of the type of lower body injuries that can create high medical bills and the need for ongoing medical therapies to reach full recovery.
Spinal Cord Injuries
A spinal injury is incurred when direct trauma damages a person's spinal cord which can result in nerve damage, numbness, loss of motor function, and quadriplegia or paraplegia. Unfortunately, a spinal injury is often incurable, necessitating extensive surgeries and long-term assisted care.
If you or a loved one has been seriously injured in a bicycle accident in New Jersey, contact us today to speak with a compassionate attorney who can help.
Causes of Bicycle Accidents
In a bicycle accident involving a motor vehicle, more often than not, the motorist is at-fault for the accident due to negligent driving. Other possibilities or contributing factors could also be hazardous or poorly maintained roadways. In the circumstance of a car or vehicle hitting a cyclist, there are three types of common scenarios for these accidents leading to serious injury.

Left-Hand Turn Bicycle Accidents
Intersections are particularly dangerous for cyclists and motorists alike, as they account for more than one third of all accidents. Driver inattention or distraction can cause a motorist to fail to see an oncoming cyclist in a bike lane or on the shoulder. Cyclists may have to cross traffic to get into the left hand turn lane to make a turn themselves which can be dangerous.
Right-Hand Turn Bicycle Accidents
Like a left-hand accident, drive inattention or distraction may lead to the motorist not seeing a cyclist behind them before making a turn. In this scenario, a cyclist who is riding on the right-hand side of the road is hit by a vehicle making a right turn. The driver may fail to look before making the turn, thus colliding with the cyclist.
Dooring Bicycle Accidents
"Dooring" refers to an accident in which the cyclist collides with the driver or passenger's door, just as they are opening it. These types of accidents tend to happen when the vehicle is parked along the side of a city street and can cause a cyclist to flip over their bike and the door potentially causing serious injury. Drivers and passengers are obligated to check to see if a bicycle is approaching when exiting a vehicle.
---
Driver Negligence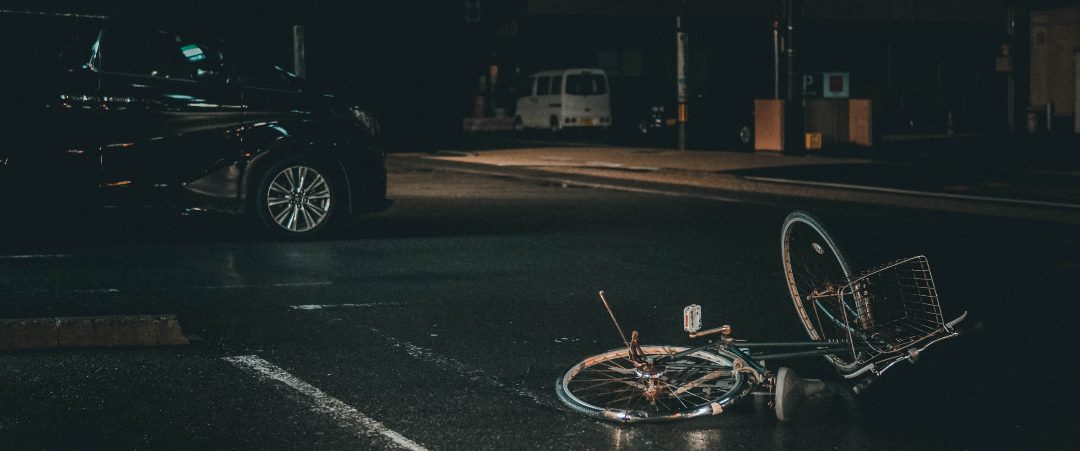 More often than not, driver negligence is the cause of an accident involving a cyclist. Motorists owe a 'duty of care' to other drivers, passengers, cyclists and pedestrians to operate their vehicle in a safe and responsible manner. When they fail to do so and their negligent driving causes an injury accident, the at-fault driver would be responsible and may be held liable for the victim's losses. Examples of behavior leading up to the car accident that could indicate the driver acted negligent include:

Drunk driving
Drugged driving
Distracted driving
Speeding
Failure to yield to cyclists
Failing to obey traffic signals or signs
Driver fatigue
Driving aggressively

Under New Jersey law, there are four elements to proving negligence in your personal injury claim:
Duty of Care. All New Jersey drivers have a legal duty to everyone else on the road, including other drivers, bicyclists, and pedestrians. That duty requires drivers to operate their vehicles in a reasonably safe manner that will avoid accidents and injuries to others.

Breach of Duty. You must be able to prove that the motorist breached their duty of care by driving negligently. Motorists should know the rules of the road and how to share the roadway with cyclists, much less not get behind the wheel after drinking or using drugs. A breach of duty occurs when the motorist does not obey traffic and safety laws.

Causation. To prove causation, you need to show that the other party's breach of duty is what caused your injuries. In some scenarios, causation may seem obvious but it's possible that a bike crash exacerbated an existing injury and the insurance company may be devaluing or denying a claim. This is one of the reasons why it's so critical to seek medical attention and a legal consultation as soon as possible.

Damages. Once you establish the defendant had a legal duty, that duty was breached, and the breach of duty was the cause of your injuries, you need to show damages. Damages, or compensation, may include medical bills, lost wages, and emotional injuries like pain and suffering. When you're seriously injured, it's also important to recover future lost earnings or medical care that may be expected down the line.

Other Possibilities for Liability in a Bike Accident
There are other potential parties that may bear even partial liability for a bike accident. If the motorist was driving a work vehicle or truck, the company or business employing the driver also now owes a duty of care to maintain the vehicles properly and ensure their drivers operate them safely. If that is not the case, an additional claim could be made against the company.
Municipal and state government in New Jersey is responsible for maintaining safe roadways, free from hazards. If potholes, loose roadway materials or other significant debris was responsible or partially responsible for causing the accident, you may be able to file a claim against the public entity.
Lastly, an experienced NJ bicycle accident lawyer may also investigate if a defective vehicle part contributed to the accident. In this example, a third-party product liability lawsuit could be filed against the manufacturer.
Our experienced team of bicycle accident lawyers can help build your case to prove liability. Contact us for a free consultation
Compensation for a Bicycle Accident
Compensation amounts for bicycle accidents in a personal injury claim typically include two types of damages -- economic and non-economic. Economic damages include tangible monetary losses such as medical bills and lost income. Non-economic damages include intangible losses like pain and suffering.
At Brandon J. Broderick, Attorney at Law, our bicycle accident lawyers in New Jersey pursue the maximum compensation possible for all damages. All cases are unique, and the exact value of your claim usually depends on the severity and permanence of the injuries. In the event of serious injury, it's especially important to consider the long lasting medical treatment that may be needed and the effect on your income.
Keep in mind that you can only file a personal injury claim once for an incident. In the immediate aftermath of an accident --or even for several weeks or months afterward -- you may not fully know your medical prognosis. How much treatment and rehabilitation may be needed? Will you need to accommodate any medical devices or equipment in your home to facilitate your recovery?
Until you know more about your expected medical outcome, it's close to impossible to know what the full scope of your damages will be. That's why it's important to wait and not accept the initial settlement offer made by an insurance company. They don't know your expected medical outcome either and will be trying to persuade you to accept an early settlement offer. Don't do it without talking with a lawyer. You don't want to be left holding the bag for medical expenses and other losses down the road.
Contact us today for a free consultation. We can help you understand possibilities for compensation.
Deadline for Filing a Claim
Generally speaking, the deadline for filing a claim after a bicycle accident in New Jersey is 2 years from the date of the accident. The exception is if you believe a municipality or other public entity may bear some responsibility for the accident. In that case, the deadline is very short -- only 90 days from the incident.
A personal injury lawyer who specializes in bike crashes can advise you of your best strategy for securing compensation for your injuries and whom to hold liable. That's why it's extremely important to start the process as soon as possible after an injury, since filing after the time limit may forever bar your claim. If you, or someone you love was injured because of another's negligence, it's critical that you abide by these rules, otherwise, you lose your right to file a claim permanently.
Don't wait. We've helped people just like you move forward after sustaining an injury that was caused by another's negligence. With our compassionate client care and long track record of success, you can count on the bicycle accident lawyers of Brandon J. Broderick, Attorney at Law, to work tirelessly for your case. Contact us now at 877-448-7350
---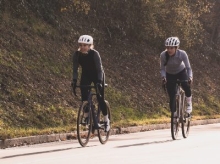 Tips for What to Do After a Bike Accident
Getting into a bicycle crash can be a traumatizing and scary experience. Your first order of business should be to seek medical care. Some injuries may be slow to present symptoms or the shock and trauma may be numbing you to some of the pain from your injuries. By seeking medical care, you are not only starting the healing process but also creating documentation of your injuries that can serve you well in a claim later down the line. Other important actions to take after a bike crash include:

Collect evidence at the scene, if you can. If you're able, take pictures of the accident scene, the vehicle, weather and road conditions and relevant traffic lights and signs. Try to collect contact information for the other driver, passengers as well as other witnesses to the crash.
File and get a copy of the police report. In New Jersey, a police report is required for any accident with more than $500 in damage. Make sure to get a copy of the police report to ensure it's accurate and evaluate their initial findings of the accident's cause.
Contact an attorney. A bicycle injury attorney can provide you with critical advice about your claim, including the compensation you deserve, how to seek it, and how to file your claim. They can handle all of the administrative details of your claim, like filing paperwork and coordinating with your medical professionals.
Keep track of all medical records and bills. Your claim should include all medical expenses related to the injuries, including the cost of therapies, medical devices, medications and other expenses related to getting treatment. Make sure to keep and organize all bills and expenses.
If you've been injured in a bicycle accident, don't wait. Contact us today for a free consultation. With our proven track record of success and our commitment to client care, we can turn your setback into a comeback.
---
New Jersey Fatal Bicycle Accident Statistics
The number of fatalities due to bicycle accidents in New Jersey dropped in 2019, the most recent year available of comprehensive data from the New Jersey State Police. Nationally, bicycle accident fatalities are highest in the summer months of July and August and happen most often at non-intersections. Cyclists riding between 6 pm and midnight account for more than one-third of all fatalities.
While the numbers are small, New Jersey sees a higher percentage of victims under the age of 20 than the national trend. Across the country, the number of people killed in a bicycle crash under the age of 20 has been declining while the number of adults 20 and over suffering a fatal bicycle crash has steadily increased since 2010.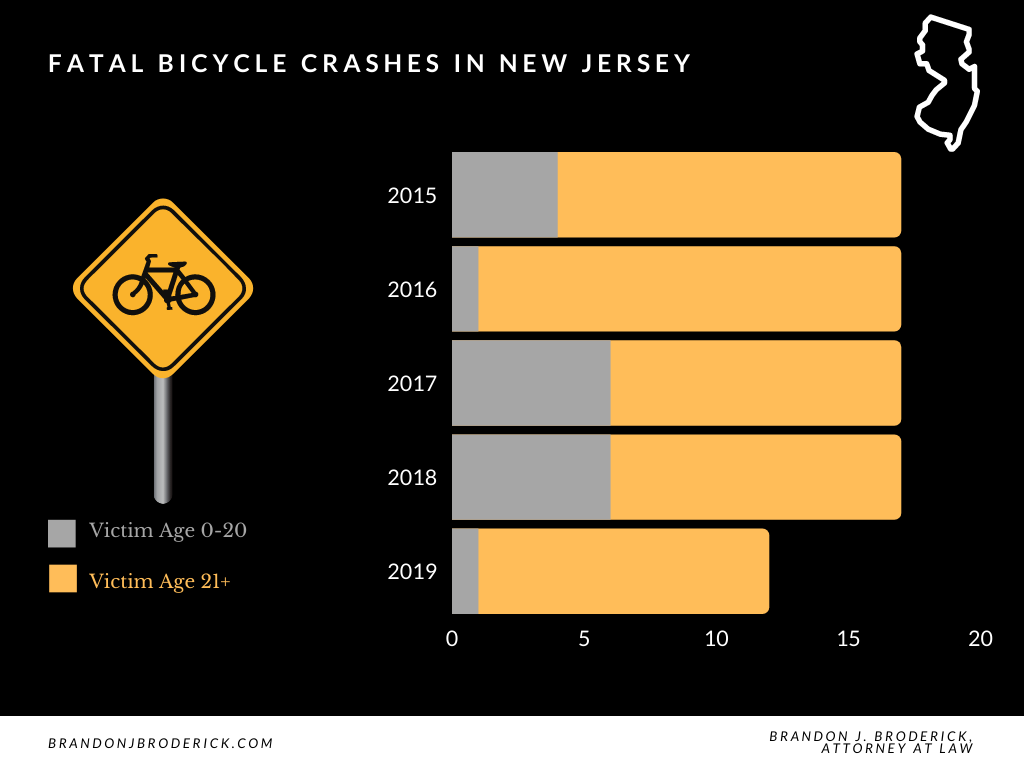 Driver negligence, such as failure to yield the right of way, keep right and driver inattention contributed to the majority of fatal bicycle accidents in New Jersey.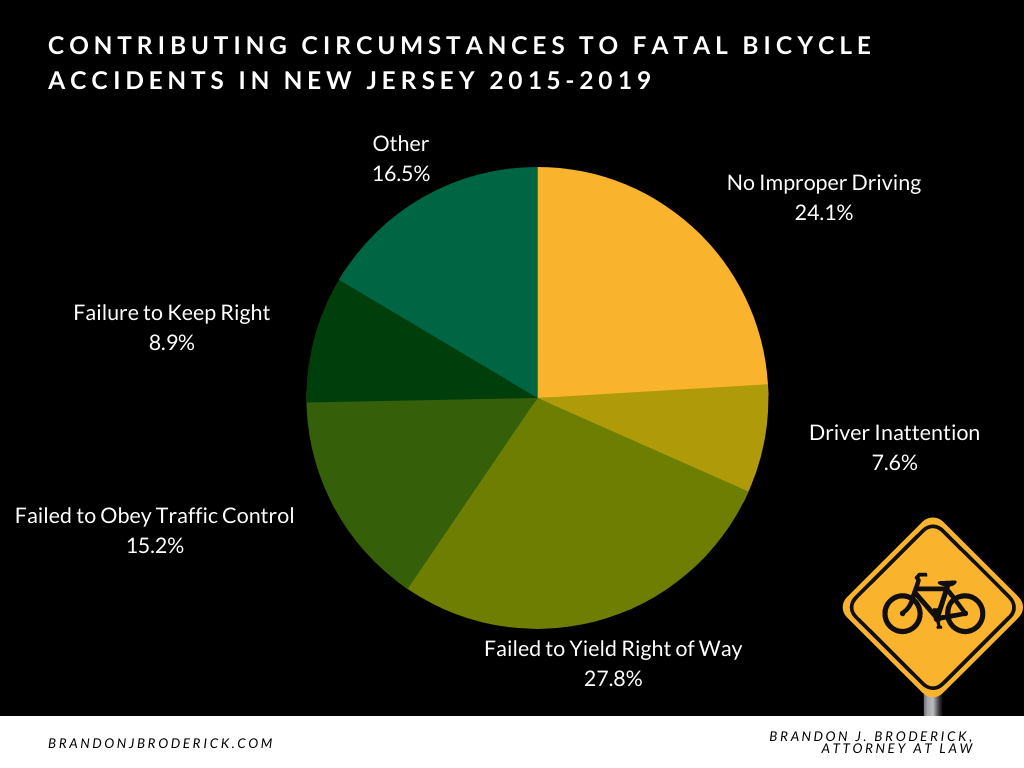 ---
Places to Ride a Bike in New Jersey

If you're looking for a leisurely bike ride in New Jersey, bike trails or a bike path may be the right choice for you. Bike trails may present risks from natural hazards, other riders and walkers but are generally safer since vehicles have limited access or are not allowed on the trails. Popular places to ride a bike in New Jersey include:
Saddle River County Park. This 6 mile bike and pedestrian path travels from Ridgewood, NJ to Rochelle Park, NJ through Glen Rock, Fair Lawn, Paramus, NJ. Cyclists can stop by a scenic waterfall at Dunkerhook Park and enjoy three ponds, picnic areas, pavilions, playgrounds, tennis courts and athletic fields.
Patriots' Path. This extensive system of trails and side trails in Morristown, NJ is a cyclists' paradise. The main stem of Patriots' Path extends from East Hanover, NJ and connects in Essex County to Allamuchy Mountain State Park in Sussex County, New Jersey providing miles and miles of riding trails with points of interest like the Bamboo Brook Outdoor Education Center and Frelinghuysen Arboretum.
Middlesex Greenway. In Middlesex County, New Jersey, the Greenway provides a wide paved path completely free from vehicle traffic for bicyclists and pedestrians to enjoy. The path goes along Metuchen, Edison and Woodbridge, NJ.
Cooper River Park. In Camden, New Jersey you'll find Cooper River Park along the north and south shores of Cooper River Lake. The urban park is open daily from dawn to dusk and offers a paved loop path for bikers and pedestrians.
Bicycle Accident FAQ
Can I still file a bicycle injury claim even if I wasn't wearing a helmet?
Wearing a helmet while riding a bike is always a good idea. However, even if you weren't wearing a helmet, you may still file an injury claim or lawsuit if the vehicle driver was negligent in causing the accident. In New Jersey, you have a right to compensation so long as you were not more than 51% at-fault for the accident.
What is the average compensation for a bike accident claim?
The amount of compensation you can seek for a bike accident claim depends on the nature and severity of your injuries. Relatively minor injuries that do not require missed work or extensive medical treatment may be fairly small or not require a claim. Serious injuries, including any that put you in the hospital for a period of time and cause you to miss work, would typically result in higher claim amounts.

How long does the bicycle accident claim process take?
Every case is unique which makes it hard to put a specific time frame on the claims process. Some claims are resolved relatively quickly, within a few months, while others could take more than a year to resolve. The severity of your injuries and what's at stake for the defendant can greatly affect how long the claims process takes.
Is the bicyclist ever at-fault for the accident?
Yes, it's possible that the cyclist bears some liability for the accident, though it's likely not all liability. Just like motorists, some cyclists may operate their bicycle after drinking or using drugs which could contribute to an accident. Bicycle riders may also not abide by traffic laws which puts them at risk and partially liable in the event of an accident.
Are helmets required when riding a bicycle in New Jersey?
New Jersey law requires helmets to be worn at all times for anyone 17 years old and under when riding a bike. Adults 18 and over are not required to wear a helmet, though studies show wearing one can reduce the risk of head injury by up to 60%.
---
Brandon J. Broderick is Here for You 24/7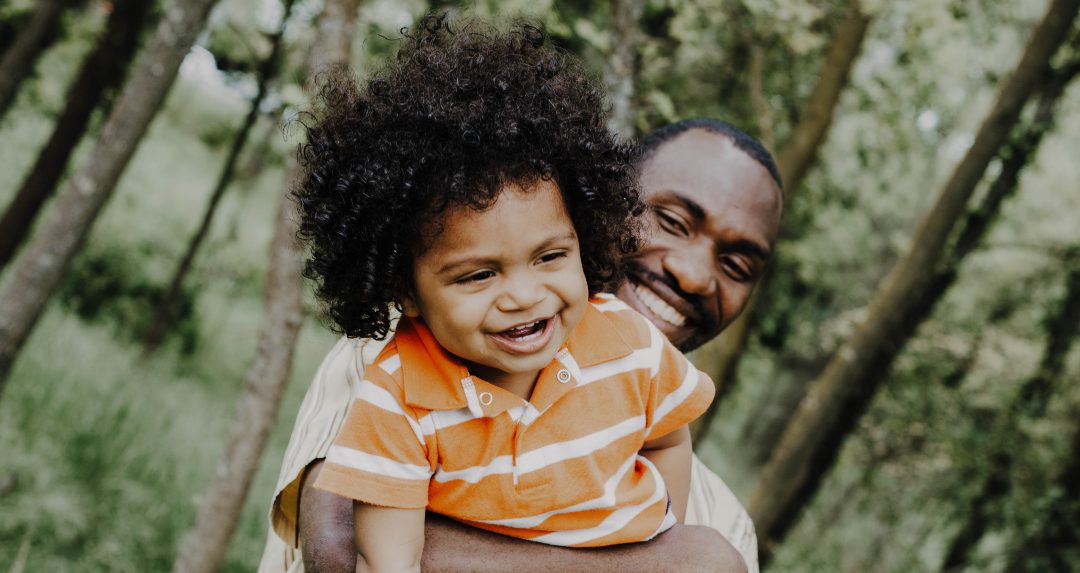 We get it. Bicycle accidents can have an impact on your health, well-being, and finances which can cause worry, fear, and anxiety -- for you and your family. Wouldn't it be a relief to know you could count on a trusted friend and advisor to passionately champion for you? Someone who's got your best interests in mind?
At Brandon J. Broderick, Attorney at Law, we believe in exceptional client care, empathy, and results. That's what makes us one of the top-rated personal injury law firms in New Jersey. With our long track record of success, you can count on us to take the best strategy and work tirelessly for your quality of life. Our New Jersey bicycle accident lawyers have decades of experience representing victims in motor vehicle accidents. We've helped people just like you move forward after sustaining an injury that was caused by another's negligence or reckless conduct. Contact us today for a free consultation.
Don't go it alone. We have locations in River Edge, NJ; Ewing, NJ; Trenton, NJ; Jersey City, NJ, Paterson, NJ and Toms River, NJ. Our bicycle accident lawyers will come to you anywhere in New Jersey. Call 877-448-7350