If you've been injured because of someone else's negligence or recklessness, you may suddenly find yourself confronted with mounting medical bills, missed work, and an inability to perform your family responsibilities. No one expects to be injured in a vehicle accident, slip in a grocery store parking lot or otherwise have their lives turned upside down in an instant. While it may be tempting to believe that you'll receive fair compensation for your losses from insurance companies without much trouble, unfortunately, that's not often the case.

Personal injury lawyers protect your rights in an injury claim and work to get you maximum compensation for your losses. In fact, studies have shown accident victims tend to higher settlement awards with the help of an attorney. You can find experienced, compassionate legal help with the law firm of Brandon J. Broderick, Attorney at Law. In this blog post, we'll review 5 reasons why you need a personal injury lawyer.
#1: Ongoing Medical Expenses & Lost Income
After a serious injury, you will likely face ongoing medical expenses as your treatment continues. For instance, after an initial hospital stay, you may need to further recover at a rehabilitation facility, and you may need physical therapy or other services to heal. Your recovery may take many months and it's possible you may need certain treatments for an extended period of time.

The ongoing medical expenses coupled with lost income from not being able to work will certainly put a strain on your finances. A personal injury lawyer is skilled at assessing your case and determining a settlement demand amount that will cover your medical expenses, lost income and other losses.
#2: Intangible Losses
Compensation in a personal injury case typically includes financial awards for specific losses that can be calculated, such as medical bills and lost income. In addition, injured victims often seek compensation for intangible losses, like pain and suffering, loss of consortium, emotional distress, impairment or disfigurement.

Every case is unique and the amount of compensation awarded for non-economic damages is not an easy calculation. A personal injury lawyer has the expertise on how to successfully claim these damages and receive financial compensation.
#3: Insurance Companies
It's not uncommon for insurance companies to know that you'll be stressed and worried in the initial aftermath of an accident and try to pressure you into accepting an early settlement offer. Or, after filing a claim, an insurance company may deny or devalue your claim for a litany of reasons. Insurance companies employ adjusters and attorneys whose goals are to mitigate claims and lessen their losses. It can be very challenging for an individual to fight professionals, especially in a complex claim.

Personal injury lawyers will handle all communications and negotiations with insurance companies, saving you time and stress. They have a full understanding of insurance adjuster tactics to deny or devalue claims and will build a solid case that is difficult to refute.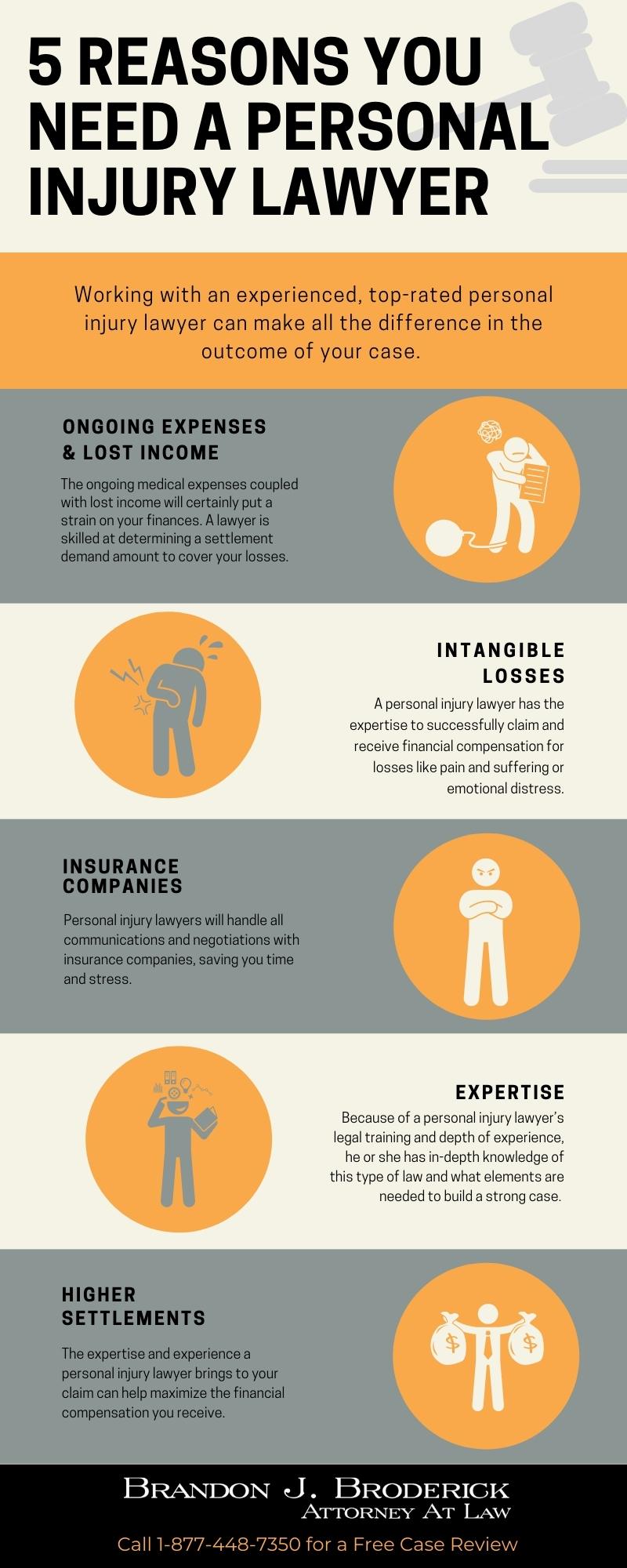 #4: Expertise
Personal injury lawyers specialize in cases involving accidents or illness caused by another party's negligence, such as car crashes, truck accidents, workplace accidents, wrongful death, and slip & fall incidents. Because of a personal injury lawyer's legal training and depth of experience, he or she has in-depth knowledge of this type of law and what elements are needed to build a strong case.

In a personal injury claim, your attorney will gather evidence, interview witnesses, review medical records and consult with experts if needed to build your case, prove your injuries and liability. They will also make sure to meet all deadlines and ensure legal documents are properly filed to protect your case.
#5: Higher Settlements
Research shows that hiring an attorney tends to lead to a higher settlement amount. According to a 2014 study by The Insurance Research Council (IRC), injured car accident victims who hire a lawyer receive a much larger settlement than those who do not. Even when you take into account attorney's fees (paid once the claim is settled), injured claimants received a higher amount. The expertise and experience a personal injury lawyer brings to your claim can help maximize the financial compensation you receive.

Call Our Personal Injury Lawyers Today
Working with an experienced, top-rated personal injury lawyer can make all the difference in the outcome of your case. Why be left without enough compensation to cover your bills and other losses -- for an accident caused by someone else's negligence or carelessness?

At Brandon J. Broderick, Attorney at Law, our personal injury lawyers have decades of experience and a track record of results, with more than $500 million in compensation awards. Our firm works on contingency, which means that you don't pay any legal fees unless you win your claim.

Many of our clients tell us they feel a sense of relief once they make that first phone call. Contact us today for a free consultation. We have several convenient locations in New Jersey, New York, and Connecticut.