Countless Americans embrace dogs as part of the family and reap the benefits of pet ownership. Our canine companions, however, can show aggression and be potentially dangerous if they find themselves in certain situations. The holiday season can be an especially risky time for dog bites as families gather together and thus 'strangers' and potentially other dogs enter the home.

Whether you're attacked by a family member's dog, neighbor's dog or stray dog, a dog bite injury is a traumatic experience. In this blog post, we'll review the do's and don'ts after a dog bite injury.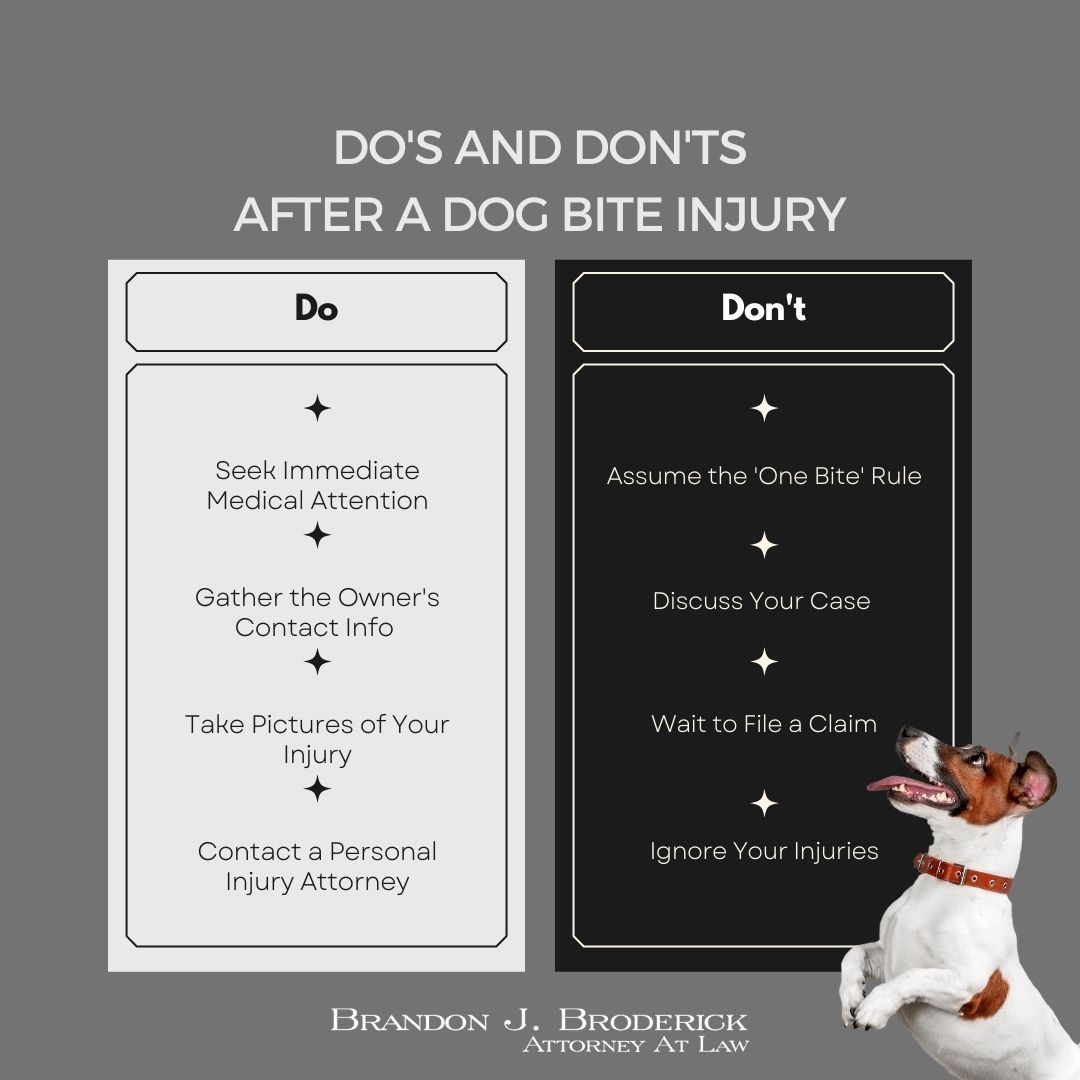 Do Seek Immediate Medical Attention
Dog bite injuries range from minor injuries like cuts and abrasions to serious, life-threatening injuries that require months or years of treatment and rehabilitation. The most common and serious threats associated with dog bite cases are the infections that often develop at the injury site. Capnocytophaga is a bacteria that lives in the mouths of dogs and other animals. While the bacteria doesn't make the animals sick, it can cause serious infection and even sepsis in humans.

Even if you don't believe you are seriously injured, seeking immediate medical care after a dog bite is important. It not only starts the process of recovering from your injuries and preventing infection but also creates evidence for a potential claim.

Do Gather Info and Take Photos
If possible after the accident, gather contact information for the dog's owner, dog tag or license numbers. The dog's owner can provide you with information about the dog's vaccination history which is important in how your doctor will determine your own treatment.

As soon as you're able, write down all of the details you remember about the incident. Memories can fade so it's important to capture as much detail as you can in the immediate aftermath. Take pictures of your injuries as they heal.
Do Contact a Personal Injury Attorney
If you or a loved one has been seriously injured by a dog bite, you may have grounds to file a personal injury claim to recover financial compensation for your losses. An experienced personal injury lawyer will know how to build your case and prove liability to maximize the amount of compensation you can seek in a claim.

Insurance companies are notorious for giving injured victims the run-around and attempting to deny or devalue claims. Hiring an attorney is in your best interest. And, most personal injury attorneys only charge a fee if you win your claim.
Don't Assume the 'One Bite' Rule
Many people falsely assume that if the dog bite is the animal's 'first bite,' the dog's owner is not responsible for any expenses or losses incurred because of the injury. In New Jersey, this is not the case. New Jersey's Dog Bite Statute, N.J.S.A. 4:19-16, establishes strict liability for dog claims in the state, even if the owner was not aware of the dog's viciousness or if the dog had never exhibited this type of behavior in the past.

In other words, under New Jersey's statute, a dog owner is liable for the harm his or her dog causes, even if this was the dog's "first bite." In order to file a claim, a dog bite victim only needs to show that he or she was bitten by a dog and establish to whom the dog belongs.
Don't Discuss the Case
Be wary of giving a recorded statement or negotiate settlements with an insurance company without talking to a personal injury lawyer about your case. Insurance companies won't hesitate to use your statements against you to deny or devalue your claim. And, they commonly pressure injured victims into accepting lowball settlement offers early on in the claims process.

Don't Wait to File a Claim
New Jersey has a 2 year statute of limitations for filing a personal injury claim. While this may sound like a long period of time, it's in your best interest to start the process of filing a claim as soon as possible. The earlier you start, the greater your chances of a successful claim. If you've been seriously injured, your attorney will need adequate time to build evidence and bolster your case to protect your rights to maximum compensation.

Call Brandon J. Broderick, Attorney at Law, for Help
When you contact Brandon J. Broderick, Attorney at Law we will take the time to review your case and determine the legal options you can pursue to recover damages. We handle the communications and negotiations with insurance companies and build your case to pursue maximum compensation for your injuries. Don't be left on the hook for medical bills and expenses that are not your fault.

At Brandon J. Broderick, Attorney at Law, we are dedicated to assisting clients throughout New Jersey, New York, and Connecticut. We have decades of experience in personal injury and the extensive resources you need to secure a fair case result. Our compassionate attorneys put client care and your needs first. Contact us immediately for a free legal review.