Workplace accidents can occur in any industry, at any type of workplace. Most commonly, construction workers, healthcare workers and warehouse workers (among others) are at risk of injuries from accidents as well as chronic injuries that occur over time. If you've suffered a workplace injury, make sure to follow do's and don'ts to protect your rights and receive compensation for your losses.
Can I File for Workers Comp After a Workplace Injury?
Generally, employees can claim workers compensation benefits if they are injured at work or suffer an illness because of the workplace. Workers compensation benefits include compensation for the cost of medical expenses as well as lost wages (or a portion of) for the period during which the employee cannot return to work.
Most employers in New Jersey are required to carry workers compensation insurance and provide this benefit. However, the process of actually obtaining workers compensation benefits can be complex and challenging.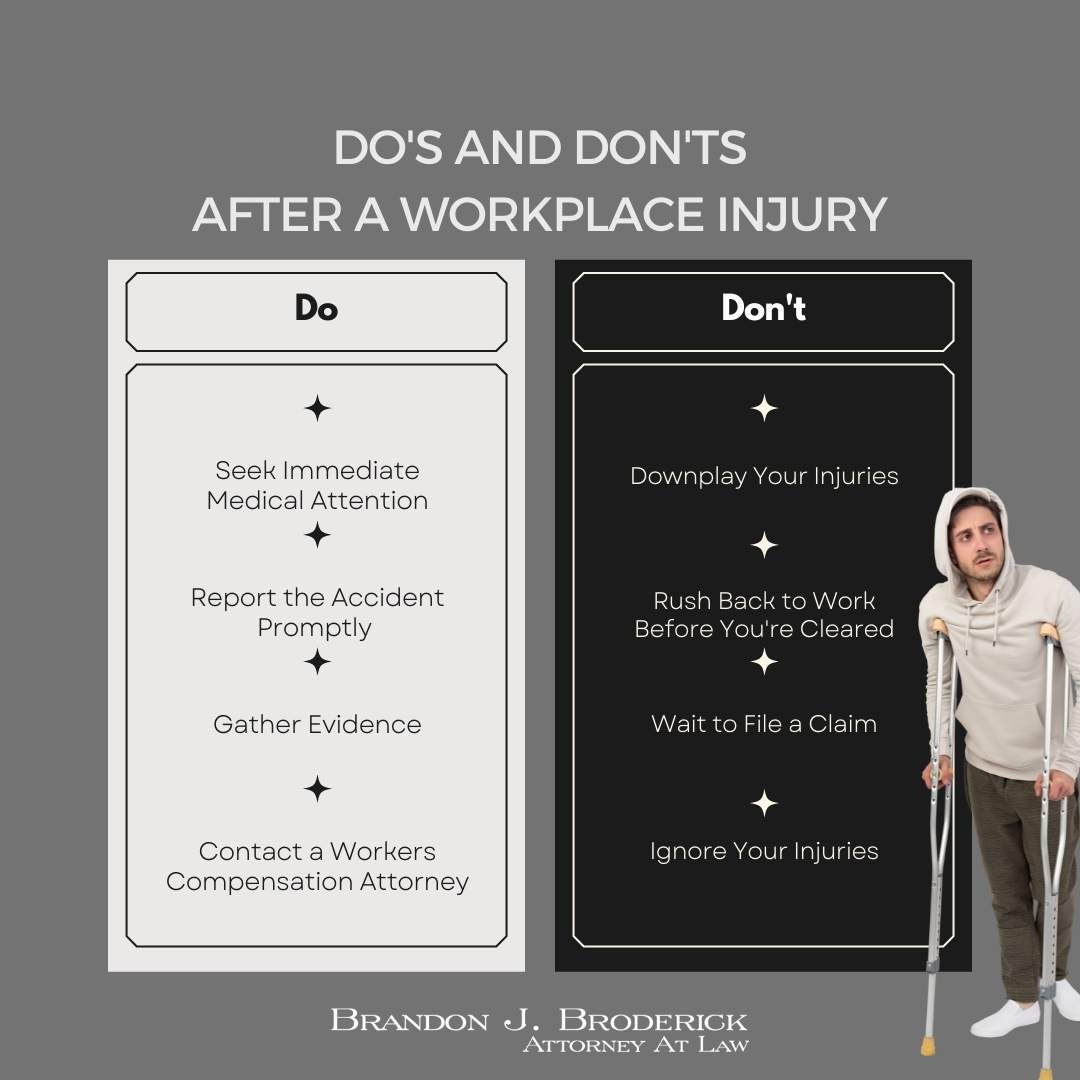 What You Should Do After a Workplace Injury
In the immediate aftermath of a workplace injury accident, there are four things that you should be sure to do.
Seek Medical Attention
The severity of an injury suffered in a fall can be extensive, including fractures, head injuries, spinal cord trauma, back injuries, and neck injuries. In these instances, emergency medical personnel are called and medical attention begins immediately. However, even serious injuries can be slow to present with symptoms, which allows them time to develop into something even more serious and more difficult to treat.

Don't be tempted to ignore your injuries and jump right back into work. Put your health first and seek medical attention. Even if you don't think your injuries are severe, getting medical attention early can be critical to proving your case later.

Report the Accident Promptly
In New Jersey, employees have 14 days to notify their employer of a workplace accident with few exceptions. Filing a late claim or failing to report the accident to your employer could result in your claim being denied completely.
Many employers may have a policy or procedure to follow after a workplace accident. Make sure to follow company procedures. Be wary of how you phrase your condition and avoid making statements that downplay your injuries.
Gather Evidence
Start documenting and filing your financial losses including the cost of medical co-pays, medication and medical devices. You should document the time and location of doctor and therapy visits.
An element of your workers compensation claim will include proving that injuries are a result of an incident at work or from an occupational hazard. If you're able, take photographs of any hazards that you believe may have contributed to your injuries such as jagged or slick flooring, equipment strewn on the ground or faulty equipment.
Contact a Workers Compensation Lawyer
You should contact a workers compensation lawyer in the immediate aftermath of a workplace accident. They will have a comprehensive understanding of the process and system and help you receive the maximum compensation for your losses.
What You Should Not Do
After a workplace injury occurs, there are a few things that you should not do out of legal caution.
Don't Downplay Your Injuries
It's human nature to many people to downplay the pain you are experiencing or withhold details about all of the symptoms you may be experiencing. After a workplace injury, it's important to be honest and fully communicate the effects of your injuries and any symptoms to doctors and employers.
Don't Rush Back to Work Before You're Better
Some workers may feel guilty about missing work after an injury or illness and try to get back to work too quickly. Returning to work too quickly after the work accident could cause you to lose out on benefits too early. You may think you're feeling up to it and quickly realize you aren't ready. Take the recommended time to heal to protect yourself from further injury or delayed progress.
Do Not Sign Anything
Don't settle or sign anything without discussing your case with a lawyer. You might be asked to sign a document that says you won't take legal action, but there's no way of knowing whether you have a case or if another party could be liable for the accident. Protect your rights and don't agree to a hasty settlement.
Don't Hesitate to Contact a Lawyer
Especially for serious injuries, it is important to have an advocate who understands the complexity of the workers compensation system and can guide you through the process as you focus on healing. An attorney will architect your claim and protect your rights to receive the maximum level of benefits. Oftentimes, insurance companies may delay, deny or improperly classify a disability or injury in order to pay less benefits.
Get Help After a Workplace Injury Today
While the workers compensation benefits process may seem straight-forward, it does not necessarily guarantee that you will be compensated fairly. At Brandon J. Broderick, Attorney at Law, we are dedicated to assisting clients throughout New Jersey and New York with workers' compensation cases. We have years of experience and the extensive resources you need to secure a fair case result. Contact us today for a free consultation.