May is Motorcycle Safety Awareness Month. With the tri-state region's recent summer-like temperatures, riders from New Jersey to New York to Connecticut are enjoying the unbridled freedom riding a motorcycle can bring. But motorcycle riders and passengers are extremely vulnerable on the road. It's up to all of us to keep these motorcycle safety tips in mind to keep everyone safe.
Motorcycle Safety Tips
1 - Wear a Helmet.
Studies show that riding a motorcycle without a helmet increases the risk of death in an accident by more than 40%; and, unhelmeted riders are three times more likely to suffer a traumatic brain injury in a crash. Without question, riding with a helmet is safer than without. In New Jersey and New York, it's also the law to wear a helmet while riding a motorcycle.
2 - Deck Yourself Out on Safety Gear
There is no shame in practicing good safety habits, even if it feels awkward or uncomfortable at first. One of the best ways to have a safe ride is to wear the appropriate motorcycle gear. But motorcycle gear is more than just helmets and goggles. You can also wear gloves, jackets, boots, and pants.

Each article of clothing is made specifically to protect the body against impact, road rash, and wind-related damage.
3 - Take a Safety Course.
A motorcycle safety course can strengthen a rider's defensive driving skills. Regardless of how long you've been riding, a safety course can help you learn new skills or refresh your knowledge on best practices on the road.
4 - Consider a Bike with Antilock Brakes
According to IIHS, the rate of fatal crashes is 22 percent lower for motorcycles equipped with optional antilock brakes than for the same models without them. When a bike's tires are prevented from locking up, the rider reduces his or her risk of a serious fall.
5 - Make Yourself Visible
One of the biggest reasons that motorcycle accidents occur is because motorcyclists are not seen in time. To avoid these situations from occurring, you should find ways to make yourself visible to traffic at all times.

A good option for new motorcycle riders is to only ride when there is light out. Riding in the dark can decrease the visibility of traffic regardless of how many headlights are on. If you choose to ride in the dark, you should wear protective gear that is both reflective and brightly colored. Reflective tape on motorcycle gear is essential to help cars see you at nighttime.
6 - Check the Weather
Heavy rain and wet pavement can cause a wide range of accidents, no matter what kind of vehicle you are driving. Drivers may have a harder time seeing motorcycle riders during poor or inclement weather. Make sure to check the weather before you go and consider keeping the bike off the road in poor conditions.
7 - Stay Sober
Drinking or using drugs before getting behind the wheel of any type of vehicle is never a good idea. Because of the risks of riding a motorcycle, it's even more important that the driver is in complete control and fully aware of all surroundings.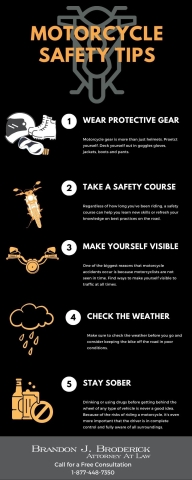 Brandon J. Broderick, Motorcycle Accident Lawyers
If you or a loved one suffered an injury due to a motorcycle accident, we can help. After an injury accident, you should be focused on your health and well-being. When the accident is due to someone else's lack of care, you may need legal representation to ensure your rights and best interests are protected—in these situations, having someone who is on your side to back you up can be a huge relief.

When you hire a motorcycle accident attorney from our team at Brandon J. Broderick, you can be assured we will passionately and aggressively represent your best interests and work to maximize your compensation. Without a legal claim, the insurance company can offer you a lowball offer that barely covers any of your needs. You may be left having to pay for the costs of your injuries on your own. Contact us today and let us turn your setback into a comeback.