It's no secret that distracted driving is an unsafe practice. It leads to about 3,000 deaths per year in the U.S. alone, as well as countless injuries. By keeping your eyes out for the signs of a distracted driver, you'll stay safe on the road whether you're making the morning commute to work or heading on a long family trip.

Some of the most common signs of distracted driving include:

Swerving over the white or yellow lines
Witnessing conversation between the driver and passenger
Accelerating and then slowing down way below the speed limit
A driver looking down at his/her lap
A driver bending over
Braking late
According to the CDC, each of the signs of distracted driving occurs in 1 or more of the 3 different categories based on the nature of said distraction.

Cognitive – Anything that involves you not having your mind focused on driving.
Visual – An action that causes you to take your eyes off the road.
Manual – A distraction that involves you taking one or both of your hands off the wheel for whatever reason.
With that in mind, let's take a closer look at these common signs of distracted driving so you'll know what to look for on the road.
Swerving Over the White or Yellow Lines
Swerving over the white or yellow lines on the road is a manual distraction. If you see a car swerving ahead of you, that could mean a person is failing to stay steady as they send a text message. Worse yet, the driver could be falling asleep at the wheel or under the influence of drugs or alcohol.
As long as the driver has steady hands at the 9 o'clock and 3 o'clock positions, no swerving should be happening. However, if the car continues to swerve over the lines, it's a good sign they're distracted.
Witnessing Conversation Between the Driver and Passenger
Conversations or arguments while driving are considered cognitive and visual distractions. When in a conversation or argument while in the car, you are thinking about something else other than driving. If attempting to make eye contact with the passenger, you're visually distracted.

If you are at a stoplight and witness conversation or moving hands in the car, you are near a distracted driver. Whether one or both of the individuals are flailing their hands to make a point in an argument, or you see that the driver has their attention off the road to talk to a passenger, this means they are not paying attention to the stoplight.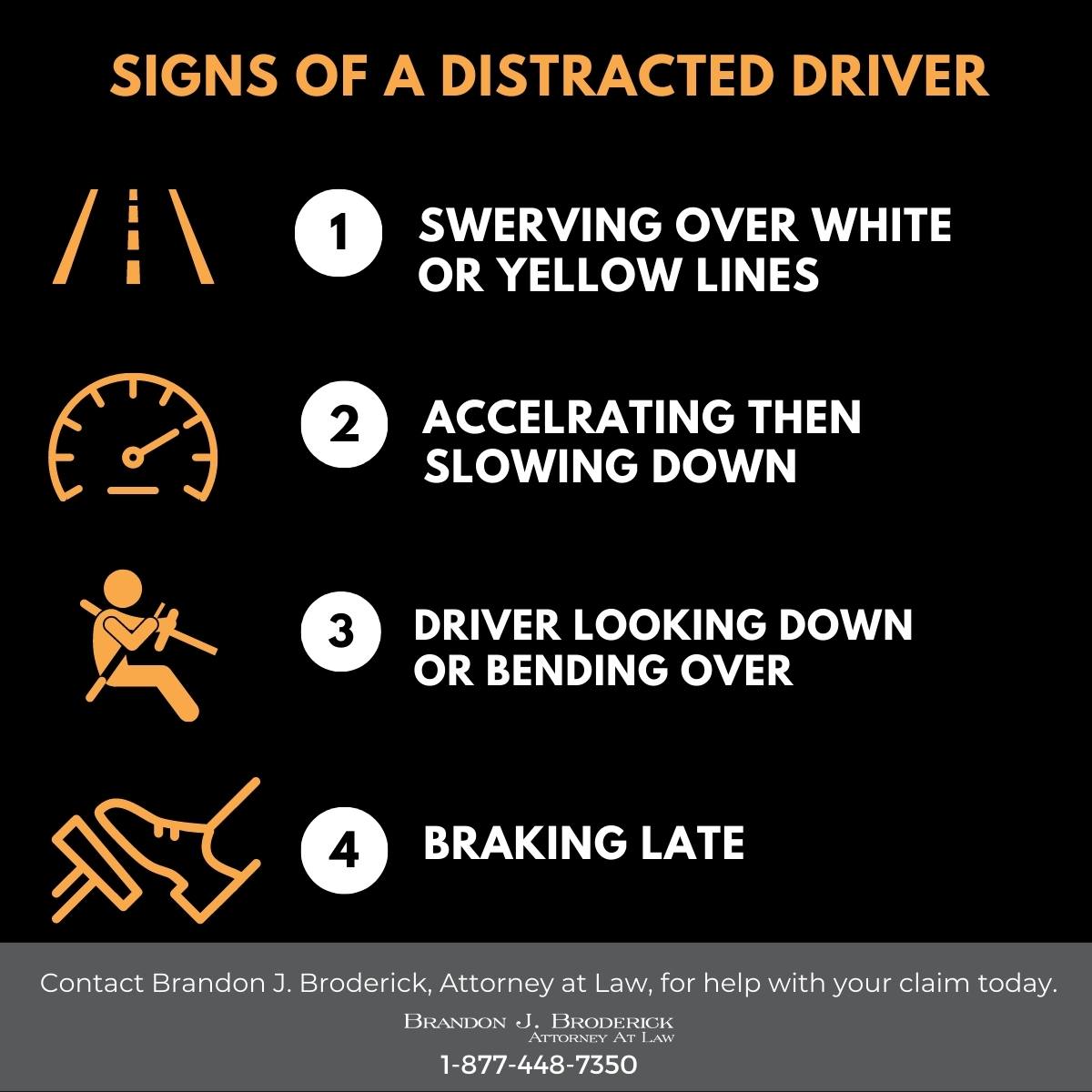 Accelerating Then Slowing Down Way Below Speed Limit
You may have experienced a car in front of you accelerating like normal but then slowing down about 10-20 miles below the speed limit before accelerating again.
This may mean that the distracted driver was accelerating before receiving a text and the slowing down occurred as a text message was received. The slowing down below the speed limit means that someone is usually in the middle of sending a text message and then accelerated again once the message was sent.
Besides texting, this could happen if someone is lighting a cigarette, putting on makeup, checking a GPS, or even trying to pick up something that fell on the passenger side floor.
A Driver Looking Down At His/Her Lap
If a driver is looking down at his or her lap, that means he or she may be looking at a text message, scrolling on social media, or doing something else on their cell phone or another device while driving.

If you are driving at night and see a driver looking down at their lap while the light is shining, this means they are texting (or using a handheld device in general) and likely not paying attention to the road.
A Driver Bending Over
One of the signs of a distracted driver is if he or she is behind over while in the driver's seat. Maybe the distracted driver was using their phone and dropped it. Perhaps he or she was eating while on the go and dropped their wrapped up breakfast sandwich. Whatever the reason for the action, this is a sign of a distracted driver, and one of the most dangerous situations to be around while on the road.
Braking Late
A driver may hit the brakes on their vehicle late if he or she is supposed to stop at a stoplight, stop sign, or four-way but wasn't paying attention and has to brake at the last minute. If you witness a motorist constantly braking late at one of these venues, he or she could be distracted from what's on their mind, using a handheld device, or doing another activity in the car that takes away their focus from driving.

If a driver brakes too late repeatedly while he or she is in front of you, it could lead to an accident – especially if you follow too close to them. Be sure to stay many car lengths behind them in case they continue braking late.

Distracted driving is dangerous for the driver involved, but it's even more of a risk to other unsuspecting vehicles on the road. The best thing you can do is to avoid distractions, yourself, and keep your eyes open to other distracted drivers around you.
Get Help if You've Been in an Accident with a Distracted Driver
If the unfortunate happens and you've been injured in a car accident, don't go it alone. An experienced car accident lawyer can advocate for your best interest and pursue fair compensation for your damages. At Brandon J. Broderick, Attorney at Law, you can count on us to work tirelessly for your quality of life. With our long track record of success, we've helped people just like you move forward after sustaining an injury that was caused by another's negligence. Contact us now for a free legal review.