The highways and byways of New Jersey are becoming more dangerous places to drive.

Statistics show that the number of fatal car accidents in New Jersey is rising. According to the New Jersey State Police, at this point in the year, there were 335 fatalities in auto crashes in 2019. A year later, as of this date in August 2020, the number of accident fatalities had increased to 335, a 2% increase. Now, in August 2021, the recorded number of deaths so far in 2021 through car accidents is 367, an almost 10% increase from last year.

Even with fewer cars on the road with less people commuting, New Jersey roads are only becoming more hazardous to drivers.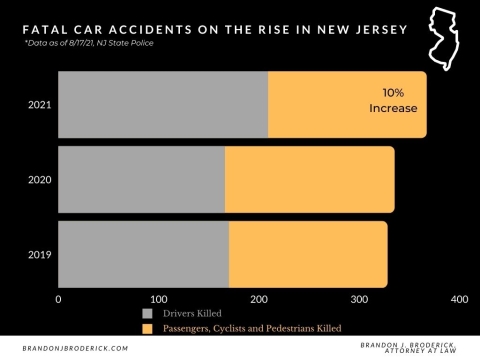 Accidents on the Rise
The rate of fatalities in New Jersey due to car accidents is not the only number on the rise. The number of auto crashes in New Jersey is also steadily increasing. While the New Jersey State Police recorded 524 accidents in 2019, by 2020, that number had jumped to 549. Despite only being eight months into 2021, the number of New Jersey accidents has already topped 350.
Factors Making NJ Roads More Dangerous
You may question what is causing so many fatalities due to accidents on New Jersey roads. Several factors influence the New Jersey fatality rate in auto crashes.
Distracted Driving
Even if it's as simple as changing the radio station or texting a friend, getting distracted while driving can be fatal. The National Highway Transportation Administration reports that about 8.5 percent of all accident fatalities in the U.S. are due to distracted driving.
Unsafe Speeds
The New Jersey State Police notes that, along with distracted driving, excessive or unsafe speed is a leading cause of auto accident fatalities. Driving at high speeds makes accidents more likely and more deadly.
Impaired Driving
Legally, drivers are intoxicated if their blood alcohol level is .08 or higher. While New Jersey law enforcement officers work to keep drunk drivers off the roads, not all of these drivers can be caught in time. Driving under the influence of alcohol or other intoxicating substances contributes significantly to auto crash fatalities.
Urban Driving
A high volume of drivers on the road makes you more likely to be involved in an auto accident. Thus, driving in and around New Jersey's cities can be more dangerous than driving elsewhere, simply because more drivers are on the road.

The New Jersey counties of Essex, Hudson, and Passaic, which are home to the state's three largest cities, have the highest rates of auto accidents. Compared with state statistics, they at least are not higher than average when it comes to the rate of car crash fatalities.

Drivers on the New Jersey Turnpike and other highways in New Jersey's urban areas also travel at higher speeds, making accidents more deadly.
New Jersey's Rural Roads
If you think you're safe from fatal car accidents in New Jersey's rural areas, think again. New Jersey's rural roads often only have two lanes, which can make head-on collisions more likely. Road conditions in rural areas may also contribute to accident fatalities. And like urban areas, rural roads can also be plagued by distracted, impaired, or reckless drivers.
How New Jersey Ranks Nationally
New Jersey has a car crash rate, 359 accidents per 100 million vehicle miles driven, above the national average of 208. The state ranks 27th among states in fatal car accidents, but when comparing the rate against millions of miles driven, New Jersey has the third-lowest rate of fatal car accidents in the U.S.

However, the possibility of you or those that you love being a casualty of a fatal accident is always present.
Have You Been Affected by an Auto Accident?
A fatal auto accident may leave children without a parent or a spouse facing life's challenges alone after the death of their partner. Financial costs only begin with final expenses. What about mortgages and plans for a child's education? Just keeping bills paid may feel like an insurmountable challenge.

If you have been involved in a car accident and have been left injured, you may not know where to turn. Let the Brandon J. Broderick firm help. Our team of legal experts understands your rights and is willing to fight to ensure you are fairly compensated.

Were you injured in a car accident? Have you lost a loved one in an auto crash? Brandon J. Broderick's team of experienced car accident attorneys is available to you for a free legal consultation. Contact us today.