There may be a number of things running through your mind after you or a loved one has been injured in a car accident. While getting the medical attention you need should be your first priority, you may be thinking about the financial ramifications that may arise afterward. This can leave you feeling angry, stressed, or worried. You do not need to accept this stress. There are people who will be in your corner if you need them.
In such a precarious situation, it can be comforting to know you have legal representation looking out for you. In every case, Brandon J. Broderick, Attorney at Law is dedicated to doing whatever it takes to ensure that our client is provided with the best possible representation. That eliminates the need for you to deal with the legal details that typically arises after a Pennsylvania car accident. You won't find another law firm that can match the quality of service we offer. Just one of the many reasons why our Pennsylvania car accident attorneys are the best in the state.
Calling us or hiring us is completely risk-free for you. In order to better understand your situation, we provide a no-cost consultation. There is no initial payment required if you decide to proceed. We only collect fees if we win your case. Keep in mind that if you settle out of court, the insurance company will very likely attempt to pay you the bare minimum, which may not be enough to cover your losses, such as medical costs and/or lost wages. If you settle too soon without a PA car accident lawyer's help, you may have to pay these fees out of pocket.
If you've been hurt in a car accident, call Brandon J. Broderick, Attorney at Law, so we can help you get back on your feet.
---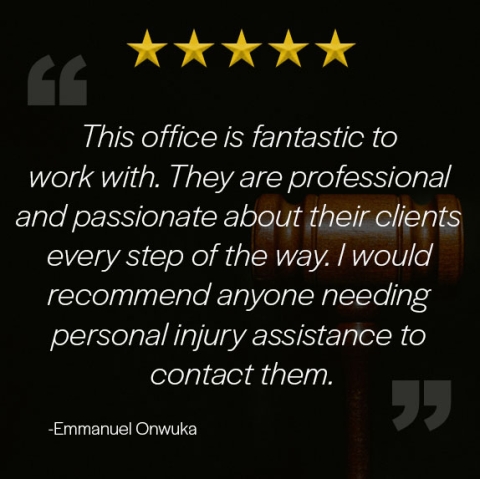 Please know that we will do everything in our power to help you or a loved one get the compensation you deserve, especially if an injury was due to the negligence of another. So many of our clients have benefited from our help. To reach us, dial (877) 359-4928 if you have any inquiries.
Below are some important points to remember surrounding Pennsylvania law pertaining to car accidents, insurance claims, and related topics.
If You've Been Hurt in a Car Accident, Brandon J. Broderick Is Here To Help
You should be reimbursed for all of your past, present, and future medical expenses, as well as any other losses you've sustained as a result of your injury.
However, it's important that you understand that all symptoms of an injury may take time to become apparent. Before an injured party seeks the help of a lawyer, an insurance company may try to contact them to settle the claim quickly and for a very low settlement amount. Don't fall for this trick. Give yourself some time to evaluate whether or not there are other losses that you should include in your claim and if your injuries have long-lasting effects on your quality of life and your ability to earn a living.
We've Had Much Success as in Both the Courtroom and in Negotiations
If you don't file a legal claim, many insurance companies will offer you a very low settlement. This is their strategy: get out of paying damage claims altogether or settle for as little as possible.
Working with the insurance provider can be a lot less stressful if you have the help of the PA car accident lawyers from Brandon J. Broderick, Attorney at Law. We'll take care of the necessary paperwork and fight to make sure you get paid in full. If we are unable to negotiate a fair settlement through negotiation, we will not hesitate to take your matter to court.
Please Allow Us to Get a Positive Outcome in Your Case
Trust your legal matters to Brandon J. Broderick, Attorney at Law so you may focus on getting healthy. We're here to help you and defend your rights while you go through this trying period. This is merely a speed bump.
Thanks to our experience and dedication to our customers, we can assist you in making a full recovery from your setback.
---
Steps To Take After A Car Accident in PA
Those who have just been in a car accident may be feeling panicked or disoriented. The best way to keep calm after a traumatic occurrence is to be prepared for it beforehand.
We have put together a list of steps you can take in the event of a car crash below:
Find out if there are any injuries. The health of an accident victim is often most vulnerable in the minutes after the incident. If someone is hurt, call an ambulance right away.
You should get your car out of the way of traffic by parking it somewhere safe.
Do not, under any circumstances, accept blame for the accident. Even if you think the accident was your fault, you don't want to complicate your claim later on, so don't take responsibility for it at the scene.
Contact the authorities to file a report detailing the accident's events.
Gather as much evidence as possible. Take pictures of the accident scene and of any injuries you sustain. Not only should you write down the standard details (names, license plates, contact information, etc.), but you should also include any other information that may be useful, such as the weather or your recollections of the accident.
Consult a lawyer who focuses on cases involving auto accidents in the state of Pennsylvania.
Keep a notebook, pen, and disposable camera in your car's glove compartment, and wait to speak with insurance adjusters until you've consulted a car accident attorney in Pennsylvania.
It's important to get checked out right away if you've been hurt in a car crash. Inquire now for a no-cost consultation to find out how we can help. We are confident in our ability to assist you with any problem.
What is the Value of My PA Car Accident Claim?
The answer to this question is not always simple, but it is common. The specifics of each car accident make it impossible to provide an accurate assessment of your claim's value. Most of the time, we assist clients in pursuing full and fair compensation for all of their injuries sustained in an accident.
As mentioned, most insurance companies will attempt to reach a settlement quickly. With this tactic, insurers may usually offer significantly lower settlements than they would if the injured party had properly assessed the extent of their injuries or consulted an experienced car accident attorney. Injury-related losses must be determined before any settlement offer can be considered. An initial settlement offer could seem quite attractive. Yet this may be before accounting for costs such as lost wages and medical bills. You may be entitled to compensation for not only financial losses like medical bills, but also emotional distress.
Economic Losses
Economic damages are the money you lose because of the accident. The term "economic damages" does not cover intangible losses, such as emotional distress or pain and suffering. If you've been injured and have won a personal injury case, you'll receive compensation for the amount of your economic damages. Typically, you will receive a single payment that will compensate you for all of your monetary losses, both past and future. It's usually not too complicated to figure out. It may include:
Lost income
Medical expenses
Property damage
Car rental
Sometimes it's necessary to bring in specialists to help put a dollar amount on some economic damages. Cases involving the estimation of future losses often necessitate the testimony of an expert who can comment on the nature and extent of an injury and the patient's prognosis for the future. A labor lawyer or economist may be helpful in calculating the monetary implications of a long-term loss of income.
In cases involving very significant long-term injuries, it is highly recommended that you retain the services of a personal injury attorney to assist you in managing your case to secure your best interests.
Non-Economic Losses
It is possible, though rare, for a plaintiff to win compensation for their pain and suffering in a personal injury lawsuit. Loss of enjoyment in life, mental distress, or the loss of a loved one are all examples of what are known as "non-economic damages."
Pain and suffering may leave you with more questions than answers. The trauma of being in a vehicle accident and the pain you feel as a result of your injuries can have a negative effect on your mental and physical well-being. If you're badly burned in an accident, you may have permanent scars that make you feel less than or take a long time to get over. It's conceivable you can sue for financial compensation after such a traumatic injury, but it's sometimes hard to quantify.
If you file a case, the court will decide how much money you should receive for your mental anguish. Your physical injuries will be evaluated by the insurance company and your lawyer. Consequences to sleep, routine, and personal and professional connections should be thought through over the long haul.
To calculate a fair amount of compensation for your injuries following a car crash requires a lot of discretion and experience. To protect your rights and ensure that you are fairly compensated, consult with our team of auto accident lawyers.
---
Pennsylvania: a "No Fault" State
There are currently 12 states in the United States that have no-fault insurance policies, and Pennsylvania is one of them. The process of filing a claim and choosing a policy going forward will be simplified if you are familiar with the state's laws pertaining to auto insurance and PIP.
The No-Fault System
In the Commonwealth of Pennsylvania, PIP insurance is mandatory for all drivers. If someone gets hurt in an accident, their own insurance will pay for their medical treatments, regardless of who was at fault. What happens when someone suffers serious harm and another person is clearly to blame? Most people in Pennsylvania are still limited in how much compensation they can seek if they file a lawsuit seeking more than medical expenses. This is dependent on the insurance policy you chose and whether it is "limited tort" or "full tort coverage".
In contrast to limited tort policies, which prevent claimants from suing after a predetermined payout has been reached, "full tort" policies allow individuals to opt out of the no-fault system and sue a negligent party. In conclusion, those with full tort coverage can still seek compensation for pain and suffering from a negligent driver. "Full tort" plans cost more, but they safeguard a person's right to an unrestricted jury verdict.
Full tort coverage is unlikely if you choose the most affordable policy option, like most people do. Generally, most policyholders have limited tort policies.
Statute of Limitations in PA
Statutes of limitations are time limits set for bringing legal action. The specifics of your case will determine how long you have to file your claim. Limitation periods may also differ from each state. In Pennsylvania, the statute of limitations for filing a civil action to seek compensation for injuries sustained or losses due to the negligence of another person is two years. All personal injury claims, including those arising from car accidents, truck accidents, slip-and-fall accidents, medical malpractice, product liability, and wrongful death, must be filed within two years.
When Does the Limitation Period Begin?
The statute of limitations is typically two years from the date of the incident. Two years from the day the injured party discovered or should have known that their injury was caused by negligence or unlawful conduct is a common starting point for the statute of limitations period, which is referred to as the "discovery rule".
To sum things up, the statute of limitations for filing a personal injury claim in Pennsylvania is two years from the date of injury. However, there is a strict six-month deadline for filing a notice of intent to sue a local, county, or state government for any claims.
Am I Required to Report My Car Accident In Pennsylvania?
Any car accident in Pennsylvania that results in any of the following must be reported to the Pennsylvania Department of Transportation within five days, regardless of whether or not police were called to the scene to conduct their own investigation:
injuries or death
vehicle damage that prevent it from being driven from the scene
The Pennsylvania State Police offer an online form to submit a request for a copy of an accident report if police were called to the scene.
Pennsylvania Insurance Requirements
All vehicles registered in the state of Pennsylvania must have insurance. To be more specific, drivers need to have the following coverage minimums:
$15,000 bodily harm liability insurance per person
$30,000 bodily harm liability insurance per accident
$5,000 property damage liability
When a policyholder causes an accident that results in financial loss for another driver, the policyholder's liability insurance kicks in to help cover those costs. If an insured driver causes an accident, the other party's legal fees and any losses they suffer will be paid by the driver's liability insurance.
It is recommended that drivers purchase additional insurance above what the law mandates. If a driver simply has the minimum required coverage, their liability insurance will pay out a maximum of $15,000 to an injured party. Payouts to multiple injured parties will not exceed $30,000.
The costs associated with car accidents typically exceed this amount. Unfortunately, losses in excess of a policy's limits are not covered by insurance. In the event of an accident when losses exceed the limits of the driver's insurance, the victim may file a claim against the driver individually. If they have uninsured or underinsured motorist coverage, they can file a claim under it as well.
---
The PA Car Accident Lawyers of Brandon J. Broderick Can Provide The Support You Require
It's normal to feel worried about the future after a traumatic event like a car accident. As well as physical pain, an accident can cause emotional distress due to the strain on your finances from missed work and medical bills. The PA car accident lawyers at Brandon J. Broderick, Attorney at Law, can help put your mind at ease.
If you've been in a car accident, you can count on us to provide you with the top-notch legal representation you need to win your case. That's why we're considered one of the top law firms for auto accidents in Pennsylvania.
You may be confident that we will use every resource possible to secure a favorable outcome for you. When it comes to representing clients who have been hurt in car accidents, our firm has extensive experience in helping thousands of clients in your position.
To discuss your legal alternatives, please contact us today. There is no obligation to retain our services. We offer free consultations.