Even though the vast majority of states require car insurance, the law doesn't necessarily stop an uninsured driver from getting behind the wheel. If you're in a car accident with an uninsured driver, you most certainly will have questions and worries running through your mind. How will you pay for the damages to your car? If you're injured, the situation may feel even worse. How will you be compensated for your medical bills and missed time from work? 
After any car accident, it's important to follow some key guidelines and steps to protect your rights to maximize compensation for your losses. In this blog post, we'll review the do's and don'ts after a car accident with an uninsured driver.

Do Seek Immediate Medical Attention
If you are seriously injured in a car accident, first responders and emergency personnel will likely already be called to the scene. Keep in mind, some injuries, like whiplash, may be slow to present symptoms or the shock of the events may be numbing you to pain and soreness. Don't blow off symptoms or assume they will resolve themselves. It's important to seek medical treatment as soon as possible, even if you think your injuries are minor. 
Seeking immediate medical care not only starts the process of recovering from your injuries but also creates evidence for a potential claim.  If you wait for a long period after a car accident to get medical treatment, the insurance company may claim that your injuries aren't that severe or that they weren't related to the accident.
Do Gather Evidence and Witness Info
If possible after the accident, ask other drivers, passengers and witnesses for their contact information. You should get their names, phone numbers, and email addresses. If you file a claim, your car accident lawyer will want to speak with everyone involved in the crash.

As soon as you're able, write down all of the details you remember about the accident. Memories can fade so it's important to capture as much detail as you can in the immediate aftermath. Take pictures at the scene, if you can. And, take pictures of your injuries as they heal.

Do Contact a Car Accident Lawyer
It's essential to work with an experienced car accident lawyer after a car accident with an uninsured driver. In no-fault car insurance states like New Jersey and New York, your own personal injury protection (PIP) insurance should compensate you for losses related to medical bills and lost income after an injury accident, regardless of the other driver's insurance. That still may mean you need an experienced negotiator on your side to get you the full and maximum compensation you're entitled to.

An experienced car accident lawyer will know how to maximize the amount of compensation you can seek in a claim. If you opt for uninsured/underinsured insurance protection, you may have higher limits to the amount of compensation you can seek. Hiring an attorney is often in your best interest. And, most car accident attorneys only charge a fee if you win your claim.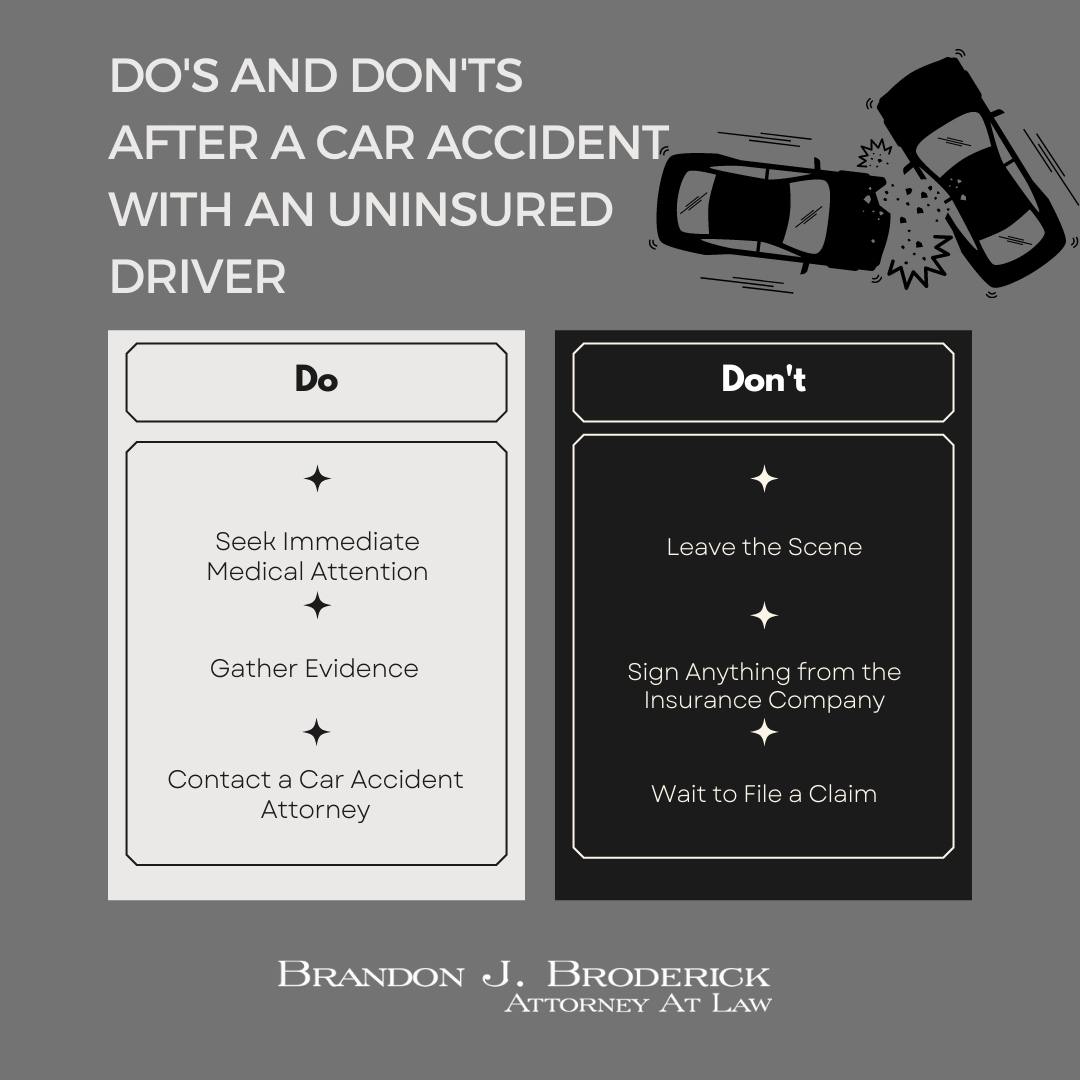 Don't Leave the Scene
The only reason you should leave the scene of a car accident is to obtain medical care via ambulance. Do not leave the scene before the police arrive. If the police don't arrive on the scene, you may need to file an accident report on your own – often through an online form. Many states, including New Jersey and New York, require that drivers report any accident that causes injury. 

Don't Sign Anything from the Insurance Company Without Talking With a Lawyer
After a car accident, you may hear from insurance adjusters asking for statements and offering you a settlement. Your insurance carrier may pressure you into giving a statement or information that could hurt you down the line. Insurance companies may also offer you a monetary settlement for your injuries. Don't sign an insurance settlement without discussing your case with an attorney. Once you sign and accept a settlement, you cannot go back and reopen the claim if you realize later that the settlement is not enough to cover all of your costs.

Don't Wait to File a Claim
All states have a time limit, or statute of limitations, for filing an injury claim. For example, New Jersey has a 2 year statute of limitations for filing a personal injury claim while New York has a three year statute of limitations. While this may sound like a long period of time, it's in your best interest to start the process of filing a claim as soon as possible. The earlier you start, the better your chances of a successful claim.  If you've been seriously injured, your attorney will need adequate time to build evidence and bolster your case to protect your rights to maximum compensation.
Call Brandon J. Broderick, Attorney at Law, for Help
When you contact Brandon J. Broderick, Attorney at Law we will take the time to review your case and determine the legal options you can pursue to recover damages. We handle the communications and negotiations with insurance companies and build your case to pursue maximum compensation for your injuries. Don't be left on the hook for medical bills and expenses that are not your fault.

At Brandon J. Broderick, Attorney at Law, we are dedicated to assisting clients throughout New Jersey, New York and Connecticut with their car accident and personal injury cases. We have decades of experience and the extensive resources you need to secure a fair case result. Our compassionate attorneys put client care and your needs first. Contact us immediately for a free legal review.