In the last twenty years, the number of car accidents causing injury or death has declined, even though there are more drivers on the road. That being said, car accidents are common -- there were more than 61,000 car accidents that caused injury and 500+ fatal crashes annually in New Jersey alone, according to the most recent data. By diving into the numbers a bit, differences between generally urban and rural locations start to play out.

The most common way of measuring road safety is by number of miles traveled. Specifically, car accident rates are often measured per 100 MVM (100 million vehicle miles). This represents the total travel distance of a state or population. For instance, to determine the fatal car accident rate, divide the number of fatal car accidents annually by the total number of miles driven on a roadway.

New Jersey Car Accident Statistics Compared to the Other States
New Jersey is above the national average of car crashes per 100 MVM with 359 crashes per 100 MVM compared to the US's 208 per 100 MVM. In fatal car accidents, New Jersey is about average compared to other states, ranking 27th in total numbers, with 564 deaths from 525 fatal crashes. However, when you examine New Jersey's fatal car accident rate per MVM you find it far below the national average. In fact, New Jersey has the 3rd lowest rate of fatal car accidents per 100 million vehicle miles.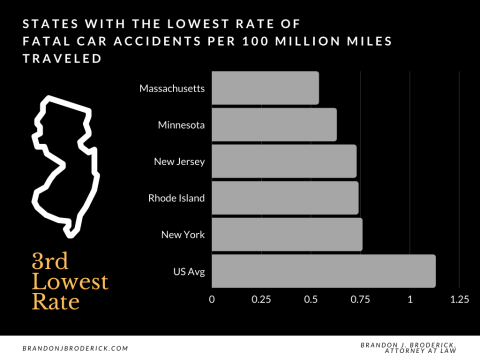 New Jersey is a fairly urban state with many areas considered part of the country's largest metropolitan areas. In urban areas, car accidents may be more frequent because there are more drivers on the road and the roads are more congested. Fender-benders or low speed collisions may be more common, though they still can cause injury. While on the other hand, car accidents occurring in rural areas can involve vehicles traveling at higher rates of speed along two lane roads resulting in accidents like head-on collisions that are more likely to be fatal.

New Jersey Car Accident Statistics by County
New Jersey's counties with the three largest cities -- Essex, Hudson, and Passaic -- show the highest rate of car crashes per 100 MVM.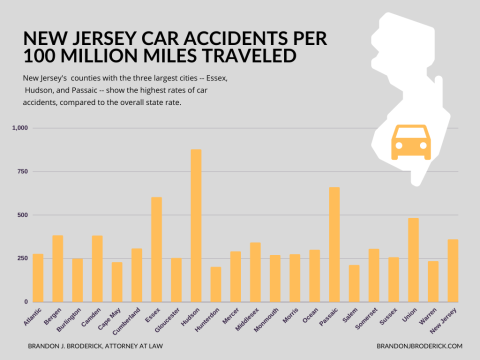 Nonetheless, those same counties -- Essex, Hudson and Passaic -- have average rates of fatal car accidents per 100 MVM, compared to the overall state rate. The comparison of the high incidence of car crashes in those counties with average fatality rates shows how very urban areas can have more car crashes but a lower likelihood that those crashes are fatal. And to note, in terms of road safety, New Jersey's Hunterdon County has the lowest rates for each category.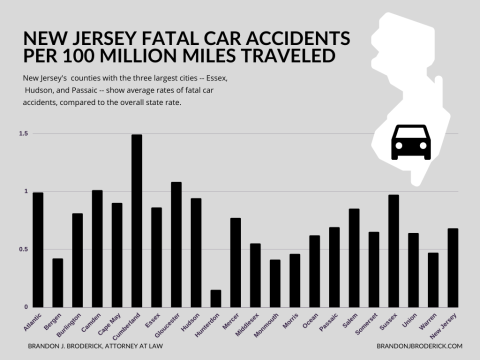 Have You Been Injured in a Car Accident in New Jersey?
Regardless of where you are in New Jersey, Brandon J. Broderick's team of experienced car accident attorneys will come to you. If you've been injured in a car accident, working with an experienced attorney who understands the nuances of your specific situation can make all the difference in the outcome of your case. Why risk being unfairly compensated and not having recourse to fix it? When you hire a car accident lawyer from our team, you pay nothing upfront. We work on contingent fees that are only collected if we win your case. If we don't win, you don't pay.

Contact Brandon J. Broderick, Attorney, at Law, for a free consultation. With our proven track record of success and our commitment to client care, we can turn your setback into a comeback.