It's normal for you and your loved ones to be focused on health after a car accident leaves you with injuries. If you were hurt because of another person's negligence, you may be experiencing a range of emotions, from stress to worry, maybe even resentment. Let us worry for you.
The presence of reliable legal counsel in such a time of need can be reassuring. The lawyers at Brandon J. Broderick, Attorney at Law, are committed to providing top quality legal representation to each and every client. That means you won't have to deal with any of the legal nonsense that you may run into in any car accident case. Other law firms cannot provide the level of service we do. This is only one of the many reasons why our Vermont car accident lawyers are considered the best in the state.
You carry no risk in calling us or retaining our services. We offer a free consultation to discuss the details of your case. If you choose to move forward, you do not pay anything upfront. We only get paid if you win your case. It's important to keep in mind that most insurance companies will only offer you a minimum settlement if you don't go to court, and that settlement might not even be enough to cover your losses. These costs may have to come out of your pocket if you agree to an early settlement without consulting a lawyer.
After an injury, do not hesitate to give us a call so that we assist you in overcoming this obstacle.
---
If you or a loved one ever suffer an injury at the hands of another, you can rest assured that we will do everything in our power to help you recover compensation you are entitled to. We have assisted many other clients do the same. If you have any questions, please call us at (877) 359-4928.
The following page will offer a summary of information regarding car accidents, car accident claims and laws surrounding them in Vermont.
Brandon J. Broderick Can Help You After a Car Accident in Vermont
Get compensation for all of your medical bills and related losses for the past, present, and future.
Even with the best medical care, it may take time for the symptoms of a serious injury to manifest, especially if it turns out to be life-threatening. Insurance companies often try to get in touch with a victim who has been hurt so that claims can be settled quickly and for the lowest possible amount before they have a chance to hire a lawyer. Injuries can have a lengthy impact on one's quality of life and one's capacity to earn a living, so give yourself time to assess whether or not other concerns arise.
We Have Proven Success as Both Negotiators and Trial Lawyers
Many insurance providers will offer you an insulting settlement if you don't file a legal claim in court. Insurance companies would rather avoid paying claims if they can, therefore they will do anything they can to pay the lowest settlement possible or not at all in many injury cases.
If you have Brandon J. Broderick, Attorney at Law by your side, dealing with the insurance company can be a lot less stressful. We'll handle all the paperwork and do everything to ensure you are paid what you're owed. We will not be afraid to take your case to trial if we are unable to reach a settlement through negotiation.
Let Us Change The Course of Your Case
With Brandon J. Broderick, Attorney at Law, you can put your concerns aside and make your health a priority. After an auto accident, you can rely on our legal team to aggressively pursue fair financial compensation. As you go through this difficult time, we will be here to defend your rights and support you. This is only a temporary setback.
Call Brandon J. Broderick, a Vermont car accident attorney, without delay if you need legal representation. We have the expertise and commitment to our clients that will help you recover from your setback.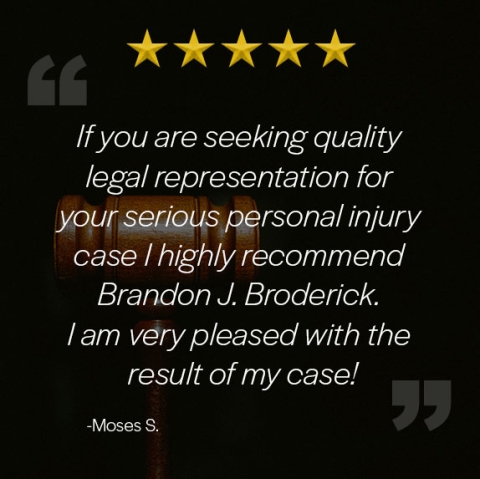 What To Do After a Car Accident in Vermont
Those who have been in car accidents commonly describe a sense of panic or disorientation in the minutes after the impact. Having a plan in mind before an event happens is the best approach to maintain composure in its aftermath.
Read below so that you are prepared if you get into a car accident and know what steps to take:
See if anyone has been injured. The minutes immediately following an accident can be very important to a victim's health. An ambulance should be contacted immediately in the event of an injury.
If your car is blocking traffic, you should move it to a safe location off the road.
Never, ever take responsibility for what happened. Do not admit fault at the scene, even if you feel it is your fault; doing so can complicate the claims process.
Compile as much supporting evidence as you can. Document everything from the scene to your injuries using photographs. In addition to giving the usual information (names, license plates, contact info, etc.), it's a good idea to jot down any pertinent details, such as the weather or your recollections of the incident.
Get in touch with a Vermont car accident lawyer who specializes in auto accidents in the state of Vermont.
Some other important tips include: stock your car's glove box with a notebook, pen, and disposable camera; and don't talk to the insurance companies until after you've talked to a lawyer, because what you say can and will be used against you in your claim. Hiring an attorney can help you get compensation after a car accident in Vermont.
If a car accident has left you with injuries, you should seek medical attention immediately. Get in touch with us at no charge for advice right now. Any obstacle may be overcome with the help of our years of experience and unwavering dedication to customer satisfaction.
Tips for Collecting Evidence Following a Car Accident
Witness statements, police reports, medical data, and victim testimonies are all typical pieces of evidence that you want to collect after a car accident. This info is very important if you opt to sue the driver who caused the accident. As with most lawsuits, you need proof that will help you win a case against the other driver for negligence and be awarded compensation for your losses.
Of all evidence you can collect, medical records are likely the most important. At the scene of an accident, first responders will be able to determine who has suffered injuries. Those people should receive medical attention after a car crash, as information about your injuries will be officially documented by a doctor. This can be used to prove your injuries, as well as the extent of harm and treatment you will need.
Digital data after the crash, such as photos taken with a digital camera could show the tire marks on the road, weather conditions, and any obstacles that may or may not be present. Someone who disregarded a red light may have been caught on video by a traffic camera. Some witnesses to the collision may have recorded the crash on their cell phones. Expert analysis of cellular data can reveal whether or not a defendant was texting or talking on the phone at the time of an accident.
There's also an "event data recorder" (EDR), which is standard equipment in most newer cars in the US. The National Highway Traffic Safety Administration recommends installing this kind of device because it records information about the vehicle and its occupants before, during, and after an accident. The device may track a variety of metrics, such as the vehicle's speed, acceleration, deceleration, steering angle, braking, and more. Having the information recorded by an EDR in the event of an automobile accident can be important to your case.
All of this evidence can prove to be very important to your legal case, if you choose to file one.
---
What Is My Vermont Car Accident Claim Worth?
People who have been in accidents will often ask this question, but the answer is not always straightforward. It's impossible to give a universally accurate estimate of how much your claim is worth, as the circumstances surrounding each car accident are unique. As a rule, we help our clients seek complete and equitable compensation for all of their accident-related injuries.
An insurance company will often try to settle with an accident victim as quickly as possible. This strategy will generally allow insurers to pay much less than they would pay if an injured party had evaluated their injuries accurately or sought the advice of an experienced car accident lawyer. Before you should even think about a settlement offer, you'll need to calculate the losses associated with your injuries. A settlement offer may appear lucrative at first. However, this may be before one considers the complete cost of medical treatment, lost wages, and other potential losses. You may be able to recoup not only your economic losses, such as medical costs, but also non-economic losses as well.
Economic Damages Explained
Financial losses sustained in a car accident are known as "economic damages." Non-monetary losses like emotional distress, for example, would not be compensated under economic damages. Whenever a plaintiff wins a personal injury case, they receive a lump sum payment to cover all of their financial losses. As a rule, you will receive a lump sum that will cover all of your past, current, and future financial losses. These losses are generally pretty straightforward. This could include:
Lost wages
Medical costs
Auto repairs
Other related losses: car rental, etc.
Experts are occasionally called in to help with estimating the value of potential economic losses. A medical expert's opinion on an injury's severity and prognosis for the patient's future may be required in a case involving the calculation of future losses. To determine the monetary impact of a long-term loss of income, you may need the assistance of an economist or labor lawyer.
Hiring a personal injury attorney to help you manage your case to secure your best interests is strongly advised in circumstances involving really serious long-term injuries.
Future losses could include:
Future medical costs
Future nursing home care
Future lost wages
Non-Economic Losses Explained
In a personal injury lawsuit, pain and suffering may be awarded to a plaintiff under extreme circumstances. This would fall under a non-economic loss. Non-economic damages include the loss of pleasure in life, emotional suffering, or the death of a loved one.
The concept of "pain and suffering" might raise some questions in your mind. A victim's mental and physical health can both suffer as a result of the trauma experienced following a car accident and the injuries you suffered. A driver who suffers burn injuries, for example, may experience excruciating pain and anguish as a result of the accident, as well as future restrictions on their lifestyle and treatments. They will likely file a lawsuit seeking compensation for these losses. If the accident causes a permanent impairment, you can sue for pain and suffering for this as well.
Damages for emotional distress are decided in court during a lawsuit. The insurance company and your attorney will assess the extent of your bodily injuries. The long-term consequences on things like rest, habit, and personal and professional relationships are also important to consider.
It takes a lot of judgment and skill to determine how much money you should receive for your pain and suffering after a car accident. Our team of car accident attorneys has the knowledge and experience to help you defend yourself and pursue compensation.
Vermont is a "Fault" State
Because of Vermont's "fault" insurance system, if one motorist is found to be at fault in an accident, their insurance company is responsible for covering the other driver's damages. This is also known as a "tort" state. Damages sustained by the other motorist are covered by the insurance policy of the at-fault driver; nevertheless, it is the responsibility of the police and the insurance company to decide who is at fault.
Furthermore, it is possible for both drivers to be partially at fault for an accident in Vermont. For example, there would be a shared fault in an accident in which one driver is assigned 20% fault and the other driver is assigned 80% fault. This doesn't change the fact that the insurance of the driver with 80% fault will be responsible for the accident.
How Shared Fault Works
When determining how much a victim of a car accident can expect to receive in damages, the degree to which each party was at fault in the incident is important. As was previously established, in a state like Vermont, fault may lie with both parties. There is, however, a threshold of fault beyond which the driver will no longer be compensated.
Modified comparative fault is used in Vermont. If this law applies, the plaintiff is still entitled to compensation even if they played a role in causing the accident. To be eligible for compensation in a personal injury or auto accident case in Vermont, the plaintiff must be found to be less than 50% at fault for the car accident. Damages that are awarded are then reduced in accordance with the defendant's degree of responsibility. So, if you are awarded $10,000 in damages in a car accident claim, but were assigned 30% fault, your compensation will be reduced by 30%. In other words, you could receive just $7,000 in damages.
A judge or jury will decide who is more or less at fault in a legal dispute and then award compensation proportionate to who is at fault. In Vermont, you cannot file an injury claim if you are found to be more than 50% responsible for the accident that caused your injuries.
Statute of Limitations for Car Accident Claims in Vermont
A "statute of limitations" is a provision of state law that limits the amount of time you have to file a lawsuit.
The statute of limitations for bringing legal action following a car incident in Vermont differs depending on whether or not the accident caused an injury, a death, or property damage.
According to 12 Vt. Statutes section 512, plaintiffs have three years to file a lawsuit for damages in a car accident. This covers claims made by drivers, passengers, motorcyclists, bicyclists and pedestrians. The "clock" for these cases begins on the day of the accident, and it stops three years later.
However, if the victim of the accident died as a result of their injuries, their legal heirs have just two years from the date of the victim's death to file a wrongful death claim against the driver who caused the accident (and remember that the date of the death might be different from the date of the accident). The relevant Vermont statute is section 1492 of Title 14.
If you try to file a lawsuit in Vermont after these deadlines, the defendant will call for the case to be dismissed, which will almost certainly be granted. It's important to learn how the statute of limitations affects your case.
Leave yourself enough time to file a lawsuit if necessary, even if you think your case will be settled through the insurance claim process or if a settlement is reached out of court. If you were involved in a car accident in Vermont and you're worried about missing the deadline, you should talk to a lawyer immediately.
Am I Required to File a Police Report in Vermont?
The driver of a vehicle involved in an accident in Vermont is required to file a report if:
a person is hurt
there is more than $3,000 of property damage
Reports of such collisions must be filed with the Vermont DMV as soon as possible (within 72 hours).
Car Insurance Requirements in Vermont
The official Vermont Statutes (particularly, section 800 of Title 23) stipulate the minimum liability vehicle insurance coverage amounts to be:
$25,000 in liability coverage for bodily harm or death to another person
$50,000 in liability coverage for total bodily harm or death liability
$10,000 in liability coverage for property damage per accident
In Vermont, drivers who opt out of carrying liability insurance may instead demonstrate financial responsibility by providing proof of self-insurance in the amount of $115,000. According to 23 V.S.A. 800, this documentation must be submitted to the state's Commissioner of Motor Vehicles.
If you cause an accident that injures another person or damages their vehicle or property, liability insurance will pay for the victims' medical care, vehicle repairs, and other related expenses, according to the policy's limitations. You may want to consider more insurance to protect yourself in the event of a severe car accident that causes serious injury, death or extensive property damage. In these situations, your personal assets may be at risk if the policy limits are depleted before the costs are settled.
Your insurance will also cover a member of the family or someone you have given permission to drive your car in the event of an accident. Or, if you are in an accident in a rental car.
You also want to remember that liability insurance does not cover your medical bills or damage to your own vehicle. You would likely need your own medical insurance to pay for medical bills or collision coverage for your crashed vehicle, which is optional in Vermont.
According to Title 23, Chapter 941, Vermont law mandates that drivers carry uninsured motorist (UM) coverage as well. If the other motorist is uninsured or flees the scene of the collision, you and your passengers will be protected by this type of insurance. In the event of an injury, the bare minimum UM limits in Vermont are $50,000 per injured party and $100,000 in total. The maximum amount of UM coverage that applies to property damage (including damage to your own car) is $10,000.
---
Our Vermont Car Accident Lawyers Are Ready to Help You
After a car accident, it's okay to have some apprehension and concern about moving forward with your life. An injury could leave you with discomfort from pain, but also stress over mounting medical bills and the time you've missed from work. We can help alleviate these concerns at Brandon J. Broderick, Attorney at Law.
We are committed to providing exceptional legal assistance to help you reach a successful conclusion to your car accident case. This is why we remain among the top car accident firms in Vermont. Rest assured that we will employ the most effective strategy possible to win your case. Our firm has decades of experience representing clients who have been hurt in automobile collisions. We have experience assisting clients just like you who have suffered injuries, especially those caused by the negligence of others.
Contact us today for a free consultation to talk about your legal options.