The convenience of Uber and Lyft make these ridesharing services increasingly popular. Most passengers are expecting to arrive at their destination safely and promptly and aren't thinking too much about what happens if the Uber is involved in an accident, much less other drivers on the road or pedestrians on the sidewalk. But getting into an accident with an Uber is very different from a typical car accident.
Uber and Lyft both have substantial liability policies on their drivers but the rules and laws around how those policies work can be complicated. Rest assured, both of these companies routinely fight claims and liability in accidents, resulting in denials or lowball offers that barely cover any of your needs. You need your own aggressive representation to secure your best interests.
At Brandon J. Broderick, Attorney at Law, we are an experienced New Jersey Uber accident law firm that understands what it takes to build a case and aggressively litigate your injury claim. Our compassionate client care and honest, straight-forward approach help make us one of the top-rated personal injury firms in New Jersey. We fight for your best outcome so you can focus on your family and recovery.
Don't be left having to pay for the costs of your injuries on your own. Contact us today and let us turn your setback into a comeback.
---

Throughout this article, we are going to give an easy-to-digest overview of information regarding ridesharing accidents in New Jersey.

Hiring a New Jersey Uber Accident Lawyer
Uber and Lyft Rideshare Insurance
Uber Accidents When the App Is Off
Uber Accidents When The Driver is Idle
Uber Accidents With a Passenger
Rideshare Services vs Taxi Services
What to Do After an Uber Accident
Investigating and Gathering Evidence After an Uber Accident

Brandon J. Broderick is Here for You 24/7
---
Hiring an Uber Accident Lawyer

By your side.
No one expects to be in a car accident. The aftermath can feel confusing and emotionally draining as you navigate recovering from your injuries, keeping your finances afloat and consider your next steps. The Uber accident lawyers at Brandon J. Broderick, Attorney at Law, prioritize client care, compassion and communication. We are your trusted partner who's got your back throughout the process.
Experienced negotiators and trial attorneys
Without a legal claim, the rideshare company can offer you a lowball offer that barely covers any of your needs and may even refuse to cover some of the damages. By having legal representation, Brandon J. Broderick, Attorney at Law, will build your case by collecting evidence, interviewing witnesses and experts and determining the best legal strategy. We handle all communications with the insurance company on your behalf and work toward securing the compensation you rightfully deserve. And, if an agreeable negotiation can't be had, we won't hesitate to take the case to trial -- and win.
You deserve to recover the full cost of your losses.
Car accident injuries can be severe and long lasting. Not only are your medical bills adding up but you may be missing out on income because you cannot work. You may not be able to do the things you once enjoyed because of the limitations of your injury -- whether temporary or permanent. As an injured victim, you have the right to be compensated for all of your losses related to the accident, not just the immediate medical bills. Our attorneys will pursue the maximum award for your damages.
Contact Brandon J. Broderick, Attorney, at Law, for a free consultation. With our proven track record of success and our commitment to client care, we can turn your setback into a comeback.
---
New Jersey Uber and Lyft Rideshare Insurance Laws

New Jersey's Transportation Network Company Safety and Regulatory Act dictates the insurance coverage requirements for rideshare vehicles and their drivers in the event of an accident. Of note, the minimum levels of insurance coverage required by rideshare drivers and the rideshare companies vary by state. New Jersey's laws favor injured victims and are higher than most other states.
These insurance plans mandated by law cover death and bodily injuries sustained by passengers, pedestrians and in some cases the Uber driver and other drivers involved. What can be confusing is that the insurance coverage depends on how the driver was using the app and ride status at the time of the accident. In the next sections, we'll walk through the different scenarios.

Ridesharing insurance laws are complex. Call (877) 448-7350 for a free legal consultation.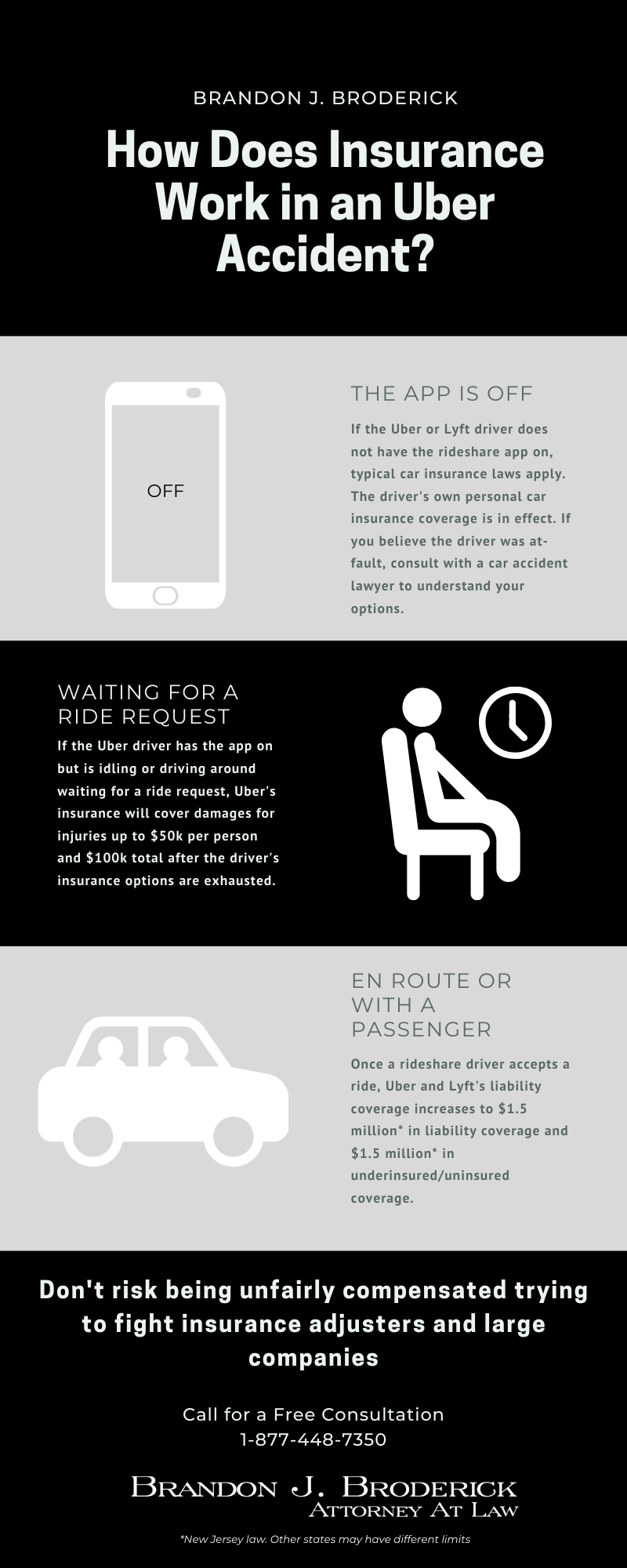 Uber Accidents When the App Is Off
If you've been involved in an accident with an Uber driver who is not working, the typical car insurance and liability laws apply. Not working means that the app is turned off and the driver is not available to accept a ride, thus is driving their vehicle under their own personal auto insurance policy. This doesn't mean you shouldn't consult with a car accident lawyer about your case, especially if you were injured and believe that the other driver was negligent or at-fault.
Uber Accidents When The Driver is Idle
Uber drivers spend on average anywhere from 40-60% of their time idling, waiting for a ride request from a passenger. This practice, also known as 'deadheading,' occurs when the driver has the app turned on and is waiting for a ride request to come in. The driver may be driving around at the time or could be parked. Rideshare accidents that occur when drivers are on but idle are tricky situations to understand what liability coverage applies.
Uber and Lyft both have their own commercial coverage that applies in these situations but it only kicks in after the driver's own coverage. Uber requires drivers to carry at least the minimum amount of insurance determined by law but sometimes more. They assume the driver's own insurance should cover scenarios when the Uber driver is injured or get into an accident and injures others. However, many auto insurance carriers will deny claims when a vehicle is being used for a commercial purpose which is why many drivers carry additional ridesharing insurance.
After the Uber driver's coverage is exhausted, the ridesharing company's insurance policy comes into play. When the app is on but the driver has not yet accepted a ride, Uber and Lyft's commercial coverage for this scenario includes $50,000 per person for injuries, $100,000 per accident, and $25,000 for property damage. This coverage only applies to other people in the accident, not the Uber driver.
Uber Accidents With a Passenger or Accepted Ride
The moment the Uber driver accepts the ride and is driving to pick up passengers until the moment the passengers exit the vehicle, Uber and Lyft's commercial policy is in place. This policy becomes the primary policy in the case of a car accident. In other words, Uber's policy replaces the typical New Jersey no-fault insurance process.
Ridesharing services are required to carry at least $1.5 million in insurance coverage for bodily injury, property damage, and death for accidents when an Uber driver is carrying passengers. Additionally, Uber and Lyft have $1.5 million in underinsured/uninsured motorist coverage. In practice, this means that liability coverage kicks in even if another driver was at-fault.
For instance, if you are a passenger in an Uber involved in a car crash that was determined to be caused by the other driver, you can file a claim against Uber's policy to pay for your losses. Of course, if the crash is determined to the fault of the Uber driver, you can file a claim against Uber. If you're the driver of another vehicle or a pedestrian hit by an at-fault Uber driver, you also can file a claim against Uber.
While Uber and Lyft's commercial liability coverage offers substantially more for injured victims than a typical car accident claim in New Jersey, that doesn't mean getting fairly compensated for your injuries will be easy. Uber and Lyft do not necessarily pay out claims quickly or without question. If you've been seriously injured, consulting with an Uber accident attorney is important to understand your options and protect your rights.
---
Uber Accident Settlements
If you've been injured in an Uber accident, you may be wondering what the average settlement is for a ridesharing accident. Regardless of the type of car accident, settlements from injury claims include two types of compensation -- economic damages and non-economic damages. Your compensation largely depends on the severity and permanency of your injuries.
Keep in mind that you don't have to accept a settlement offer from the insurance company. Especially early on right after an accident, the insurance company may try to settle quickly often with a lowball offer. If you don't yet know the extent of your injuries, how long recovery may take and when you can get back to work, you cannot know if the settlement amount will cover all of your bills. Discuss your case with the experienced Uber accident lawyer team at Brandon J. Broderick, Attorney at Law.
Economic Damages
Economic damages include medical expenses, lost wages and other direct expenses related to your injuries. In an Uber accident claim, you can seek compensation not only for your immediate medical bills related to the accident but also for future medical expenses. If you or a loved one is seriously injured, you may be faced with years of rehabilitation, therapies and modification needed to your home. Examples of medical expenses (past and future) could include:
Hospital and doctor bills
Surgery costs
Specialized therapists
Medical devices
Rehabilitation hospitals
Home healthcare
Calculating your future economic damages can be complicated and often requires experts to determine the severity of an injury and what could be expected for a long-term prognosis. A car accident attorney will know the best approach to take to ensure your best interest, especially in cases with serious long-term injuries.
You can also recover compensation for the income you lost while not being able to work. Just like future medical expenses, you can also seek an award for the loss of income you expect in the future because you are no longer able to perform your job. Compensation could also include money to pay for domestic services, like housekeeping, you can no longer perform.
Non-Economic Damages
Non-economic damages are awarded to compensate injured victims for pain and suffering as a result of sustaining an injury. In the case of the victim's death, survivors may also sue for loss of companionship or consortium.
Pain and suffering refers to the physical and emotional stress associated with an accident and the injuries caused by it. Injured victims are compensated for the physical pain and suffering as well as the mental pain and suffering. There is not a universal calculation for pain and suffering, which is why it's critical to hire a skilled Uber accident lawyer to get the compensation you deserve. Their experience will help to be prepared to explain and justify the calculation.
Uber is well aware that accidents will happen, which is why the company carries huge insurance policies to pay out Uber accident claims. Over the years, passengers, other motorists, pedestrians, bicyclists and many others have received Uber accident settlement amounts that pay for all their medical care and other short- and long-term damages caused by an accident involving a negligent Uber driver, or a negligent driver that hits their Uber. The attorneys at Brandon J. Broderick know how to handle Uber accidents to make sure you get the best Uber accident settlement possible.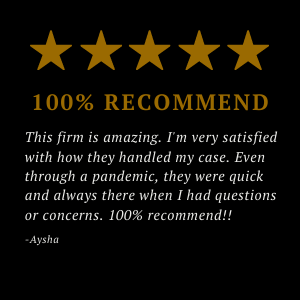 Rideshare Services vs Taxi Services

Uber was founded in San Francisco in 2009 as a cheaper and more convenient alternative to calling a cab. Since its inception, the company has grown enormously and sparked an entirely new form of business. Because of the way Uber and Lyft operate, their ridesharing services are very different from taxi services when it comes to insurance, accidents and liability.

Taxis and cab drivers have different insurance policies and different levels of coverage than ridesharing services and their drivers. Uber and Lyft drivers drive their own vehicles and are considered independent contractors and not employees of the company. Most taxi cab drivers do not drive their own vehicles and fall under the livery's commercial insurance policy at all times while working.

What to Do After an Uber Accident
If you've been injured, seek medical care immediately or as soon as possible and follow through on the doctor's recommendations and further treatment. Your health is most important, other details of the aftermath will work themselves out. In addition, your medical records will serve as evidence of your injuries and damages incurred as a result of the Uber accident.

Make sure to get a police report. New Jersey state law dictates that you must get a police report for any car accident in which more than $500 in damage is expected. Beyond complying with the law, the police report will also document other details of the accident and any witness statements.
Investigating and Gathering Evidence After an Uber Accident
Collecting evidence, especially evidence at the scene, is always a good idea in the immediate aftermath of a car accident. If you've been involved in an accident with or in an Uber or Lyft, it can be especially important to gather evidence at the moment.
If you were a passenger, take a screenshot of the app so you can prove that the ride was in progress at the time. As mentioned above, insurance coverage amounts vary depending upon if the driver had a passenger or was en route to picking up a passenger at the time of the accident.
Gather witness and driver information. Obtain contact and insurance information from the Uber driver and gather contact details for witnesses and (other) passengers.
Take pictures. If possible take pictures of the accident scene. Try to capture road and weather conditions, traffic alerts and signs and damage to the vehicles. Photos of your injuries can also serve as evidence.
Deadline for Filing a Claim
As with any personal injury claim in New Jersey, the deadline for filing a claim is 2 years from the accident. If you try to file a claim after this time limit has passed, it will likely be dismissed. The trauma and shock of a car accident can mask injuries and their symptoms. It's important to get medical treatment and consult a New Jersey Uber accident lawyer as soon as possible after the incident so that you don't lose your right to file a claim permanently.
Uber Accident FAQ
What happens if you get into an accident with an Uber Eats driver?
Uber Eats, DoorDash and other delivery services also carry considerable liability policies though they differ on whether or not the driver's own insurance should be the primary insurance in the event of an accident. If you've been involved in an accident with a food delivery driver, it's a good idea to contact a car accident lawyer to discuss your options. Even if with the commercial policies, it may take considerable negotiation to be fairly compensated for your injuries.

What's the difference between Uber and ridesharing services and a taxi service?
Uber and other ridesharing services do not consider their drivers employees, rather the drivers are independent contractors. These drivers use their own vehicles when transporting passengers, a considerable difference from a taxi service. Taxis and cab drivers have different insurance policies and different levels of coverage than ridesharing services and their drivers.
Who does rideshare liability insurance cover?
It depends. Different coverage amounts are available depending on if the driver was idle or was en route or carrying passengers at the time of the accident. When a driver is idle, Uber's commercial liability coverage covers bodily injury and death for injured victims (but not the driver) in the event of an accident. If the Uber has a passenger or is en route to pick up a ride, the rideshare liability insurance covers all injured victims in many circumstances.
Do I need a lawyer for an Uber accident?
While there's no law saying you need a lawyer for a Uber accident, an experienced Uber accident can often get you more compensation for your injuries than you could on your own. Ridesharing accident lawyers understand how to build a case and present evidence to illustrate your injuries and the impact they've had on your quality of life. They will also handle all matters and negotiations with the insurance company.
Can you sue Lyft for an accident?
If you were a passenger in a Lyft or Uber or if you were involved in an accident with a rideshare vehicle that was not your fault, you can sue Lyft or Uber for compensation related to your injuries. A lawsuit is typically filed if a settlement can't be reached.
Brandon J. Broderick is Here for You 24/7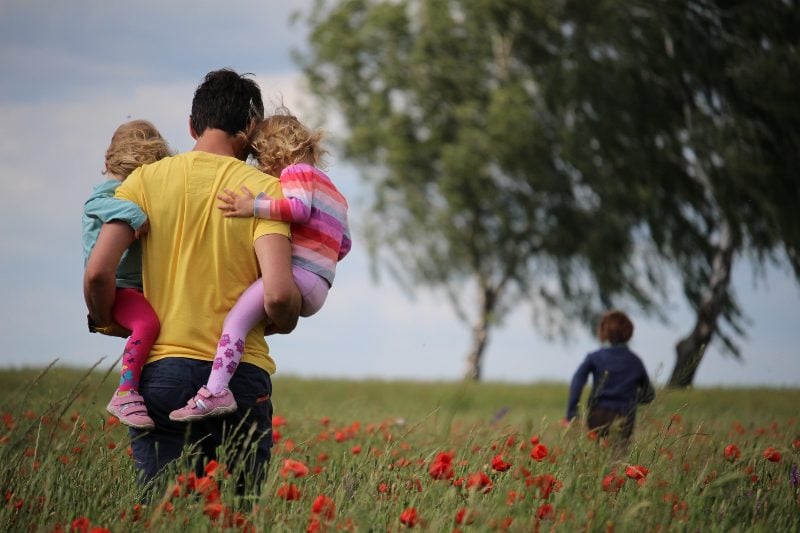 We get it. Accidents can have an impact on your health, well-being, and finances which can cause worry, fear, and anxiety -- for you and your family. We have decades of experience championing for our clients and succeeding, even when other attorneys say there is no case and insurance adjusters deny or devalue your claim.
At Brandon J. Broderick, Attorney at Law, we believe in exceptional client care, empathy, and results. That's what makes us one of the top rated Uber accident lawyers in New Jersey. With our long track record of success, you can count on us to work tirelessly for your quality of life. Contact us today for a free consultation.
Don't go it alone. We have offices in River Edge, NJ; Ewing, NJ; Trenton, NJ; Jersey City, NJ, and Paterson, NJ. Our Uber accident lawyers will come to you anywhere in New Jersey. Call (877) 448-7350