No one expects to be in a car accident. But once the unexpected happens, and you or a loved one has been injured in a car accident, your entire focus shifts to recovery and getting back on your feet. In New York, it can be confusing to understand what your best course of action should be after an accident. The added stress, uncertainty, and even anger can take a toll.

Wouldn't it be a relief to know you could count on a trusted friend and advisor to passionately champion for your best interests? Someone who's got your best interests in mind? At Brandon J. Broderick, Attorney at Law, we believe in exceptional client care. To us, that means an experience free from legalese, hype, hassle, and intimidation. We are NOT like the others. That's what makes us the best car accident lawyers in New York.

With our aggressive representation and track record of results, you can count on us to work tirelessly for your quality of life. We understand how challenging it can be in the aftermath of a New York vehicle accident. We've helped people just like you move forward after sustaining an injury that was caused by another's negligence.

When you hire a New York car accident lawyer from our team at Brandon J. Broderick, you pay nothing upfront. We work on contingent fees that are only collected if we win your case. If we don't win, you don't pay.
Without a legal claim, the insurance company can pressure you into a lowball settlement that barely covers your needs. Don't be left having to pay for the costs of your injuries on your own. Contact us today and let us turn your setback into a comeback.
Questions? Read through our comprehensive guide of New York car accident information for victims and their loved ones.
Turn Your Setback Into a Comeback
What to Do After a Car Accident
Economic Damages in a New York Car Accident
Non-Economic Damages in a Car Accident
New York Is a No-Fault Insurance State
Serious Injury in a New York Vehicle Crash
Drunk Driving Accidents in New York
Car Accidents and Insurance Companies
Brandon J. Broderick is Here for You 24/7
---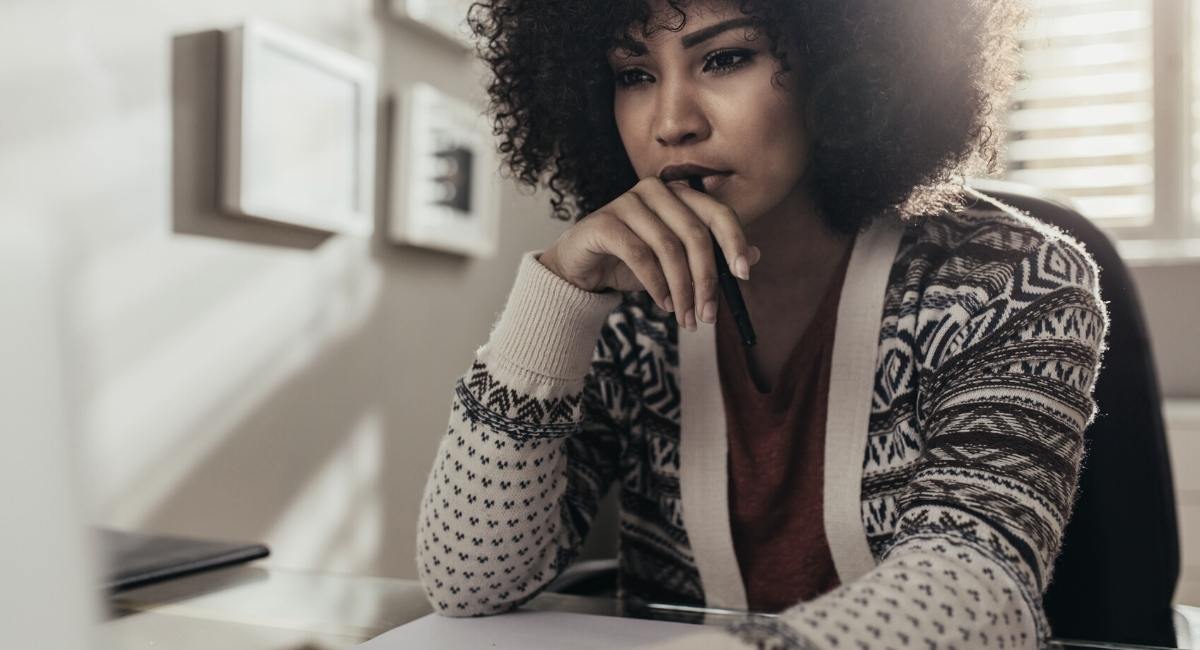 Get Help from Brandon J. Broderick, New York Car Accident Lawyers
Recover the cost of medical expenses -- now and in the future
New York State is a no-fault car insurance state, which means that in many cases your primary or first insurer will be your own Personal Injury Protection (PIP) insurance. Often, insurance companies –including your own – will attempt to contact an injured victim and try to settle for very little as quickly as they can. It's critical to give yourself time to fully consider the scope of your injuries and how those injuries not only affect your expenses now but also how those injuries could affect your quality of life later and future wages.

If you've been seriously injured or the accident involves a commercial vehicle, you may be able to file a liability or personal injury claim against the at-fault driver. Keep in mind, even serious injuries can be slow to present with symptoms, which allows them time to develop into something even more serious and more difficult to treat.

Experienced negotiators and trial attorneys
Without a legal claim, the insurance company can offer you a lowball offer that barely covers any of your needs and may even refuse to cover some of the damages. Insurance companies are in business to collect money, not pay out claimants. As a result, they work vigorously to pay victims as little as possible. By having legal representation, Brandon J. Broderick, Attorney at Law, will handle all communications with the insurance company on your behalf and work toward securing the compensation you rightfully deserve. And, if an agreeable negotiation can't be had, we won't hesitate to take the case to trial -- and win.

Turning setbacks into comebacks
Brandon J. Broderick, Attorney at Law can step in and handle everything so you can focus on healing. Our team of experienced New York injury attorneys will work with you to achieve the settlement that you deserve. We will do everything possible to defend your rights and will work with you by your side to help you through such a trying time. Contact Brandon J. Broderick, Attorney at Law, for a free consultation.
With our proven track record of success and our commitment to client care, we can turn your setback into a comeback.

---
What to Do After a Car Accident
The immediate moments after a car accident can be scary and confusing. Preparing ahead of time for an emergency is your best bet to remain calm immediately after an accident. Here are a few important tips that you want to heed if and when you are involved in an auto accident and these include the following:

Check if anyone was hurt (those few minutes can mean life or death to an injured accident victim). If someone was hurt, call an ambulance immediately.
If your vehicle is in the line of traffic, move it out of the way and into a position of safety if possible.
Don't admit guilt! Whether or not you think it's your fault, never admit guilt at the scene because it can complicate the claims process later on.
Call the police, as you will almost always likely need an accident report.
Document the scene. Take pictures of the vehicle damage, where the vehicles landed, your injuries, any skid marks and any road or weather conditions that might have played a role in the accident.
Exchange vital information with the other driver including: driver's license numbers, insurance policy number and contact information, license plate numbers, name and phone number (yours and theirs) etc.
Gather the names and phone numbers of any eyewitnesses to the accident, you will need them later on.
As soon as possible, contact a New York car accident lawyer.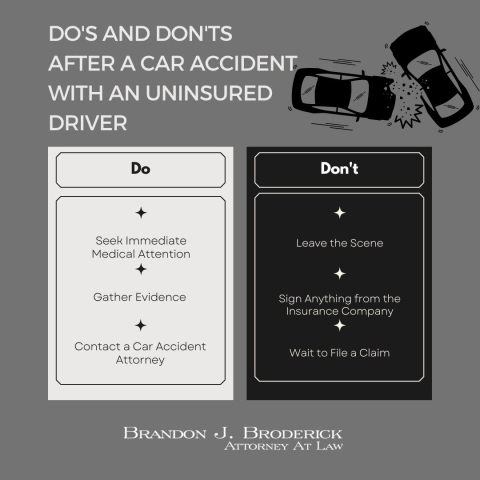 It's always a good idea to keep a notepad and pen, and disposable camera inside your glove box in case you don't have a cell phone handy. Make sure to call the police and get an accident report. And, it's not a wise idea to avoid the insurance agencies and instead accept a cash offer from the other party. You may have no idea as to the extent of your injuries or the property damage to your vehicle and hiring an attorney may ultimately enable you to collect far more compensation from the other party than if you tried to handle it on your own.

Investigating and Gathering Evidence After a Car Accident
Witness statements, accident reports, medical records, and victim testimony are all highly effective and typical types of evidence in a car accident case. Obtaining witness testimony is crucial if you are pursuing a case against the driver who caused the accident. Witnesses can provide vital evidence showing negligence on behalf of the other driver, which will help you receive damages for your medical bills and losses.
Medical evidence is also critical to your car accident claim. First responders who attend to accident victims can be leveraged to identify injuries that occurred immediately after the accident. Additionally, medical experts and records provide valuable information about the nature of the injury and its origins, which is why it's so critical to seek medical attention immediately after an accident.

Many types of evidence from a car accident can be collected in electronic form. Photographs of the crash scene and/or of skid marks on the road might be taken with a digital camera. If a traffic light was ignored, nearby traffic cams might have captured that violation. Other witnesses may have captured the crash on their cell phones. Expert testimony can be used to interpret cellular data and determine whether a defendant was likely on his or her smartphone at the time of a collision.

Most newer automobiles in the United States are equipped with an event data recorder (EDR). The National Highway Traffic Safety Administration defines this technology as a device that can record a vehicle's technical and occupant information during the moments before, during, and after a collision. The technology can measure and capture such information as:

Vehicle speed;
The rate of acceleration and deceleration;
Steering angle;
Brake application;
Electronic information gathered from EDRs, medical records, witness and victim testimony and related sources can be vital to an auto crash claim, especially when combined with other solid evidence and an excellent legal approach. If you've been injured in a car accident, don't wait.
With our proven track record of success and our commitment to client care, we can turn your setback into a comeback.

How Much is My Car Accident Case Worth?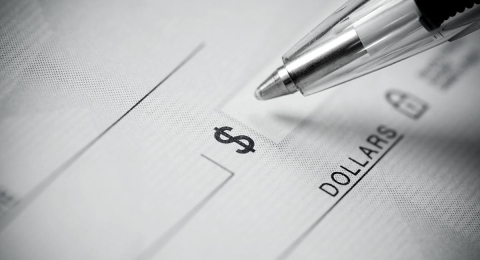 This is a common question we hear, but not a very easy one to answer. All cases are unique, and the value of your claim will depend on the facts and circumstances involved. Generally, we help our clients pursue the maximum compensation possible for all damages resulting from their accident.

Before you can figure out if a settlement offer is fair, you need to know how much your injuries are worth. An offer may seem like a lot of money until you realize that this amount won't even begin to cover your medical expenses, lost wages, and other potential losses. You may be thinking of current or recent medical bills but you may also be eligible to recover compensation to help pay for your damages. Damages come in two forms - economic damages and non-economic damages.

Economic Damages in Car Accident
Economic Damages refers to the compensation you can receive for the loss of money caused by the accident. Non-monetary harm caused by your accident (e.g. pain and suffering) and punitive damages are not included in economic damages. In personal injury cases, a successful plaintiff receives one economic damages award. In other words, you only get paid once for all of your money losses - both past and future. Past economic damages refer to financial losses you already have incurred at the time of the award. Because you have already incurred these costs at the time of the award, past economic damages are normally easy to calculate - usually by looking at your bills. Examples of past economic damages include
Medical Bills
Lost Income
Car Repair costs
Costs related to loss of a vehicle such as rental car or towing

Calculating your future economic damages can be complex and require experts. Medical experts may be needed to determine the severity of an injury and what could be expected for a long-term prognosis. An economist or labor expert may be needed to calculate the loss of an income and projected income over a long period of time.
Hiring a New York car accident attorney to navigate the complexities of how much your case is worth is in your best interest, especially in cases with serious long-term injuries.
Examples of future economic damages include:

Future medical costs
Future nursing care costs
Future lost earnings/loss of earning capacity
Money to pay for household services that you are no longer capable of performing

Non-Economic Damages in Car Accident
In a personal injury claim for a car accident, non-economic damages can be awarded to compensate the victim for pain and suffering as a result of sustaining an injury. Other examples of non-economic damages include emotional distress, loss of enjoyment of life; and if the victim died, loss of companionship or consortium.

Pain and suffering refers to the physical and/or emotional stress associated with an accident and the injuries caused by it. For example, if a driver suffered a burn injury, the driver would probably recover money for the agony of enduring the injury itself, the associated treatment, the discomfort it caused, and any limitations imposed on the claimant's lifestyle. The driver would also likely recover money for the stress and limitations associated with being permanently injured.

There are no specific rules around how pain and suffering is calculated in a claim. Insurance companies look at the severity and permanency of your bodily injuries. Other factors include the long-term effect on lifestyle factors like sleep, the daily living routine, as well as relationships in home and work environments.

Because of the complexity and judgment required to estimate pain and suffering, a skilled car accident attorney is imperative to get the compensation you deserve. Their experience will help to be prepared to explain and justify your calculation.
How is Fault Determined in a Car Accident
When people are involved in car accidents, it's not uncommon for them to immediately point the finger at the other driver. The question is, how is fault determined in a car accident claim?

In order to determine who the "at fault" driver is, it is important to look at the circumstances of how that particular car accident played out. Sometimes; for example, in the case of someone running a stop sign and broadsiding another vehicle, it can be easy to determine who is at fault, but other times it's not as easy. In the auto insurance industry, comparative negligence refers to the degree of fault each individual involved in an accident has contributed to the cause of the crash.
New York is a No-Fault Insurance State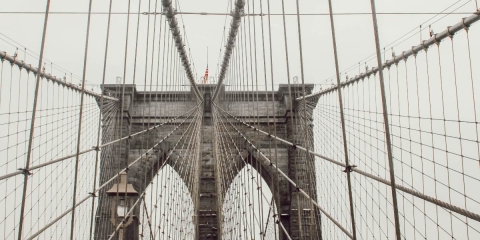 New York is a no-fault state for auto accident claims. which means if you're in a car accident, your auto insurance carrier is responsible for paying certain damages from the accident, regardless of fault. These are benefits paid by the insurance company of the car you were driving, was a passenger in or were struck by as a pedestrian. So, even if another driver could be clearly at-fault for the accident, your auto insurance pays the claim for your medical bills. This is in contrast to at-fault states, where the at-fault driver is responsible for paying the other driver's damages. Before paying out of pocket for medical bills, learn how no-fault laws impact your insurance claim.

New York No-Fault Coverage

New York requires drivers to have no-fault coverage for personal injury protection. You can request reimbursement for medical costs and a percentage of your lost wages resulting from missed time at work due to the accident. You can also use these funds to cover the cost of travel to and from medical appointments, home health aides and therapists, as well as other related expenses. However, you must act quickly after an accident.

Time Limits for Filing a Claim
You must act within 30 days of the accident to claim reimbursement under your no-fault personal injury policy. If the insurer accepts your claim, the company will reimburse your costs up to the policy limits:
$25,000/$50,000 for bodily injury per person
$50,000/$100,000 for death
$10,000 for property damage per accident

Serious Injury in a New York Car Accident
If you've been seriously injured in a New York car accident and your losses exceed the PIP coverage, you may be able to file a personal injury claim and seek additional compensation for your pain and suffering. Serious injury, as defined by NYS law includes:

Death
Dismemberment, serious disfigurement or a fracture
Loss of a fetus
Permanent or significant limitation of use of a body organ, function or system
Significant disability for at least 90 days
Because New York is a no fault insurance state, it may be confusing to understand if you are also eligible to file a lawsuit. If you've been injured in a car accident caused by someone else's negligence, contact Brandon J. Broderick, Attorney at Law, for a free case review.

Negligence in New York Car Accidents
Legal responsibility for a car accident usually boils down to whether the person or entity at fault acted negligently in causing the car accident. In some cases, such as a drunk driving accident, it can be easily established that the act of criminal negligence is what caused the accident and the person should be held liable for the damages. There are other situations, however, when the negligent acts of another are not quite as black and white, yet the responsible party still should be held accountable.

Negligent behavior behind the wheel comes in many forms. Examples of behavior leading up to the car accident that could indicate the drive acted negligent include:

Drunk driving
Drugged driving
Distracted driving
Speeding
Failing to obey traffic signals or signs
Driver fatigue
Driving aggressively

Under New York State law, there are four elements to proving negligence in your personal injury claim:

Legal Duty. All New York drivers have a legal duty to everyone else on the road, including other drivers, bicyclists, and pedestrians. That duty requires drivers to operate their vehicles in a reasonably safe manner that will avoid accidents and injuries to others.

Breach of Duty. You must be able to prove that the average person, given the circumstance and knowledge that the defendant had at the time, would have known that someone might have been injured as a result of his or her actions, And furthermore, the average person then would have acted differently than the defendant did in that situation. For example, the average person likely knows that drunk driving is the cause for many injuries.

Causation. To prove causation, you need to show that the other party's breach of duty is what caused your injuries. Courts look at whether the defendant's actions produced foreseeable consequences. In the drunk driving example, causation is likely more obvious. But there are some cases, where a car accident exacerbates an existing injury, which is why it's so critical to seek medical attention and a legal consultation as soon as possible.

Damages. Once you establish the defendant had a legal duty, that duty was breached, and the breach of duty was the cause of your injuries, you need to show damages. Damages often come in the form of medical bills and lost wages but can also include things like pain and suffering. When you're seriously injured, it's also important to recover future lost earnings or medical care that may be expected down the line.

Comparative Negligence in New York
If you intend to pursue a claim against the other driver's policy, their insurance company will determine whether you were partially to blame for the accident. In New York auto accidents, the insurance company will investigate the crash and determine how much each driver contributed to the cause of the accident, if they contributed at all. Don't be misled to believe that if you carry any of the fault for the accident, you cannot recover compensation.

The law in New York does not list any specific guidelines for assessing fault in a car accident claim but this most often comes into play in car accidents where the victim wasn't wearing a seatbelt or a pedestrian is hit outside of a crosswalk.

Insurance carriers determine liability for an accident based on the relative fault of the involved parties. Once the insurer reviews the facts of the case, it assigns a percentage of liability upon the parties involved.

The insurance carrier considers:

Driver distraction or impairment
Whether traffic violations occurred
Failing to observe the other vehicle
Failure to use signals or the horn
Failure to apply the brakes
Failure to avoid the other vehicle

Under New York's insurance law, the amount of damages you can receive are reduced by the percentage that you are at fault. For example, if you were considered 10% at fault and your damage was $100,000, you could receive $90,000 from the other driver's insurance company.
Causes of Car Accidents
While some car accidents are caused by bad weather conditions, the highest percentage involve the recklessness of other motorists, such as drunk driving accidents, distracted or negligent driving, speeding and reckless driving, or fatigued vehicle operators. Distracted driving can also mean that a driver was engaging in actions such as texting while driving, or other activities that affect their ability to control their vehicle. Other causes could include defective auto products or a vehicle that has not been well maintained. Being involved in an auto accident can be not only painful and traumatic, but it can also cost you lost income if you've been impaired physically and can no longer work.
Drunk Driving Accidents in New York
More than 10,000 people are killed in drunk driving accidents every year. In New York State, about 30% of fatal car accidents involve alcohol. The legal system heavily punishes those who are caught drinking and driving, and if you or a loved one has been injured by a drunk driver, you should act now to pursue damages against the driver responsible for the car accident.

When a drunk driver causes an accident in New York, the driver will likely have legal liability to anyone his actions injure. Whether you were a passenger in the same vehicle as a drunk driver, if you were in another car, or if you were a pedestrian, you can file a lawsuit in order to obtain financial compensation for your injuries, or a wrongful death claim if you lost a family member. Your personal injury lawsuit will be targeted at recovering sufficient financial compensation to pay for all your expenses arising from the drunk driving accident.

A few points of consideration include the level of impairment and policy limits. A drunk driver can be found negligent even if the driver's level of impairment was under the legal limit. Additionally if there are multiple victims in a drunk driving accident, the driver's insurance can only cover liability to victims up to the policy limits. Or, the driver is not the only party who may have liability to victims of a drunk or drugged driving incident.

Distracted Driving Accidents
According to the Centers for Disease Control and Prevention (CDC), every day in the United States 9 people are killed in distracted driving crashes and over 1,060 people are injured at the hands of a distracted driver. What is distracted driving? Distracted driving refers to when a driver engages in any activity that takes their attention away from the primary task of driving.

There are three main types of driver distraction and these include:

Visual distraction (taking your eyes off the road)
Manual distraction (taking your hands off the wheel)
Cognitive distraction (taking your mind off driving)

According to the National Highway Traffic Safety Association (NHTSA), distracted driving is a dangerous epidemic on America's roadways. In 2018 alone, 2841 people were killed in distracted driving accidents according to the NHTSA. Of all the forms of distracted driving, texting while driving is by far the most dangerous because it involves all three elements of distraction: visual, manual, and cognitive. The NHTSA reports that cell phone use was reported in 18% of the distracted-related fatal crashes and that texting takes the driver's eyes off the road for 4.6 seconds; that's equivalent to driving the length of a football field blindfolded at 55 mph.

Common forms of distracted driving include:

Texting while driving
Using a phone or device
Talking to passengers
Grooming
Changing stations on the radio
Eating while driving
Operating a navigational system

New York Cell Phone Laws
New York prohibits all drivers from using a handheld mobile device to their ear for the purposes of making a phone call. NYS law also prohibits texting while driving. Novice drivers and bus drivers are completely prohibited from using cellular devices while behind the wheel. These laws are identified as primary laws in which an officer can pull someone over for solely breaking the cell phone regulations. This is compared to secondary laws in which an officer must pull someone over for violating another regulation before they can issue a citation for texting while driving.

Drugged Driving Accidents
Drugged driving is driving a vehicle while impaired due to the intoxicating effects of recent drug use. It can make driving a car unsafe—just like driving after drinking alcohol. Drugged driving puts the driver, passengers, and others who share the road at serious risk.

Each drug affects the brain differently. For example, cocaine can make people drive more aggressively than usual, whereas sedatives can cause dizziness and extreme drowsiness, leading to crashes. When alcohol is combined with many types of drugs, the sedating effects can be even more intense.

Aside from marijuana, "prescription drugs are also commonly linked to drugged driving crashes," reports the NIDA. A 2010 nationwide study discovered that of the fatal crashes, 47% of the drivers tested positive for a prescription drug in their system, reported the NIDA. What was the most common prescription drug in drivers' systems? Prescription pain relievers, according to the NIDA.

The main prescription drugs of concern include sedatives (tranquilizers and depressants) and prescription opioids; however, anti-psychotics as well as prescription stimulants meant to enhance focus and attention are also dangerous when combined with alcohol.

Here are just some of the popular drugs that impair driving ability:

Luminal
Xanax
Limbitrol
Valium
Ativan
Halicon
Lunesta, Sonata, and Ambien
Codeine
Fentanyl
Vicodin, Lortab, Lorcet
Nembutal
Methadone

Car Accidents and Insurance Companies
Insurance companies tend to play a huge role in car accident cases. Because New York is a no-fault insurance state, you will most likely be dealing with at least your own insurance company. Typically, a victim who gets injured in a motor vehicle accident caused by another driver' negligence will look to that other driver's insurance to pay for damages. If you have been injured in an accident, in many cases, a personal injury attorney can negotiate with the insurer to get a more reasonable settlement for your injuries.

The victim's lawyer's job frequently involves negotiating with the other driver's insurance company, either directly with an insurance company employee or indirectly with other attorneys representing the other driver or entity.

An insurance company could be offering you a lower settlement for a number of reasons. For instance, they could believe you are partially at-fault for the accident, which would have an effect on the settlement offer. Or, the insurance company is lowballing you and doesn't think you will fight back to get a fair settlement. Keep in mind that, without an experienced attorney on your side, you may not even be able to estimate your true damages. Some types of damages — such as reduced earning capacity or the need for future medical treatment — require input from an expert that a personal injury attorney can arrange.

Insurance Adjuster Tactics
Understand who the adjuster is working for: Remember, the insurance adjuster is not your friend and he or she is certainly not on your side, regardless of how friendly he or she might seem. The goal of the insurance company is to see to it that you receive little or no compensation at all, so keep that in mind as you speak to the insurance adjuster and be sure to never let your guard down. If your claim is significant, the adjuster will even attempt to dissuade you from involving an attorney. Without representation, you will be much more vulnerable to their tactics and likely fall prey to a low settlement offer, so whatever you do, hire an attorney!

What you say might hurt you: Even the most seemingly innocuous statement can come back to haunt your case and derail your chances of obtaining the compensation you deserve. One of the first things an adjuster will ask you is to provide a recorded statement. You should absolutely refuse to do this! You are not required to provide a recorded statement and, if you do go through with this, the adjuster will take every opportunity to put words in your mouth and ask loaded questions that will inevitably harm your claim. Always avoid giving a statement, especially if you are taking medication for your injuries, which could affect your state of mind and how you choose to answer any questions.

Beware of negative comments: Adjusters often try to imply that a claim might be of little value, suggesting that there might be problems with your case. Remember, these subtle digs are meant to reduce your expectations. If you believe your case has no value, then you will be more prone to accepting a low settlement offer. Do not fall for these tricks.

Avoid the settlement traps: An insurance adjuster can set a number of settlement traps, depending on your case. Some of the most common ones involve encouraging a quick settlement, pressuring an injured victim to accept a settlement, and a pre-diagnosis settlement. The issue with settling too quickly or settling before you are able to obtain a diagnosis for your injuries is that it is impossible to know the value of your claim until you understand your condition, the expected length of your recovery time, the treatments you might need, and the possibility that you might not achieve a full recovery.

No matter what an insurance adjuster may say, you have a right to reject a settlement offer from the insurance company. Accepting an offer will require you to give you important rights, including the ability to file a lawsuit for your injuries. That is why it is so important to understand the full value of your claim and to know that you can and should reject any offer that doesn't fairly compensate you for your losses.
Brandon J. Broderick is Here for You 24/7
We get it. Car accidents can have an impact on your health, well-being, and finances which can cause worry, fear, and anxiety -- for you and your family. Wouldn't it be a relief to know you could count on a trusted friend and advisor to passionately champion for you? Someone who's got your best interests in mind?

At Brandon J. Broderick, Attorney at Law, we believe in exceptional client care, empathy, and results. That's what makes us one of the best car accident lawyers in New York. With our long track record of success, you can count on us to take the best strategy and work tirelessly for your quality of life. Our New York attorneys have decades of experience representing victims in car accidents. We've helped people just like you move forward after sustaining an injury that was caused by another's negligence. Contact us today for a free consultation.