Simply walking the sidewalk in New York can be a dangerous activity. As cars or trucks travel the streets, pedestrians run the risk of being seriously injured if a vehicle loses control or veers off the road and into their pathway. Unfortunately, pedestrians are often the victims of car accidents and sometimes die as a result of their injuries. This is why it's important to have a pedestrian accident attorney like Brandon J. Broderick in your corner if such a tragedy is to strike. Obviously, the first thing you should worry about is getting the medical attention you or a loved one needs after being hurt in a pedestrian accident.

Calculating your medical expenses, missed earnings, and other losses and how you will be reimbursed may be a hefty burden to bear. That's where the New York attorneys of Brandon Broderick come in, representing an injured person(s) during pedestrian accidents. Compassion and an honest approach are important values of Brandon J. Broderick, Attorney at Law. Rather than worrying about your legal issues, you may put your energy into caring for your family and getting better, while we put our knowledge and commitment to work to get the best possible resolution.

An important thing to remember is that retaining a New York pedestrian accident lawyer from Brandon J. Broderick doesn't cost anything to start. We have to win your case to get paid. It is in our best interest to get you the highest possible settlement or award, because if you don't win, we do not get paid. There's also a good chance that an insurance company will attempt to pay you a very low settlement that doesn't cover all of your expenses. That is generally the case if you don't have legal representation. Don't put yourself in a situation like this, get into touch with us immediately and we'll help you bounce back from a setback.
---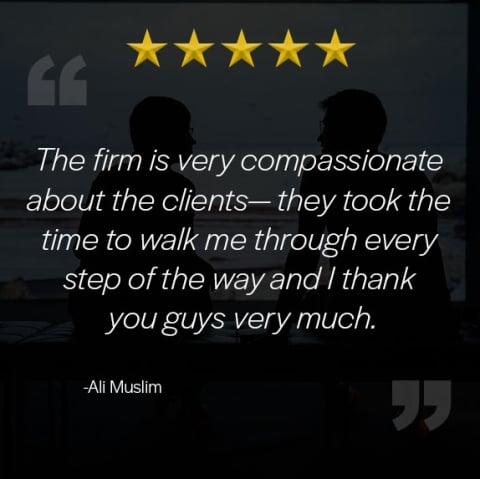 Brandon J. Broderick: New York Pedestrian Accident Attorneys
File a Claim To Seek Compensation For Your Injuries & Expenses
Being involved in a New York pedestrian accident is something no one is fully prepared for. Being injured will add to the stress, especially if a personal injury case is in your near future. However, you want to know what your rights are and what you need to do to protect them. Once an accident occurs, it's common practice for an insurer to try to contact an injured party directly to settle the case as early as they can and for the lowest amount possible. This way they will be exempt from paying for any future expenses that may arise at a later date.

You should not try to work things out with the insurance company on your own. Medical expenses, lost income, and long-term treatment and rehabilitation may all be covered under your insurance policy, in addition to the immediate costs of your accident-related injuries. You are likely entitled to it all.
We Are Trial Lawyers and Skilled Negotiators
High-value injury claims may be fought by insurance companies since they have the means to do so. Your chances of winning a case will increase tenfold when you hire a legal professional, such as Brandon J. Broderick, Attorney at Law, as your representative. We have a team of seasoned pedestrian accident attorneys who will manage all of your insurance company correspondence and fight tirelessly to get you the settlement award you are entitled to. And if we can't come to an agreement, we'll take the matter all the way to trial. We will stop at nothing to win.
We Will Be In Your Corner
It's a relief to know that you have Brandon J. Broderick, Attorney at Law, working towards a resolution that is in your best interest. Your main priority should be to concentrate on getting well.

Following a pedestrian accident, it may be difficult to sort out your financial situation, heal from your injuries, and think about what to do next. Client care and communication are a top priority for our pedestrian accident attorneys. We'll be there for you every step of the way to make sure you're taken care of.
---
Pedestrian Accidents: How Do They Happen?
It is possible for any pedestrian to be struck by a car, although some people are more susceptible than others. The CDC says that pedestrian accidents are more likely to result in death for elderly persons and small children, while they are more likely to result in injury for teens and young adults. Alcohol also plays a factor. In fact, in almost half of all pedestrian accidents, the motorist or the pedestrian is intoxicated. Be careful out there.
Common Reasons For Pedestrian Accidents in the U.S.
All drivers have a responsibility to operate their vehicles safely and in accordance with all the laws. Unsafe driving practices may result in accidents that can put not only the driver, but also passengers and pedestrians in harm's way.
Driving Under the Influence of Alcohol or Drugs
Alcohol is a significant contributor to car accidents involving pedestrians, as previously stated. Anyone who has used alcohol or drugs (including prescription medications) should not operate a motor vehicle.
Distracted Driving
Distracted drivers are a hazard to everyone on the road, including bicyclists, pedestrians, and other drivers. When a driver's attention is diverted from the road by activities like texting, using a mobile phone, or using a GPS (even for a second), this is called distracted driving. It is another leading cause of car accidents.
Walking at Night
At night, it's considerably more difficult to spot pedestrians, particularly if they're dressed in dark attire. According to statistics, the majority of pedestrian fatalities occur at nighttime.
Vehicles Making Turns
To avoid hitting a pedestrian, drivers making left-hand turns should be aware of pedestrians who may be crossing the intersection. Additionally, cars entering into traffic may not be paying attention to a pedestrian on the other side of the road.
Speeding
In addition to being against the law, driving too fast may be considered "reckless" by the law. Pedestrian accidents, particularly those resulting in severe injury, may be caused by drivers who speed through intersections, run red lights, or otherwise disregard traffic regulations.
Vehicles Backing Up
Pedestrians face significant dangers while walking through parking lots. A car backing into people, particularly small children, can result in serious or even fatal injuries, especially when drivers are distracted, do not pay attention, or are simply in a hurry.

In Pedestrian Accidents, Who Is Liable?
When a car hits a pedestrian, the driver is usually held, at least, partly responsible. An injured pedestrian has the right to pursue a personal injury claim against an at-fault motorist to seek compensation.

The driver of a vehicle is almost always held responsible (or considered "at-fault'') for an accident involving a pedestrian who was in a crosswalk since the pedestrian has the right of way.

Drivers in New York are required to yield to pedestrians at crosswalks or any intersection, and must remain at a complete stop until a pedestrian has completed their crossing. It is legally considered that a driver did not exercise "due care" for a pedestrian's safety if they hit a pedestrian within the boundaries of a marked or unmarked crosswalk, according to the law.

Pedestrians have their own responsibilities, referred to as "duty of care". They must look both ways before crossing the street within marked crosswalks, but only when the crossing signs indicate that it is safe to cross. If a pedestrian runs into the street without giving the vehicle an opportunity to avoid them, or if they are intoxicated while walking, they will be held partially responsible if an accident occurs. Even with some of the blame, a pedestrian still has the right to seek comparable compensation in the state of New York.

Like New Jersey, there are no-fault insurance laws in New York. To register a car in either state, all drivers must acquire Personal Injury Protection (PIP). Your own PIP coverage would be used first to cover any medical expenses whether you are the driver or pedestrian. However, even if your vehicle was not in the accident at all, your own insurance policy will be the primary for coverage.

Unfortunately, most accidents involving pedestrians result in serious injuries. So, there's times when the limits of PIP coverage may not be enough to pay all of your medical expenses after an accident. Pedestrians who are injured in a car accident may not be covered by a vehicle insurance policy. Alternatively, your insurance company may contest the legitimacy of your claims or your version of events surrounding the accident. These are just a few of the reasons why you consult with a New York pedestrian accident lawyer as soon as possible after an accident to discuss your legal alternatives in any of these instances. The attorneys at Brandon J. Broderick will work tirelessly to ensure that you get the full extent of your damages.
---
What is the Value of My Case?
The severity and long-term effects of your injuries will have a significant impact on the value of your claim. Intangible losses like pain and suffering and diminished quality of life are other factors that may contribute to the value.

If you are struck by a vehicle while walking, you will first pursue compensation from the driver of the car that hit you. In other words, you'll file a claim with the driver's insurer for your damages. If a dangerous road or traffic conditions contributed to your accident, you may be entitled to recover compensation from a third party, such as the municipality where the accident happened. As an alternative, you may be able to seek damages from the property owner's insurance if a dangerous parking lot condition contributed to the accident.

The following are examples of compensation you may be entitled to:

Medical and hospital bills
Rehabilitation
Ambulance
Medication prescriptions
Transportation to doctor appointments
Loss of income
Pain and suffering
Punitive damages
When determining the value of your case, it's critical to take into account the potential outcomes. Compensation for future medical costs should be sought in a personal injury claim for injuries that may need long-term care or rehabilitation. Income that you would have earned had the accident not occurred should also be included.

Accident victims in New York may get compensation for their injuries even if they were partly responsible for the accident that caused it, via New York's rule of comparative negligence. If you were 99% at fault or not to blame at all, you can recover damages.

Depending on your proportion of culpability, your losses would be reduced by the amount of compensation you get from the other party's insurance company. As an example, an insurance company may declare you 20% responsible for a pedestrian accident in which the pedestrian was under the influence of alcohol. Your claim for $100,000 would be reduced to $80,000.
Claim Filing Deadline
Personal injury lawsuits in New York must be filed within three years of the date of the incident. However, there's a shorter window of just 90 days if you are filing against the city of New York or the state itself and believe the municipality is at fault. You must file a "Notice of Claim" before the deadline.

In any case, you should consult with a pedestrian accident lawyer as quickly as possible. It takes time to gather evidence and make a compelling case, and it is best done when witnesses' memories are still fresh. If you or someone you care about has been injured, you should not delay in contacting a lawyer.
Injuries Most Commonly Sustained During Pedestrians Accidents
Because of the vast disparity between the vehicle's mass in comparison to the pedestrian, many pedestrian accidents result in serious injuries to the victim. Whether they are struck by the car's bumper, the hood or windshield, the pedestrian usually ends up striking the pavement. This type of impact may lead to significant injuries, like:
Traumatic brain injury
Broken bones
Amputations
Spinal cord injury
Fatal injury
How Dangerous Is New York City For Pedestrians?
Traffic fatality rates in New York City are less than half of the national average of 10 of the country's biggest cities and around 25% of the national rate. It is 10 times more likely for a pedestrian to die in a car accident than the people inside the vehicle involved.
If You Are Involved In A Pedestrian Accident, Do You Need A Lawyer?
After a pedestrian accident, you are not required by law to retain the services of a lawyer. Personal injury attorneys, on the other hand, have the experience and expertise to collect evidence, question witnesses, consult with specialists, and negotiate with insurance companies that you likely lack. Victims who hire a lawyer are also more likely to get a larger settlement than those who handle their own case.
We're Here To Help! Brandon J. Broderick Can Provide Legal Help Day or Night
An accident of any kind can negatively impact your life, especially if you are injured. In a pedestrian accident, the chances of this are even greater. Your health, both physical and mental, are at stake, as well as your financial standing, which can lead to stress. We have been fighting for the rights of our clients against insurance companies and other lawyers for years.
Client attention and positive outcomes are very important to Brandon J. Broderick's firm, which is why we are hailed as one of the best pedestrian accident lawyers in New York. You can rely on us to do everything in our power to make things right for you. People just like you have turned to us for aid after being injured as a result of someone else's carelessness. For a no-obligation consultation, call or email us right now.
Please do not go through this on your own. Our offices are located in New York City, Queens, Manhattan, Rochester, New Rochelle, Brooklyn, and the Bronx, among other cities. Our New York pedestrian accident attorneys will visit you if needed. Call (877) 958-8015 to get in touch with us.