Due to both accessibility and affordability, ridesharing apps like Uber and Lyft have become top choices for those in need of a ride. While a drastically cheaper cost has made it a more economic choice, the majority of Uber or Lyft customers do not give a second thought to the safety or well-being of others, in the case of a car accident. It's important that customers of these services understand that there are several differences between a typical car accident and one involving an Uber or Lyft vehicle.

While both Uber and Lyft have extensive liability insurance for its drivers, it's a bit difficult understanding or even knowing the rules surrounding these insurance policies. There is one constant among accidents involving both companies: they often challenge claims or deny liability in accidents, resulting in either claim rejections or settlement offers that barely cover the expenses related to the accident. To protect your rights, you need legal help. You shouldn't be the hook for the medical bills associated with your injury.

As a New York Uber accident lawyer with extensive expertise in case preparation and a successful track record, Brandon J. Broderick, Attorney at Law can help you get the compensation you deserve. We've earned our reputation as one of New York's best personal injury law firms, in part because of our dedication to our clients, our sincere and honest rapport, and transparent approach. With us by your side, you may concentrate on your family and rehabilitation, while we work hard for the best possible result for you.

As you read on, we'll offer you a quick rundown of everything you need to know about New York ridesharing accidents, statistics and more.

---
Retaining an Uber Accident Lawyer
Why It's Important
Accidents are just that... accidents. It's something no one ever expects to happen, and as a passenger in an Uber or Lyft, you will likely not even have a thought in your mind about getting into an accident.

Recovering from your injuries while attempting to survive financially can be extremely exhausting following an accident. Customer service is of high importance at Brandon J. Broderick, Attorney at Law, as well as keeping open lines of communication. You will never be left wondering with us. We're here for you every step of the way, and we'll never let you down.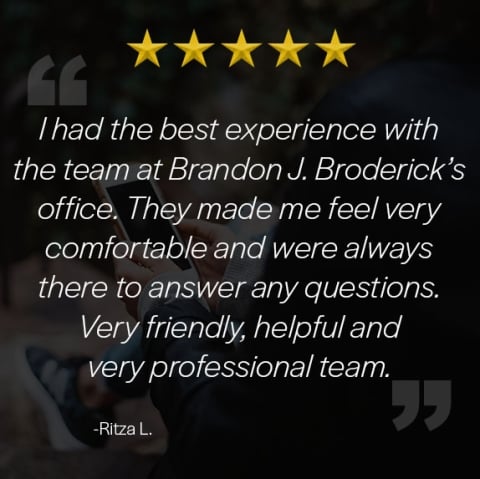 We Have Experience With Trials & Negotiations
As mentioned, ridesharing corporations like Uber and Lyft will take any advantage they can. This could mean that you are presented with a very low offer or they outright refuse to pay you at all, especially if you do not have legal representation.

Hiring Brandon J. Broderick, Attorney at Law, you will have someone with experience who can determine what approach will prove successful. He will work to gather evidence, interview witnesses, and engage with the defendant in order to get the reimbursement you are entitled to.

In fact, you don't have to speak with Uber or the other party at all. Brandon's team manages all interactions. Furthermore, if we can't come to an agreement in negotiations, we won't hesitate to go to trial and win.
Your Losses Should Be Recouped in Full
Injuries sustained in a car accident may be serious and require long-lasting medical care. If you are hurt badly enough, you may even be unable to work. This is especially stressful if you add the mounting costs of medical care.

If the injury results in a permanent disability, or even temporary pain but keeps you from engaging in your favorite pastimes, you're entitled to compensation for all of your losses, not just your immediate medical expenses.

The New York Uber accident attorneys at Brandon J. Broderick will seek a maximum settlement on your behalf.
---
Insurance Coverage For Uber and Lyft in New York
Drivers of ridesharing services such as Uber, Lyft, and others are required by law in New York to hold $1.25 million in liability insurance (to cover injuries and deaths as well as property damages), another supplemental $1.25 million in coverage for underinsured and uninsured motorists, and personal injury protection ("no-fault") insurance, as stated in New York Article 44B of New York's Vehicle and Traffic (VAT) Law. Fortunately, even if the accident was not caused by the Uber driver and the other motorist was not covered by insurance, accident victims have access to this coverage.

These coverage limits depend on whether or not the driver is actively picking up or carrying a passenger. If a driver is traveling with a passenger, these limits are in place, even if the driver was not at-fault or the other driver was uninsured. This insurance coverage comes before New York's no-fault insurance laws, when there is a passenger.

Lower insurance limits apply if the Uber/Lyft driver had the app open and was waiting for a trip request. An Uber or Lyft driver's personal insurance is held responsible when they are involved in an accident while not working. New York's no-fault insurance coverage would apply in this situation.
What If The Uber Driver Is Waiting For A Passenger: What Is The Coverage?
Interestingly, Uber drivers are waiting for a passenger for around 40-60% of the time during their shifts. The company calls it "deadheading" when a driver has their Uber App open and is awaiting a trip request. When an accident occurs while a driver is on duty, but not actively driving, it is difficult to determine what insurance coverage is applicable.

After the driver's personal insurance comes in, Uber and Lyft each have their own commercial coverage that applies, which is the minimum insurance required by law. Sometimes, Uber demands that drivers carry additional insurance. When Uber drivers are hurt in an accident or injures other people, the company assumes that the driver's own insurance would pay the costs. However, many insurance companies may refuse claims since the car is being utilized for business purposes, which is why many drivers get supplemental ridesharing insurance.

When the insurance coverage of the Uber driver runs out, Uber's policy kicks in. When a driver's app is on but is not on an active ride, Uber's insurance will cover this situation: with bodily injury for up to $75,000 per injury per accident with a total of $150,000 per accident and $25,000 for property coverage. Their Uninsured motorist coverage includes $25,000 in injury liability per person ($50,000 per accident) and $50,000 per person for death ($100,000 per accident). This is coverage for when there is a hit and run involving an Uber.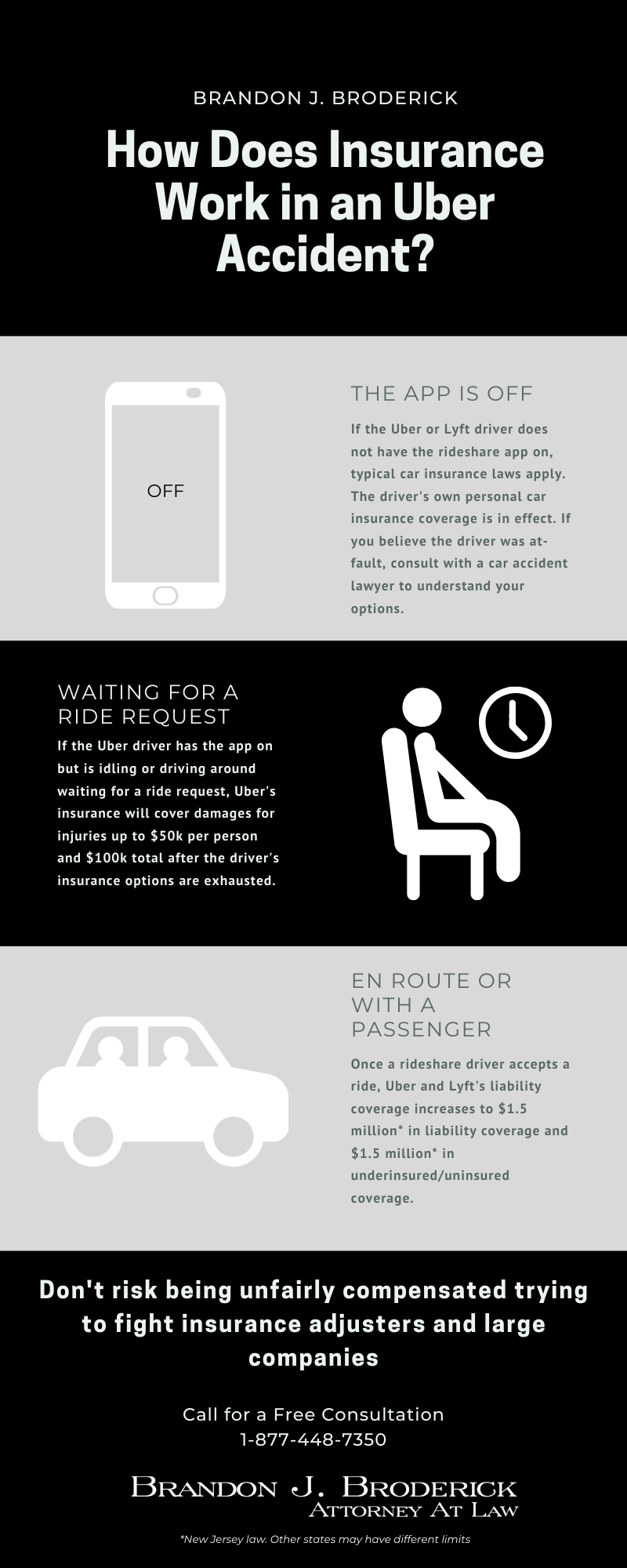 ---
Settlements for Uber Accidents
Uber accident victims may wonder what the typical settlement for a ridesharing accident is. Economic damages and non-economic damages are the two types of compensation paid in injury claim settlements. However, the seriousness of the injury can significantly impact the amount of compensation you get.

One thing you should always remember is that you do not have to accept the insurance company's settlement offer. A low offer from the insurance company is not uncommon, especially when it comes quickly after the accident. To know whether the settlement amount will cover all of your expenses, you must first determine the nature of your injuries, recuperation time, and when you may return to work.

Speaking with an experienced Uber accident lawyer, such as Brandon J. Broderick, will give you a better idea of what you can expect in your specific Uber accident.
---
What Are Economic Damages?
It is important to note that economic damages do not include punitive damages or emotional distress. When filing an Uber accident claim, you have the option of seeking reimbursement for both your current medical bills, as well as future costs. Rehabilitation, therapy, and housing modifications may be required for years after a major injury. Examples of medical costs include:

Doctors and hospital visits
Surgery
Medical specialists
Medical devices
Rehabilitation
In-home care
Estimating long-term economic damages can be difficult. You will need the help of medical professionals who can assess the severity of your injuries and predict your recovery time. This is where the importance of an Uber accident lawyer comes in, as they can help in determining what approach to take.

Economic damages also include lost wages from work. If you are unable to work due to your injury, you have to establish the amount of earnings you have lost and what you will lose in the future to recover compensation. In addition to monetary compensation, you may be entitled to reimbursement for other household services, such as housekeeping, that you are no longer able to do yourself.
What Are Non-Economic Damages?
Non-economic damages are a bit more difficult to put a value on. An injured victim might get non-economic damages for their pain and suffering. Or, survivors may also claim loss of companionship or consortium in the event of the victim's death.

The mental and physical toll that an accident and the resulting injuries have on a person is referred to as "pain and suffering." Injured victims get compensation for both physical and emotional pain and suffering, which can sometimes be substantial.

For this reason, Uber and Lyft will have large insurance coverage for accidents just like this. They are aware and anticipate these types of claims to happen. It doesn't mean they will automatically accept responsibility though.

A talented New York Uber accident lawyer like Brandon J. Broderick can help you collect compensation for non-economic damages, and will be able to explain and defend the estimated amount you are seeking because of their previous experience.
Uber/Lyft vs Taxi Services
In 2009, Uber was established in San Francisco as an alternative to traditional taxi services. A whole new kind of business has been born as a result of the company's success. When it comes to insurance, accidents, and liability, ridesharing services like Uber and Lyft are considerably different from traditional taxi services.

Unlike ride-sharing services, taxis and cab drivers have separate insurance plans and varying levels of insurance coverage. Drivers for companies such as Uber and Lyft use their own cars and are not employed by the firm, and are instead, independent contractors. In most cases, taxi cab drivers do not drive their own cars and are covered by commercial insurance coverage at all times while on the job.
What to Do After a New York Uber Accident
Immediately after an accident, whether it's in an Uber or a taxi, you want to make sure you are safe and out of harm's way. Then, you can worry about others and what is next.

Medical treatment is usually recommended after an automobile accident, even if your injuries seem minor. Whiplash and other injuries might take a long time for symptoms to show up after a vehicle accident. You want to make sure you are okay by seeing a doctor. The medical records can be beneficial to your accident claim.

Don't forget to take note of any relevant information about your Uber accident, the ride and the driver. Snap a screenshot of the app and ride, and gather the names and phone numbers of any other passengers, drivers, or witnesses who may have been there.

Document as much as possible, including photos of the accident site. It's important to take photos of road conditions or dangers that may be present, as well as any signs on the vehicle that indicate it's an Uber. Make sure you take photos of all of the damage to your vehicle.
Filing An Uber Accident Report
You may fill out a form on Uber's website to file an Uber accident report. You must visit their website for more information about reporting the incident. However, a New York Uber accident lawyer should be contacted before making a claim with Uber if you have been harmed. If you've been injured in an accident, a New York Uber accident lawyer can explain your legal rights and the potential compensation you're entitled to.

Following an Uber claim, their insurance reps or legal team may approach you to ask for a recorded statement or persuade you to accept a very low offer. If you have a lawyer, he or she may protect your interests and deal with Uber on your behalf. An experienced Uber accident lawyer knows how to develop a case and offer evidence to demonstrate your injuries and the effect they have had on your daily life.
Can I File A Lawsuit Against Uber or Lyft For An Accident?
It's possible to sue Lyft or Uber for compensation for injuries sustained as a passenger or as a result of an accident with one of their vehicles if it wasn't your fault.

If a settlement cannot be reached, a lawsuit is usually brought forth.
Brandon J. Broderick Can Help You If You Find Yourself In an Uber Accident
Client attention and positive outcomes are the hallmarks of Brandon J. Broderick's practice. As a result, we've earned a reputation as one of the top Uber accident lawyers in New York. We have decades of expertise fighting for our clients and winning, even in the most difficult of cases.

Do not go against Uber or Lyft on your own. We're here to help you bounce back from adversity. You can get a free consultation by contacting us now.