After suffering injuries in a car accident, you and your family may be preoccupied with getting better. Stress, worry, and even anger can take their toll on you mentally if you've been injured due to someone else's negligence.

When something like this happens, it would be comforting to know you have a trustworthy advocate on your side, right? The law office of Brandon J. Broderick strives to provide the best legal service to each of our clients. That means you will not deal with any of the legalese or nonsense that might arise. We are different from other law firms. This is one of many reasons our Connecticut car accidents lawyers are top-rated throughout the state.

Your initial consultation with Brandon J. Broderick is free of charge. We take cases on a contingency basis, meaning we only get paid if you do. It's simple: no payment is required unless we win. If you don't file a legal claim, insurance companies will generally offer you a minimum settlement that may not even cover all of your expenses. It's possible that you'll have to foot the bill for your injuries out of pocket. Call us today and together we can help you recover from this setback.
You can trust that we will strive to improve your quality of life in the event of a devastating injury, because we have a commitment to client satisfaction and our track record of success is a testament to that. We've helped others in your position recover from injuries brought on by someone else's negligence. Reach out to us at (877) 359-4928, we are here to answer your questions.
---
This page provides an overview of resources available to those affected in a car accident in Connecticut.
Brandon J. Broderick, Connecticut Car Accident Lawyers, Can Turn Your Situation Around
Recover all of your medical expenses and losses, including both current and future costs
Symptoms of even life-threatening injuries may take time to appear, which can make an injury party's condition deteriorate and become more difficult to treat. In many cases, insurance providers will make an effort to contact an injured party in an effort to promptly resolve the claim for the least amount possible. Injuries can have long-lasting effects on your quality of life and your ability to earn a living, so it's important to give yourself plenty of time to determine whether or not other issues manifest.
We Are Experienced Negotiators and Trial Attorneys
If you don't file a legal claim, many insurance companies will offer you a very low amount in settlement, which may or may not cover your losses. It is not in the interest of insurance companies to pay out claims, which is why they will do everything in their power to settle for as little as possible with injured victims.

With Brandon J. Broderick, Attorney at Law on your side, you won't have to worry about dealing with the insurance company. We'll manage all correspondence and do our very best to get you the compensation you should receive. If a fair settlement cannot be reached through negotiation, we will not hesitate to take your claim all the way to trial.
Turn Your Situation Around Today
You may forget your worries and focus on your health with the help of Brandon J. Broderick, Attorney at Law. Dedicated to getting you the compensation you need after a car accident, our legal team will fight for you. We will fight for your rights and stand by your side as you go through a challenging situation. It will just be temporary.

If you need legal counsel, don't hesitate to call the CT car accident lawyers of Brandon J. Broderick. You can make a comeback from your setback, thanks to our experience and dedication to our clients.

Steps To Take After An Accident in Connecticut
Victims of car accidents often report feelings of terror or disorientation in the moments following their collisions. The ideal way to keep your cool in the aftermath of an accident is to have a plan in place before one occurs.

Consider the following advice in the event that you are ever in an auto accident:

Check to see if anyone is hurt. This is important because the minutes following an accident are important, potentially between life and death to an injured victim. If someone is injured, an ambulance should be called right away.
Move your vehicle to a safe spot, out of the way of traffic, especially if it's blocking the road.
No matter the circumstances, never admit guilt in the accident. Never accept fault at the scene, regardless of whether you think it's your fault or not; doing so can make filing a claim more difficult.
Gather as much evidence as possible. Take photos of the scene, damage to vehicles or property, your injuries, etc. And, take notes of anything important, such as weather conditions or memories about what happened, in addition to exchanging information, such as names, license plates, contact info, etc.
Contact an experienced Connecticut car accident lawyer.
Put a notepad, pen, and disposable camera in your vehicle's glove compartment just in case. Also, avoid speaking with the insurance companies before you speak to a lawyer. Anything you say may be used to deny your claim or reduce your claim amount. If you were injured in a car accident in CT, you may be able to recover more from the responsible party if you hire a lawyer.
Don't delay if you are injured in an auto accident. Consult with us right now at no cost. Our experience and commitment to our clients satisfaction will help you recover from any setback.
Gathering Evidence After a Car Accident
Common evidence that is used in car accident cases include witness accounts, accident reports, medical records, and testimony from the victim(s). If you choose to file a lawsuit against the at-fault motorist, this information is vital. The evidence can help prove the other driver's negligence and help you recover compensation for your injuries and losses.

Medical records are arguably the most important evidence in your case. First responders can help determine if injuries were sustained at the scene of an accident. The importance of getting checked by a doctor following a car accident cannot be overstated, as both medical professionals and records can provide light on the specifics of the injury and its cause.

After a collision, it is possible to collect evidence digitally. There may be skid marks on the road that can be photographed using a digital camera. A neighboring traffic camera may have filmed a driver who disregarded a red light. The crash may have been captured on cell phone video by other witnesses. Cellular data can be interpreted with the help of experts to identify whether or not a defendant was likely using a phone at the time of an accident.

In the United States, most modern vehicles have something called a "event data recorder" (EDR). This captures data on the vehicle and its occupants before, during, and after an accident, according to the National Highway Traffic Safety Administration (NHTSA). Metrics that technology can measure includes a vehicle's speed, rate of acceleration and deceleration, your steering angle, if you applied the brakes, and more. In the event of a car accident, having an EDR's data to backup your case is invaluable.

When paired with other solid evidence and an appropriate legal strategy, electronic information such as medical records, witness and victim testimony can be the backbone of an auto accident claim.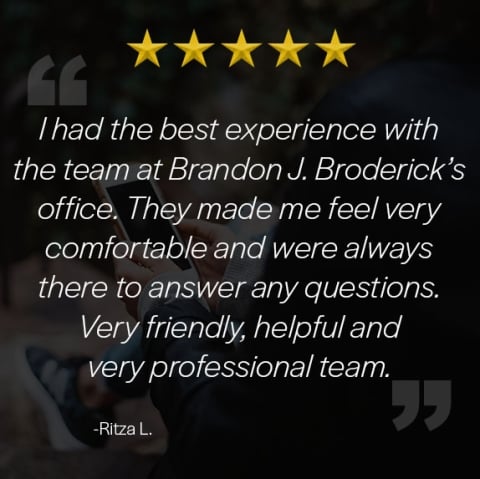 What is the Value of My Car Accident Case?
This is commonly asked by accident victims, but the answer is not simple. The value of your claim will vary depending on the specifics of your accident, as every car crash is different. In most cases, we assist our clients in pursuing full and fair compensation for all the injuries they have suffered as a result of the accident.

You'll need to determine the value of your injuries before you can evaluate a settlement offer. Until you factor in the cost of medical care, time away from work, and other potential losses, a settlement offer may seem generous. Aside from the potential for recovering compensation to pay for medical expenses, you may also be entitled to recover your damages, both economic and non-economic.
What Are Economic Damages in a Car Accident?
The term "economic damages" refers to the monetary compensation that can be claimed after a car accident. Economic damages do not cover non-monetary related damages, such pain and suffering and punitive damages. A successful personal injury case usually sees the plaintiff being awarded a single settlement for economic damages. This is generally a single payment to compensate you for all of your losses, both present and future. Past economic damages are generally straightforward and easy to determine. This may be:

Income loss
Medical bills
Costs of auto repairs
Related costs: towing, car rental, etc.
Future economic damages may be a bit more challenging to determine, which is why this is sometimes left to experts. In a case where future losses are being calculated, a medical professional may be required to assess the extent of an injury and offer a prognosis for the patient's future. Expert help from an economist or labor lawyer may be required to estimate the financial impact of a long-term loss of income as well.

In cases involving extremely severe long-term injuries, it is highly recommended that you hire a personal injury attorney to help you manage your case to secure your best interests.

Here are some examples of future economic losses:

Future medical costs
Future nursing care costs
Future lost earnings or loss of earning ability
Costs of household activities that can no longer be performed
Hiring a personal injury attorney to help you sort through the complexities of damages you may be entitled to is vital to the success of your case. If you have suffered significant, long-lasting injuries, this is even more important.
What Are Non-Economic Damages in a Car Accident?
Non-economic damages are available in a personal injury claim related to a car accident to award the victim for their pain and suffering. Loss of enjoyment of life, emotional distress or losing a loved one in death are all examples of non-economic damages.

You may be asking what "pain and suffering" is. It's a term used to describe both the mental and physical stress a victim has endured as a result of their injuries related to the accident. If a driver were to suffer burn injuries, for instance, the driver would suffer severe pain and agony associated with the injury, as well as future limitations to their lifestyle and treatments and seek compensation associated with this. You would likely recover damages for the emotional distress from the injury, especially if it leads to a lifelong disability.

In a lawsuit, pain and suffering compensation is determined at trial. Your physical injuries will be evaluated by the insurance company and your attorney for the car accident. Long-term effects on things like sleep, daily routine, and relationships at home and at work are also relevant.

Getting the compensation you deserve after a car accident is difficult, and it takes a lot of judgment and expertise to calculate pain and suffering. Thanks to our expertise and our team of car accident lawyers, you'll be better equipped to defend yourself and the compensation you are seeking.

Determining Fault in A Connecticut Car Accident
Usually those who have been in a car accident will blame the other driver shortly after it occurs. To what extent does fault play a role in settling an automobile accident case?

Whoever was "at fault" in a given car accident must be identified by examining the specifics of the accident. In some situations, like when one driver runs a stop sign and broadsides another, assigning blame is simple; in others, however, it may be more difficult.

"Comparative negligence" is a term used in motor insurance to describe how much each party was to blame for an accident. Your car accident attorney will need to spend some time investigating and gathering information to support your claim of negligence.
Connecticut is a "Fault" State
Since Connecticut is a "fault" state, the insurance company of the negligent driver must pay for the damages caused to the other driver in the event of an accident. This is also referred to as a "tort" state. The at-fault driver's insurance policy covers the other driver's damages, but it's up to both the police and the insurance company to investigate and determine who is responsible for the accident.

Both drivers may also share fault in an accident in Connecticut as well. In a case where one driver is determined to be 20% at fault while the other driver is found to be 80% at fault, there would be shared fault in the accident. However, the driver who is 80% at fault will not be able to file a claim.
What is Shared Fault in a Connecticut Car Accident?
Shared fault in the state of Connecticut is important because it will help serve as the basis for the amount of compensation a victim will receive if they are awarded damages in their car accident case. As mentioned, each party may share some of the fault in a state like Connecticut. However, there is a maximum level of fault assigned to a driver and still qualify for compensation.

The state of Connecticut uses a form of modified comparative negligence. When this law applies, the plaintiff is still eligible for damages even if their own negligence contributed to the accident to some extent. The plaintiff in a personal injury or vehicle accident case in Connecticut must be less than 50% at fault for the injuries in order to recover any damages under this version of the rule. In proportion to the defendant's degree of fault, the reward amount will decrease. This means that if a jury decides you were 30% at fault for your injuries because you failed to properly use your turn signal, you would only be entitled to 70% of the damages you were awarded. So, if there is $100,000 in damages, you would receive $70,000, which is 30% less than the amount awarded.

A judge or jury determines the degree of negligence on the part of each party and allocates a percentage of the total damages to each party based on their respective levels of fault. If you are determined to be more than half responsible for an accident, you cannot sue for damages in Connecticut.
Common Causes of Car Accidents
There are various factors that will contribute to a car accident. However, the majority are the result of negligence by other drivers, such as driving while under the influence of drugs or alcohol, driving while drowsy, driving while distracted, speeding or reckless driving. In addition to obvious causes, other things that could apply can be a poorly maintained vehicle or manufacturing flaws.

Loss of income due to physical impairment and inability to work is an additional consequence of being involved in a car accident, as well as the physical pain of an injury and medical care.
Connecticut's Cell Phone Law
In the state of Connecticut, it is illegal to use a handheld cell phone or other mobile electronic device while driving a vehicle in any circumstance, including when stopped at a red light or in traffic. The exception is "hands-free" mode.

To comply with federal law, drivers aged 18 and up must utilize hands-free mode in order to safely talk on a cell phone or use another mobile electronic device. However, using a mobile phone or other portable electronic device, even with a hands-free kit, is prohibited for drivers under the age of 18.

Exception to the law are as follows:

Under emergency circumstances, a mobile phone can be used to contact emergency services
Police, firefighters or other emergency vehicle operators, as well as U.S. military are allowed to use mobile devices when on official duty
Using hands-free accessories to make a call and being 18 years old or older.
It's important to note that this law applies to both "engaging in a call" and/or texting.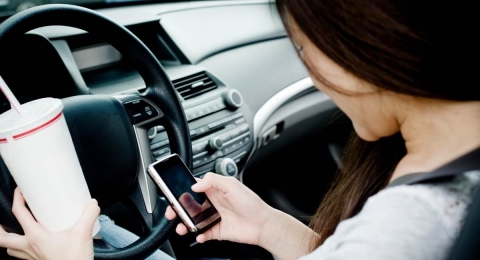 Engaging in Distracting Activity
Doing anything that could compromise safe driving is illegal in the state of Connecticut. This is a "catch-all" clause that could apply to drivers who are engaged in any activity that prevents them from paying full attention to the road, whether they are applying makeup, reading the newspaper, eating, etc.
Penalties For Distracted Driving
There are fines for each time you are caught engaging in an activity that distracts you from driving. They are:
$150 for the first violation
$300 for the second violation
$500 for any consecutive violation
Drivers receive penalty points for offenses related to distracted driving. If you rack up too many points, your driver's license will be suspended.
Depending on the specifics of the incident, a reckless driving conviction may also result from a distracted driving infraction. And if someone dies because of your distracted driving, you might face accusations of negligent murder.
We've helped others in your position recover from injuries that were someone else's fault. With a history of winning cases, you can have faith in the car accident lawyers at Brandon J. Broderick, Attorney at Law to fight for you. Just dial (877) 858-2718 to talk to us right now.
How Insurance Companies and Car Accidents Work
Car accident claims typically involve significant involvement from insurance providers. Given that Connecticut is a fault state, you will most likely have to deal with the at-fault driver's insurance company. When one driver's negligence causes an accident, the injured party will typically seek compensation from that driver's insurance. A personal injury attorney can often help you negotiate fair compensation with the insurance company after an accident that involves injury.

Negotiating with the insurance company of the at-fault driver is a common part of the job of an injury lawyer representing the car accident victim.

For several reasons, an insurance company will offer a much lower settlement than you deserve. If they attribute some fault to you, even partially, this will be used to reduce the amount you receive as compensation. They may also believe you will take a lower settlement and not seek money for potential future damages or medical expenses. Remember that you may not be able to assess your exact damages without the help of a skilled car accident attorney, so it is not advised that you accept a settlement so quickly.

A personal injury lawyer can help you get the testimony of an expert witness to prove certain types of damages, such as lost wages or the cost of future medical care.
Insurance Adjusters: Tips to Remember
Know who the adjuster is representing. No matter how kind the insurance adjuster seems to be, keep in mind that he or she is not on your side and is not working for you. Remember that the insurance company's purpose is to pay you as little as possible, if anything at all, and keep that in mind when engaging with the insurance adjuster. The adjuster will go so far as to try to convince you from hiring an attorney if your claim is very large. Hiring a car accident attorney is an important step to take when trying to obtain compensation from an insurer. Without one, you are far more likely to fall prey to their techniques and accept a low settlement offer.

Watch what you say. Even if you think you're saying something harmless, it could come back to haunt you and ruin your chances of getting the compensation you deserve. An adjuster will likely ask you to give a recorded statement as one of their initial requests. This is something you should refuse. You are under no obligation to give a recorded statement, and if you do, the adjuster can twist your statements and ask you leading questions that will hurt your claim. It's best to not give a statement under any circumstances, but especially if you're taking any kind of medication for your injuries because it could alter your mental state and the way you answer any inquiries.

Be aware that you should not always believe an adjuster's remarks. They may be trying to hint that your claim may not be worth much or that there are problems with your case. Keep in mind that these sly techniques are designed to lower your standards. If you think your case is worthless, you're more likely to settle for less money. Be wary about being duped in this way.

Do not negotiate without consulting a lawyer. It's important to avoid falling into any of the traps an adjuster may create. Common tactics include pushing an injured party into accepting a settlement or settling before a proper assessment has been made. The problem with accepting a quick settlement is that you can't determine the worth of your claim until you know the extent of your injuries, how long it will take you to heal, what treatments you might require, and whether or not you will make a full recovery.

You can reject any offer an insurance company makes. Don't let an insurance adjuster convince you otherwise; you have the option of declining the company's offer. If you accept an offer, you'll have to give up your rights, specifically suing the other party for your damages. That's why it's important that you know how much your claim is worth and that you have every right to turn down an offer that doesn't adequately pay for your losses.

Get in touch with an experienced Connecticut car accident law for counsel before accepting any settlement offer made by an insurer.
Connecticut Requires Minimum Car Insurance Coverage
Everyone who operates a vehicle in the state of Connecticut must carry proof of auto insurance and they must meet the minimum requirements set forth by the state.

In Connecticut, the minimum liability coverage amounts are as follows:
$25,000 for injuries per person
$50,000 for injuries per accident if multiple people are wounded
$25,000 for property damage per accident
$25,000 in uninsured/underinsured motorist coverage per person
$50,000 in uninsured/underinsured motorist coverage per accident
Connecticut Statute of Limitations to File A Claim
A person has a certain amount of time from the date of an alleged accident before their right to sue expires. This is called a statute of limitations. This deadline can vary, depending on the nature of the case; and when the deadline is missed, an injured party is no longer able to file a claim.

Under Connecticut's General Statutes § 52-284, there is a two-year deadline for filing a lawsuit following a car accident. Those hurt in a car accident that was someone else's fault have two years from the date of the accident in which to bring a claim for damages.

However, you must first file a claim with the at-fault party's insurance carrier before you may bring a lawsuit for damages in a car accident. Many insurance companies have strict time limits by which you must submit your claim. Thus, it is imperative that you submit a claim as quickly as possible.

According to GS § 52-555, surviving family members have two years to file a wrongful death lawsuit. However, this time limit starts on the day the person died, not the day the accident occurred.

If a faulty part, such as a failing brake or an exploding airbag, caused the accident, which led to injuries, a product liability lawsuit against the product's manufacturer may be an option. The time restriction for filing such a lawsuit is three years.

Lastly, to recover damages to your vehicle itself, property damage claims in Connecticut must be submitted within two years of the date of the accident.
---
The Connecticut Car Accident Lawyers at Brandon J. Broderick Are Here For You
We understand that anxiety and worry may be impacting your daily life after a car accident. An injury could leave you in pain, but also stressed due to the mounting medical bills and time missed from work. What if you had someone to lean on? Someone who was looking out for your best interests? That's what you will have with the lawyers at Brandon J. Broderick, Attorney at Law.

We are committed to providing excellent legal service and a favorable outcome for our clients. This is why we remain among the top car accident law firms in Connecticut. You can trust us to use the best approach to achieve success in your case. Our lawyers have spent decades advocating for people injured in car accidents. We've helped others in your position recover from injuries, especially those brought on by someone else's negligence. Consult with us for free today and we can discuss your case.