At Brandon J. Broderick, Attorney at Law, we recognize that every situation, every person, and every case is special and unique. We are aware of the devastation that can result from an accident or injury. Your life has been turned upside down, working is challenging or impossible, and debts and medical expenses are piling. We can assist in making your life much easier.
The personal injury lawyers at Brandon J. Broderick, Attorney at Law, are well versed in injury laws for the state of Connecticut and the surrounding states.
Speak to our Connecticut Personal Injury Lawyers For Help
Our skilled Connecticut personal injury attorneys prioritize every client and offer compassionate client care and a straightforward strategy. We overcome obstacles and succeed day after day. Our results back this up.
You don't pay anything up front when you retain the services of Brandon J. Broderick. We only get paid if we win your case; our fees are contingent. We want to make it very clear that without a legal claim, the at-fault party's insurance provider may attempt to present you with a low settlement offer, which may or may not cover your losses or they may even decline to pay for damages altogether.
The last thing you want is to be left to cover the losses associated with your injuries by yourself. Call us immediately and we can help you make sense of your situation and turn it all around.
---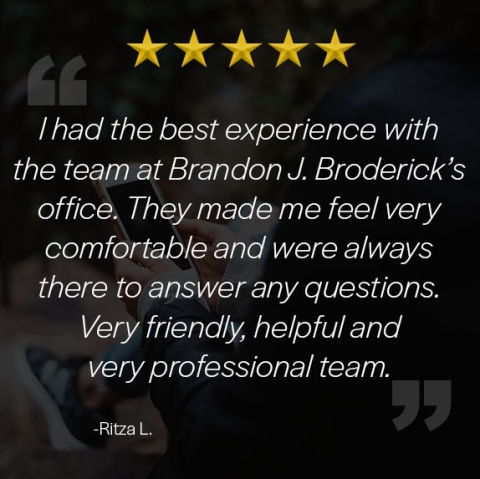 Injured? Here's Steps You Need To Take Next
Record all evidence.
If you can, gather as much evidence at the scene as soon as possible following an accident. Take pictures of the accident scene and your injuries if you've been hurt. Make sure the occurrence is recorded at the accident scene if it took place at a business. Do not hesitate to contact the police. Even extremely minor auto accidents must be reported to the police, according to Connecticut law.
Get Medical Attention.
After an injury, medical attention is necessary. Insurance companies and the at-fault party may attempt to say you weren't injured at all if you don't seek medical attention. You should seek medical care as soon as you can after an accident since medical records serve as evidence in personal injury cases.
You should strongly consider dealing with a personal injury lawyer in Connecticut if you or a loved one has been severely injured, if the injuries are permanent, or if your loved one passed away. You could be eligible to file a personal injury claim, and an injury lawyer – such as Brandon J. Broderick – can help you get through the process and get the best settlement possible. Your personal injury attorney will assist you in submitting your claim, provide you with the appropriate information, and help support your case. This includes referrals for medical care, encouraging you to keep a journal or your injuries, and advocating on your behalf.
How Much Money Can I Get In My Personal Injury Claim?
Damages for the tangible and intangible losses you sustained as a result of an accident are included in personal injury claims. Usually, the claim value increases with the severity of the injury that has been sustained, even more so if the injury is permanent. Even though each situation is different, negotiations with the at fault party become more difficult when the amount of money being recovered is more.
Your claim will include compensation for future damages if you believe that additional medical care or expenses will be required in the future, especially if there's a serious injury. This could include future pain and suffering, future loss of enjoyment of life, or future lost income if your medical treatment will take a long period of time or will be ongoing.
A Connecticut personal injury attorney with experience can help you in figuring out and negotiating the highest possible compensation in most situations. Contact us today. Together, we can work to figure out the best course of action in your personal injury case.
---
What Compensation is Available in a Personal Injury Case?
The individual/entity who is held legally responsible for your injuries must pay you damages. The settlement sum decided upon by you, your legal counsel, and the other parties taking part in the negotiation constitutes the damages. After a civil trial, the amount may be decided by a judge or jury if the parties are unable to reach an agreement in negotiation.
Punitive damages and compensatory damages are the two types of damages that might be awarded. The purpose of compensatory damages is to make up for whatever losses the injured party suffers as a result of their injuries. Punitive damages are intended to penalize the party who caused the injury and are normally only awarded in the most extreme cases.
A more thorough explanation of the types of compensation are as follows:
Compensatory Damages
The goal of compensatory damages is to restore the victim's finances to the level they were prior to the accident. Intangible (non-economic) and tangible (economic) losses are both eligible for compensation.
Economic Damages
Economic damages will likely raise the value of your claim. The dollar amount of monetary damages differs from case to case and is based on the plaintiff's potential losses as a result of their injuries. Medical care, lost wages, property loss, and legal costs are examples of economic damages. This includes:
Medical Care - The cost of hospital stays, doctor visits, physical therapy, medicines, specialized therapies, medical devices, transportation to and from appointments, and any other costs related to the treatment of the injuries are all included in the compensation for medical treatment.
Lost Wages - For any lost wages resulting from your injury, you are entitled to compensation. This includes income lost for taking time off work, or if the injury prohibits you from performing the same tasks as before and you are forced to settle for a lower position.
Property Loss - Compensation for property damage, such as damage to your vehicle, or items lost or damaged in the incident.
Legal Costs - You have the right to ask the liable party to cover your legal expenses. The majority of personal injury lawyers in Connecticut operate on a contingency basis, meaning you are not responsible for paying fees unless your case is won. Legal fees related to the time spent by your attorney settling the matter may be included in your award.
Non-Economic Damages
You may be entitled to non-economic damages as compensation for the pain and suffering you have endured as a result of the injury. The purpose of non-economic damages is to make up for injuries that don't result in monetary losses. Since these damages are not visible and typically cannot be seen, proving them may be challenging.

Pain and suffering is subjective and varies depending on the individual, the accident, and other elements.
You must describe the difficulty your injury has created while making your case for pain and suffering. When determining compensation, an insurance company, judge, or jury will take into account a number of factors, such as what the injury is, how long it took to recover, and if it left you with a permanent disability or limitation.
Emotional suffering is another type of non-economic damages. Worry or emotional distress can justify a call for compensation. It could be difficult to demonstrate emotional pain, therefore maintaining a journal or calendar of your journey can be vital. Mental suffering you have experienced as a result of the accident should also be noted.
Punitive Damages in Connecticut
Usually, punitive damages are awarded in circumstances of extreme negligence or willful misconduct. In Connecticut, courts may grant punitive damages. However, state courts have restricted punitive damages to attorney's fees and other litigation costs, unlike most other states.
Punitive damages awarded in Connecticut are typically smaller than those of other states, especially those that consider punitive damages as a means of punishing the wrongdoer. These states permit significantly higher punitive penalties based on factors including the defendant's wealth.
Certain Connecticut legislation permits punitive damages, in some circumstances, that are two or three times the victim's actual damages. While this can occasionally be a sizable sum in cases where the victim actually suffered substantial damages, it pales in comparison to jurisdictions that do not impose caps on punitive damages awards.
Types of Personal Injury Cases
Tort law is another name for personal injury law. You have the right to seek compensation from an at fault party if you have been hurt or your property has been damaged as a result of their negligence, carelessness, recklessness, or malicious actions.
You must prove negligence in order to win your case. In order to establish liability, you must show that the responsible party owed you a duty of care, that duty was breached due to their negligence, and that your damage or injury was caused directly by that negligence.
Typical personal injury case types include:
Car accidents: CT personal injury lawyers handle all kinds of auto accidents, including hit-and-runs, motorcycle accidents, Uber accidents, bicycle accidents, pedestrian accidents, and other injuries sustained during travel and transportation.
Truck accidents: Due to the potential involvement of numerous liable parties, truck accidents can often be far more complicated than auto accidents. Truck accidents might potentially result in more severe injuries as well.
Slips and falls: Whether you are hurt due to a slip, trip, or fall on someone else's property, you have a claim to compensation for your damages. Premises liability law, which specifies the care that businesses should take to maintain their property to keep everyone safe and free from risks, is frequently involved in this type of personal injury litigation.
Construction accident: If you were hurt on a construction site, including during a work shift, there may have been various contributing factors and multiple parties involved. It's important to discuss the incident and your injury with a Connecticut personal injury lawyer who can assist you in obtaining the full compensation to which you may be entitled.
Workers' compensation: Despite the fact that many employees are entitled to workers comp benefits following an illness or injury, it can be difficult to get reimbursed for the full cost of your injuries. You need an attorney who is familiar with Connecticut workers compensation law and who can assist you in handling your workers' compensation claim.
Wrongful death: It's incredibly difficult to lose someone you care about. You need a lawyer with experience to handle your wrongful death case if your loved one passed away in an accident or from an illness that was caused by someone else's negligence.
Nursing home abuse: We have a great deal of faith in the long-term care facilities and nursing homes where our loved ones are housed. A personal injury lawyer can help you get compensation for your loved one's injuries as well as fight to stop it from happening to others when a facility violates that trust and your family member is not receiving proper care.
With the aid of the experienced personal injury attorneys of Brandon J. Broderick, Attorney at Law, you can get fair compensation for injuries. The person hurt in an accident, also known as the plaintiff, may bring a personal injury lawsuit against the party or entity at fault. A lawsuit does not automatically result in a trial, and most of the time, cases are settled out of court. However, to ensure you receive maximum compensation, a personal injury attorney attempts to negotiate for a fair settlement. If that is not an option, we will take the case all the way to trial.
---
How Much Time Do I Have To File a Personal Injury Claim in Connecticut?
A rule known as the statute of limitations establishes the amount of time you have to bring a lawsuit in every state for all types of claims that can be heard in civil court. A personal injury lawsuit in Connecticut must be filed within two years of the date the injury occurred. This deadline is important because you will forfeit your chance to have your case heard if you don't file your lawsuit before Connecticut's two-year filing window expires.
Time Limit for Filing a Claim Against Governmental Bodies
Your intention to file a lawsuit must be disclosed to a city or county within six months. A claim against the state must be reported to the State Claims Commissioner within a year.
If you are unclear about specific limitations or time limits to bring forth a claim, consult with a personal injury attorney.
Connecticut is a "Fault" State
Since Connecticut is a "fault" state, the at-fault driver's insurance provider is responsible for covering damages caused by the other driver in the event of an accident. This is also known as a "tort" state. However, the police and the insurance provider have the task of investigating the crash and identifying the at-fault party.
In Connecticut, the responsibility for an accident may fall on both drivers. This is referred to as shared fault in an accident if each driver shares some blame, even if it is only partial. You must be no more than 50% at fault to be eligible to seek and collect compensation.
Comparative Fault in Connecticut
It's not uncommon for a person or business you've filed a claim against to make the assertion that you were partially or entirely at fault for the accident that caused you injury. When the injured party is determined to bear some of the blame, even partial, Connecticut's "comparative fault" rule lessens or may even eliminate damages.
Here is how Connecticut's modified comparative fault works. Imagine you're approaching an intersection while traveling a few miles per hour faster than the indicated speed limit. Your automobile was struck by another driver who ran a red light at the intersection. In the end, it turns out that you were 10% at fault and the other motorist was 90% at fault.
The 10% of fault attributed to you under Connecticut's modified comparative fault rule results in a 10% reduction in your overall damages. So, if your damages in the aforementioned case were $10,000, you would walk away with $9,000, which is equal to $10,000 less $1,000. However, if you were responsible for 50% or more of the damages, you would not be awarded damages at all.
In injury cases that proceed to trial in Connecticut, the comparative fault rule is required. It is wise to be ready since insurance adjusters may decide to bring up the subject of comparative fault during settlement discussions as well.
Why Choose Brandon J. Broderick, Attorney At Law?
Nobody plans on getting injured in an accident, much less thinking about suing for personal injuries. However, unplanned incidents happen and can greatly impact your health and finances. The way you navigate the case after the accident will determine the compensation you could receive. You have the right to seek restitution for your losses if you were hurt as a result of someone else's behavior. Why handle negotiations with an insurance company alone?
At Brandon J. Broderick, Attorney at Law, we value outstanding client service and are empathetic to your situation. That is what distinguishes us as one of Connecticut's top personal injury law firms. You may rely on us, especially given our lengthy history of success. Our lawyers have decades of expertise defending clients in all types of personal injury cases, from car accidents and slip and fall accidents to workplace injuries or construction site accidents. We've assisted countless individuals just like you. For a free consultation, get in touch with us today!
We have locations across the state of Connecticut, including Bridgeport, Danbury, Hartford, New Haven, Norwalk, and Stamford. We are here to assist you.