Workers in the construction industry have among the highest injury rates in the country, which has earned it a reputation as one of the most dangerous industries in the country. Workers, subcontractors, and general contractors are all aware of the dangers inherent in the construction industry, but it can be challenging to mitigate those risks when conditions on the job are always shifting. Slip and falls, collapsed scaffolding, tipped ladders, and objects falling from above are all examples of mishaps that can result in liability for construction company employers and contractors in Connecticut.
Construction employees who sustain injuries on the job are afforded legal protections, but only if they retain an attorney who is well versed in these protections. You could be entitled to compensation if you were hurt while working construction and there may be various parties who are responsible.
If you or a loved one is a construction worker injured on the job in Connecticut, there may be companies, contractors, and others involved in the specific construction site that have a legal responsibility to ensure the safety of their employees. There are various laws in the Industrial Code that owners and contractors are expected to follow, but will sometimes ignore. Moreover, accidents happen on the job when employees break these rules.
This is when responsibility for these actions should be accepted. Whether you file a workers' compensation claim or a third-party personal injury liability claim, a Connecticut construction worker can recover damages for medical expenses, lost wages, and even pain and suffering in some cases.
For almost a decade, injured construction workers have relied on our law firm. We care and dedicate ourselves to assisting accident victims in getting justice, including the best outcome possible. We value open and honest communication with our clients at the law office of Brandon J. Broderick. We are only paid if we successfully resolve your case. It's in our best interest to get our clients the best resolution we can, and we pride ourselves in doing just that. For this and many other reasons, we are considered among the best Connecticut construction accident lawyers.
---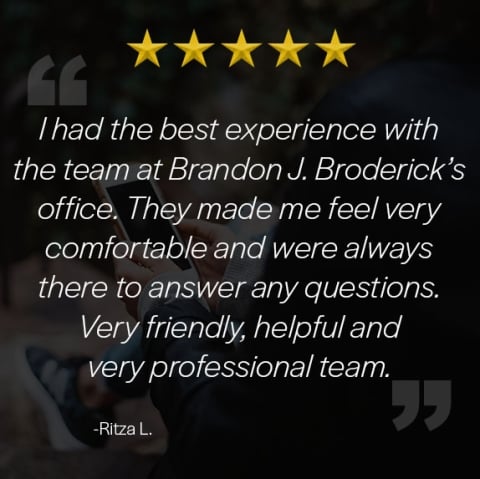 We vow to give your case our all while pursuing the rights and just compensation to which you are legally entitled. We've helped others just like you get out of difficult circumstances like this.
Transform Your Setback Into a Comeback with CT Construction Accident Attorney Brandon J. Broderick
Serious injuries occur often during construction accidents. If medical expenses begin to mount while you attempt to recover, your life can quickly change in ways that you could have never anticipated. Workers' compensation is frequently insufficient to cover expenses. This is why consulting with a personal injury lawyer is important.
Trial lawyers and skilled negotiators
Many times, insurance companies will make an offer to victims that hardly meets their losses, especially if no legal claim is filed. Even worse, the insurer can decide not to cover your damages entirely.
As your construction accident attorney, Brandon J. Broderick will deal with any interactions with your employer or any other parties on your behalf and vigorously pursue the compensation you are entitled to. A lawsuit will proceed to trial if a settlement cannot be reached during negotiations, and we will prevail.
We Will Support You
Because Brandon J. Broderick, Attorney at Law, will take over and handle everything pertaining to your case, you can relax and focus on your recovery. When you choose us, our knowledgeable legal team will battle to get you justice. We will make every attempt to protect your rights and be by your side as you navigate this trying time.
Contact Brandon J. Broderick, Attorney at Law, for a free consultation. As we have done with many of our previous clients, we will make the situation work to your benefit. Our track record of achievement speaks for itself.
Negligence and Liability in Construction
Construction Liability: What Is It?
Accidents that take place on construction sites are governed by personal injury law. Specifically, the personal injury category known as "construction liability." The project owner, the general contractor, and any subcontractors who may have contributed to the accident could all be held liable because construction accidents may involve both construction workers and innocent bystanders at the construction site.
What Does the Law Say About Accidents in Construction?
According to Connecticut law, a general contractor can be held liable for an accident to a construction worker if he was negligent, had authority over the project, or was in charge of project safety.
In addition, a general contractor or project owner may potentially be liable for injuries sustained by innocent onlookers on the construction site.
There were almost 4,200 fatalities at work in the private sector in 2020, according to the OSHA, which tracks accidents and fatalities at work across the nation. Of the nearly 4,200 fatalities, 738 occurred in the construction industry. Among the deaths, falls were the most common cause on construction sites, followed by electrocution, being struck by an object, and being stuck in/between structures. The "Fatal Four" were accountable for approximately three out of every five fatalities among construction workers in 2011.
Construction site injury litigation is difficult, so it's important to enlist the services of a lawyer. Accepting any early settlement offers before speaking with a lawyer is strongly advised against. These proposals will almost always be low-ball ones designed to persuade you to accept the smallest sum possible and not in your best interest.
Common Construction Accidents in Connecticut
The most common fatal construction accidents are known as "The Fatal Four", based on statistical data gathered by OSHA. They include:
Falls resulting in serious injury or death on Connecticut construction sites, including those involving roofers or painters who are not restrained by a safety net
Construction workers being struck by an object, such as falling scaffolding or moving machinery, resulting in serious injury or death
Electrocutions on Connecticut construction sites caused by improper wiring or live wires can result in life-threatening injuries or fatalities
Being caught-in or between machinery or structures, or being crushed in a collapsing structure as a result of the incompetence or carelessness of another worker
Other common injuries suffered by construction workers, include:
There are numerous situations resulting in injury outside the "Fatal Four". Other common injuries include:
Malfunctioning ladders or scaffolding that results in injury
Roof or porch collapse
Burns
Faulty safety equipment
Power tool injuries
Sip and falls
Worker Negligence
In Connecticut, Can You Sue Your Employer for a Construction Accident?
The only option you have in Connecticut CT if you are hurt as a result of your employer's negligence is to submit a claim with the Connecticut CT Workers Compensation Commission.
You might only be able to file a workers' comp claim if your construction-related accident was caused solely by your employer's negligence. Nonetheless, there are frequently additional parties at fault when a construction accident results in injuries. There would be other sub-contractor employees engaging in the reckless actions that resulted in your accident.
Furthermore, the presence of a general contractor is typical. Their responsibility is to supervise the construction site, check that OSHA guidelines are being adhered to, and guarantee that the construction process is reasonably safe for all personnel.
Many construction jobs entail "inherently dangerous" tasks that fall under the category of non-delegable. This means that even if they weren't present or had another party in charge of overseeing job safety, a general contractor can't shift the blame to another party.
What does this mean? It means that if a serious injury occurred during a construction accident in Connecticut, you may have both a worker's compensation claim and a claim for negligence.
---
What Do I Do if I Get Hurt at a Work Site?
There are a few things to bear in mind if you were hurt in a Connecticut construction accident that will help you if you want to pursue legal action. These include:
Document your injuries
Note the names and contact information for any witnesses
Seek medical attention right away
Consult with a construction accident lawyer
If you are aware of an OSHA violation, you should document the violation with photographs and make note of anything that could help identify it further. An accident that caused injuries needs to be thoroughly documented.
The most important thing to do if you have suffered an injury is to get medical assistance. This will help your case.
Being aware of any violations on your construction site is also important as a Connecticut construction worker. The law obliges employers to ensure the security of both the workplace and their staff.
Who is Liable For Your Construction Accident Injuries?
You might be eligible to file a third-party claim to hold the person or entity responsible for the accident that caused your injuries if they were not your employer. This is a question your construction accident lawyer can help you determine.
Typical third parties for construction accidents are:
Construction site owners: The owner of the property where the construction project is taking place may be liable for your injury. Yet, how much authority they have over the site will determine their liability. In some construction projects, the landowner or another party gives the contractor possession of the property for the duration of the job. Because they were not in control of the property when the accident occurred, the landowner in these situations might not be held accountable for any harm.
Contractors and subcontractors: General contractors are responsible for ensuring that a construction site is secure and adheres to OSHA requirements. The contractor or subcontractor is responsible for correcting any dangers that may be present at the job site. Also, there needs to be signage warning workers and others of hazards at the site. Workers need to be aware of any potential risks in their areas. All construction workers on the job site are under the supervision of the contractor and subcontractor, who must make sure they are working safely.
Architects and engineers: They may be responsible for making sure the building is both safe and functional. The obligation to ensure that the project complies with safety regulations at every step of the construction project is typically outlined in the architectural or engineering contract. The architect or engineer may be held accountable for any accidents that occur as a result of inadequate design safety requirements.
Manufacturers of construction equipment and machinery: If a construction accident results from defective equipment or machinery, the manufacturer of that equipment or machinery may be held liable.
Scaffolding companies: Scaffolding fall injuries are often fatal. Scaffold accidents frequently originate from someone else's carelessness in construction accident cases. The employer may be held accountable for failing to satisfy the relevant OSHA training requirements if an employee fails to get the required training on the scaffolding, makes a mistake while building it, and the scaffold collapses as a result, inflicting injury or wrongful death. In other situations, the scaffolding business might be held accountable.
Why Brandon J. Broderick, Attorney at Law is Right For You?
Nobody anticipates getting injured, especially in a construction site accident. Unexpected events do, however, occur and might negatively impact your health and money. The amount of compensation you might get will depend on how you handle the case after the accident. If someone else's actions resulted in you being injured, you have the right to pursue compensation for your losses. Attempting to engage in insurance company discussions without a lawyer can be challenging, so we are here to help you.
At Brandon J. Broderick, Attorney at Law, we place a high importance on exceptional client care and show empathy for our clients and each unique situation. We stand out as one of Connecticut's top personal injury law firms because of this. You can count on us, especially given our extensive track record of achievement. Our attorneys have decades of experience representing clients in a variety of personal injury matters, including slip and fall accidents, workplace injuries, and accidents on construction sites. We have helped many people just like you. Contact us today to discuss your case.
In Connecticut, we have offices in Bridgeport, Danbury, Hartford, New Haven, Norwalk, and Stamford, among other cities. We are available to help you.