A slip and fall accident could result in a number of injuries, from fractured bones and head injuries to back and neck pain. It can take some time before you are fully recovered after taking a serious fall; and it's not uncommon for victims to be left with ongoing health issues and medical debt. If you were hurt while falling on someone else's property, the Connecticut slip and fall lawyers at Brandon J. Broderick, Attorney at Law, are here to assist you.
Over one million Americans visit the emergency room each year due to slip and fall accidents, according to the National Floor Safety Institute (NFSI). In Connecticut, if you suffered serious injuries in a slip and fall accident, the person who was at fault must pay you the full amount of your losses. The legal requirements that you must meet in order to file a slip and fall accident case in Connecticut are explained below.
If you sustain injuries while on someone else's property, the owner may be liable for your injuries if they failed to take reasonable efforts to prevent them. A personal injury claim can be brought against the liable party to seek compensation if injuries were the result of the property owner's negligence. Medical expenses, lost wages, and even emotional distress may be damages that can be recovered.
Many people don't expect to become injured in their everyday lives. Proving another party's negligence can be difficult. Sometimes, there's multiple parties at fault or the insurance company wants to settle quickly, but for as little as possible.

You don't have to face this all on your own. The Brandon J. Broderick, Attorney at Law, team takes great satisfaction in offering each and every one of our clients superior legal representation. We believe that there should be no needless complexity in slip and fall cases. Let us worry while you unwind and take time to heal.
---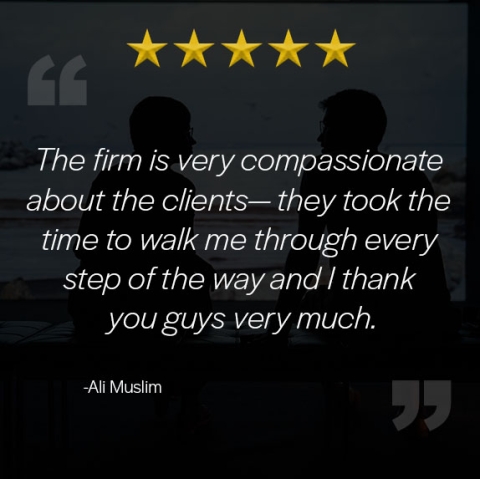 Here are some useful details for those who have been hurt in a slip-and-fall accident in Connecticut.
Does My Case Require The Help Of A Slip and Fall Accident Lawyer?
Your entire focus should be on recovering from an injury and getting better. A lawyer can assist you by handling your case and relieving you of that burden, allowing you to concentrate on your rehabilitation. The evidence will be gathered, witnesses will be questioned, experts will be consulted, and insurance companies will be contacted by Brandon J. Broderick. Let our team of experienced Connecticut slip and fall lawyers assist you in obtaining the compensation you are entitled to. We defend your rights and provide you with top legal service and advice.
If you don't file a legal claim, the insurance company can deny paying damages, even in part, or make you an extremely low settlement offer. Even though injuries can sometimes take longer to become apparent than others, insurers will make contact with an injury victim right away in an effort to convince them to accept a settlement offer. This is not advised. You may not know the full extent of your injuries, and if issues arise after a settlement has been reached, you may be left having to pay out of your own pocket.
If we're unable to achieve a settlement through negotiation, we stand by our clients and take the case to trial if necessary.
Our slip and fall lawyers have successfully defended clients in premises liability lawsuits throughout Connecticut and the surrounding Tri-State against negligent property owners. Some include complex claims against industrial buildings, apartment complexes, building sites, nursing homes, and public or municipal entities.
Call or fill out our contact form to schedule a no-cost consultation at one of our Connecticut locations.
Contact us to speak with one of our Connecticut slip and fall lawyers right away for a free consultation.
Slip and Fall Compensation
Most slip and fall accident settlements involve either economic and non-economic compensation or both. Losses like medical costs and lost wages are examples of economic damages, while pain and suffering is an intangible loss that can't be quantified and falls under non-economic damages.
When representing clients in slip and fall cases, Brandon J. Broderick will seek the maximum compensation for all damages, whether it be economic or non-economic. The actual value of a claim is dependent on various factors, most notably the severity and permanency of the injuries.
---
Economic Damages
Your claim's value will increase if there are economic damages. Based on your losses related to your injuries, the dollar amount of monetary damages varies from case to case. Economic damages include things like legal fees, medical expenses, lost pay, and property damage.
Below are losses generally categorized as economic losses:

Medical Costs: Reimbursement for medical care includes the cost of hospitalization, doctor visits, physical therapy, medications, and other treatments, as well as transportation to and from appointments, but must be linked to the treatment of the injuries.
Lost Wages: You are entitled to compensation for any lost wages brought on by your injury. This covers lost wages from time off work or from accepting a reduced position because your injury prevents you from completing the same responsibilities you previously were tasked with.
Property Loss: Reimbursement for objects lost or damaged in the incident, such as damage to your car, or other property loss.
Legal Fees: You have the right to request that the at-fault party pay your legal fees. Most Connecticut personal injury attorneys work on a contingency basis, which means you are not obligated to pay costs unless your case is successful. Your award may include the costs of your lawyer resolving the dispute.
Non-Economic Damages
When non-economic damages are recovered in a personal injury case, it will normally come from emotional pain, such as pain and suffering or emotional distress. Non-economic damages are intended to compensate for injuries that don't lead to monetary losses and are sometimes hard to prove since they are not necessarily observable.
The degree of one's subjective pain varies according to the person, the accident, and other factors.
When arguing for pain and suffering, you must explain the challenges the injury has caused you. This is when an insurance company, judge, or jury will consider a number of variables when evaluating compensation, including the type of damage, the length of time it took to heal, and if it resulted in a permanent handicap or limitation.
As far as emotional distress, compensation may be justified by your anxiety or mental anguish. It could be challenging to describe this sort of emotional suffering a victim is going through, so keeping a journal or calendar can serve as important evidence.
How Punitive Damages Work in Connecticut
Punitive damages are typically granted in cases of extreme negligence or purposeful behavior. Punitive damages may be awarded by Connecticut courts. In contrast to most other states, Connecticut awards limited punitive damages, which generally cover legal bills and other litigation expenses.
Many states view punitive damages as a means of punishing a negligent party and award significant amounts of compensation in doing so, based on the defendant's wealth. Connecticut's punitive damages are frequently given at a lower level.
Punitive damages up to two or three times the victim's actual damages are permitted under specific Connecticut laws in certain situations. Even though it can occasionally amount to a sizable sum in situations when the victim actually suffered significant losses, this is much smaller when compared to states that do not place limits on punitive damages judgments.
---
Statute of Limitations on Connecticut Slip and Fall Claims
The statute of limitations is a law that determines how long you have in each state to file a lawsuit for any kind of claim that can be heard in civil court. In Connecticut, a slip and fall accident lawsuit must be filed within two years of the injury's date of occurrence. This is the same timeline you have for any personal injury claim. This deadline is important because if you fail to submit your lawsuit before Connecticut's two-year window, you will lose your opportunity to seek compensation.
Time Limit For Workers' Comp
Generally, a workers' compensation claim must be filed within one year from the date of injury. For death cases, it is two years from the date of accident or onset of symptoms of the occupational disease, or one year from the date of death, whichever is later.
Filing Against a City or Government Entity
You have six months to notify a city or county of your plan to sue. The State Claims Commissioner must be notified of a claim against the state within a year.
Rule For Injured Minors
In Connecticut, there is no time limit for a claim to be filed in regard to an injury to a minor.
Consult a slip and fall lawyer if you have questions regarding the precise restrictions or deadlines for filing your claim.
Proving Negligence
When suing a property owner for damages following a slip and fall, the injured person must prove that the defendant was negligent in their ownership or upkeep of the property. However, depending on the nature of their property and the visitor's goal, different requirements apply to the owners. To prove negligence, the plaintiff must show that the defendant owed them a duty of care, knew or should have known the premises was dangerous, and failed to take the necessary steps to make them safe.
Duty of Care
Premises liability laws in Connecticut can apply to incidents involving slip and falls. This implies that unless you can demonstrate that a company (or property owner) violated their duty of care to you, you cannot obtain compensation. According to state laws, all establishments and property owners have a general duty of care to all clients and visitors. This indicates that "duty of care" is typically simple to establish. However, a victim may not be able to file a lawsuit if they were trespassing or otherwise uninvited at the time of the slip and fall incident.
Dangerous Property Conditions
You must demonstrate that the other party did something wrong and that their actions led to your injuries if you wish to obtain compensation. To simplify this, you must demonstrate -- in a slip and fall case -- that the property had dangerous conditions that were both present without reasonable cause and directly contributed to your injury. If you stumbled over your own two feet, you cannot sue a property owner. Below are instances in which hazardous property conditions contribute slip and fall incidents:
Wet floors without warning signs;
Spillage;
Unrepaired leaks;
Loose cords or clutter in walking areas;
Poor lighting;
Damaged floors;
Damaged stairs; and
Unmaintained walkways.
---
Causes of Slip and Fall Accidents
Injuries caused by a slip and fall are fairly common in the United States. Slip and fall incidents are the leading reason for ER visits, with over a million individuals visiting each year as a result. Usually, people trip and fall because of a hazard in their way. Common causes include:
Loose flooring
Uneven sidewalks or concrete
Clutter in pathways
Potholes
Wet surfaces
Icy surfaces
Trip hazards like loose wires or cords
Poor lighting
Everywhere there is a risk of tripping, slipping, and falling, an accident can happen. Property owners, whether it be residence or commercial, are frequently named as defendants in personal injury lawsuits involving slip and fall accidents.
Let The Slip and Fall Lawyers at Brandon J. Broderick Handle Your Case While You Recover
Accidents can be upsetting, especially if there are injuries. They may be detrimental to your physical, mental, and financial well-being. Our objective is to give you peace of mind by removing all of these stresses from your life. With injury clients like yourself, we have decades of expertise battling to win their legal claims. Do not allow an insurance company to minimize your injury or undervalue your claim. When someone else's negligence resulted in your injury, you should receive full compensation.
At Brandon J. Broderick, Attorney at Law, our slip and fall lawyers are committed to giving our clients excellent service and producing outcomes. We are thus among Connecticut's top-rated slip and fall lawyers.
We provide our legal services not just in Connecticut, but also the surrounding Tri-State, including New York and New Jersey. Contact us right away to discuss your accident, and together, we will determine how we can help.